"Is it possible to enter a phone number and find its location ?" "Can I track someone's location by their phone number for free?" "How can I monitor someone's location by their cell phone?" "Is there a way to know when one goes to a particular place?"
Your list of questions may go on. Yet, here we are to put a full stop and start answering your questions.
In this article, we will look at the various available options to track someone's location by their cell phone number. Some of these are online tools, while others are mobile apps coupled with a control panel. We will discuss each option in detail and see how we can monitor one's cell phone location.
We will wrap the article with a verdict for each tool on the basis of discussed information.
Let's get started.
Part 1: How to Find Someone's Location by Cell Phone Number
The Neatspy Location Tracker app is a leading solution for cell phone tracking to meet your monitoring requirements. Millions of people from around the globe endorse the Neatspy solution for its reliability and legitimacy.
The Neatspy Location Tracker app addresses the tracking requirements effectively. As a result, Neatspy successfully flaunts an impressive customer satisfaction rate of 96%.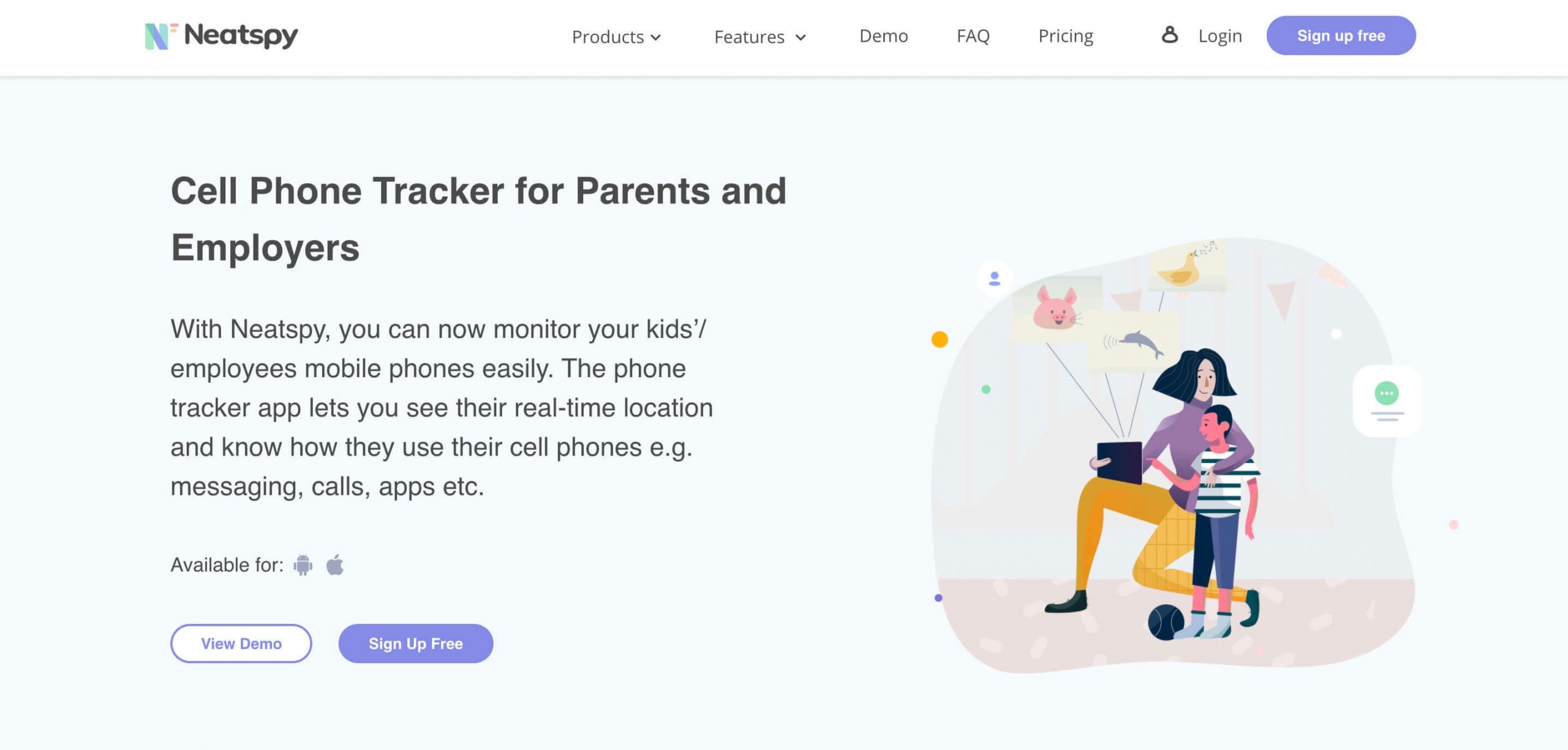 You would love to choose Neatspy because you can configure the target device and complete the set up easily, within a few minutes. Neither root nor jailbreak is required.
The Android version of the app needs a minimal space of 2MB and consumes limited battery power. The app runs in a complete stealth mode without affecting the performance of the phone. Neatspy location tracker app can be remotely uninstalled with just 1 click.
The configuration is far easier for iOS devices. There is no need to install the app. iCloud credentials are sufficient to track a device's location successfully.
Location Tracking
The incredibly easy and intuitive, yet aesthetic interface makes the location tracking experience enjoyable.
Once done, you can see the real-time location of the cell phone number's owner.  You can see the entire history of the route at various intervals of the day. Neatspy displays location address information, GPS coordinates, and timestamps.
The location is also marked on the map so you can zoom in easily, see the street view, and recognize the area. Furthermore, the timestamp provides information on where the person was present at a particular time.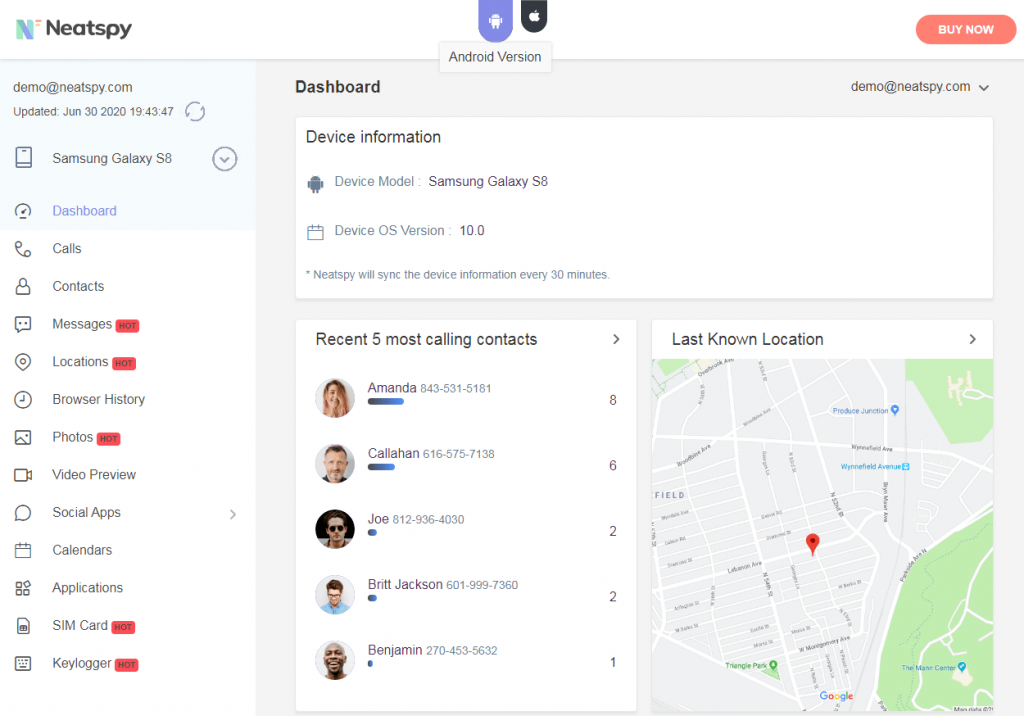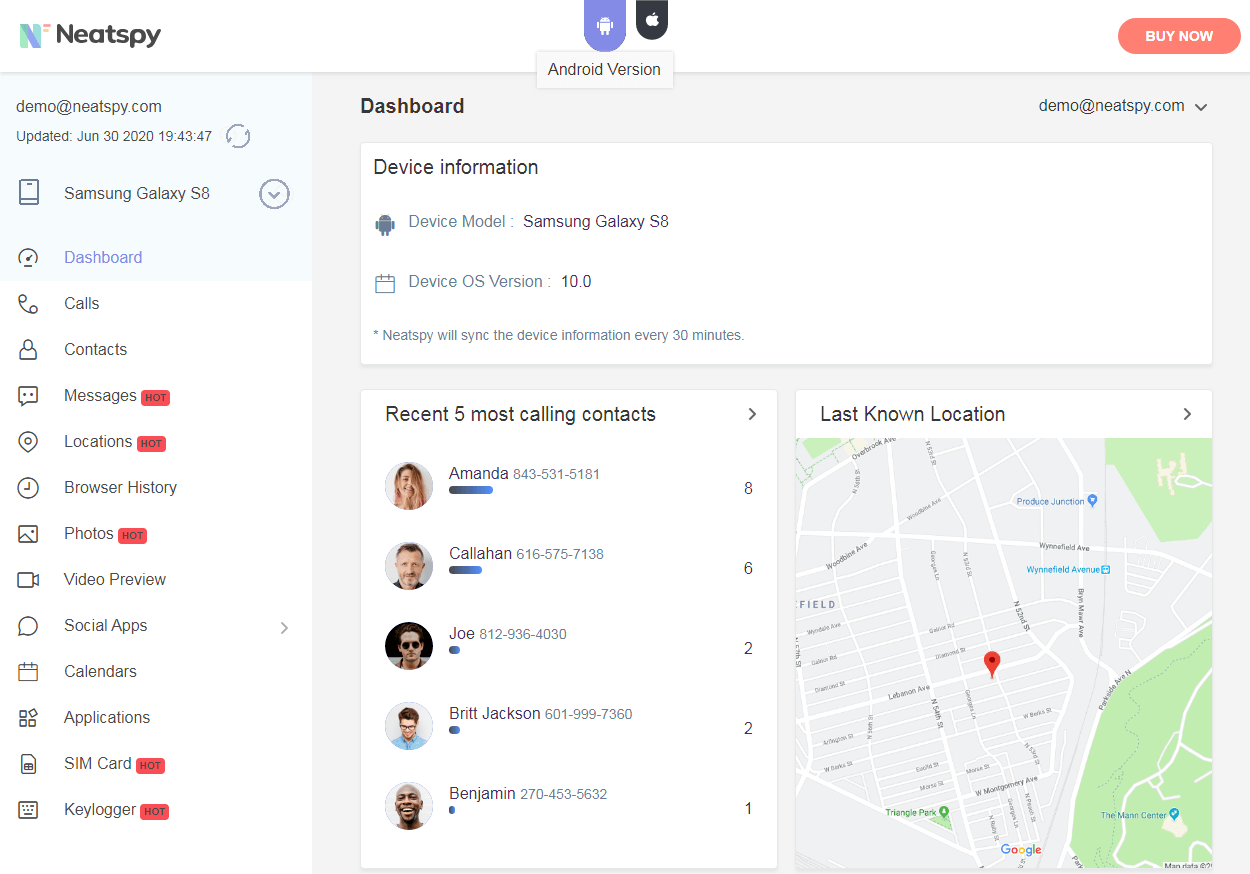 Neatspy's gives you the capability to set up the geofence and receive alert notifications when the user enters or exits the geofence spot. Geofence location history can be accessed in the dashboard via the Geofence section.
How to Track a Phone Number using Neatspy?
In a few minutes you can set up the Neatspy GPS location tracker by following the steps below:
Step 1: Sign up to Neatspy
Enter a valid email address.
Choose a password.
Click 'Sign Up' to get a Neatspy account.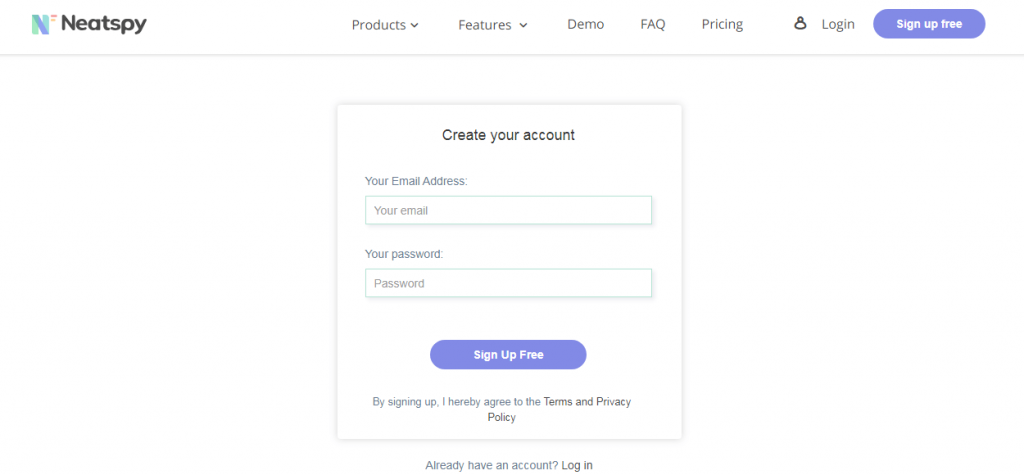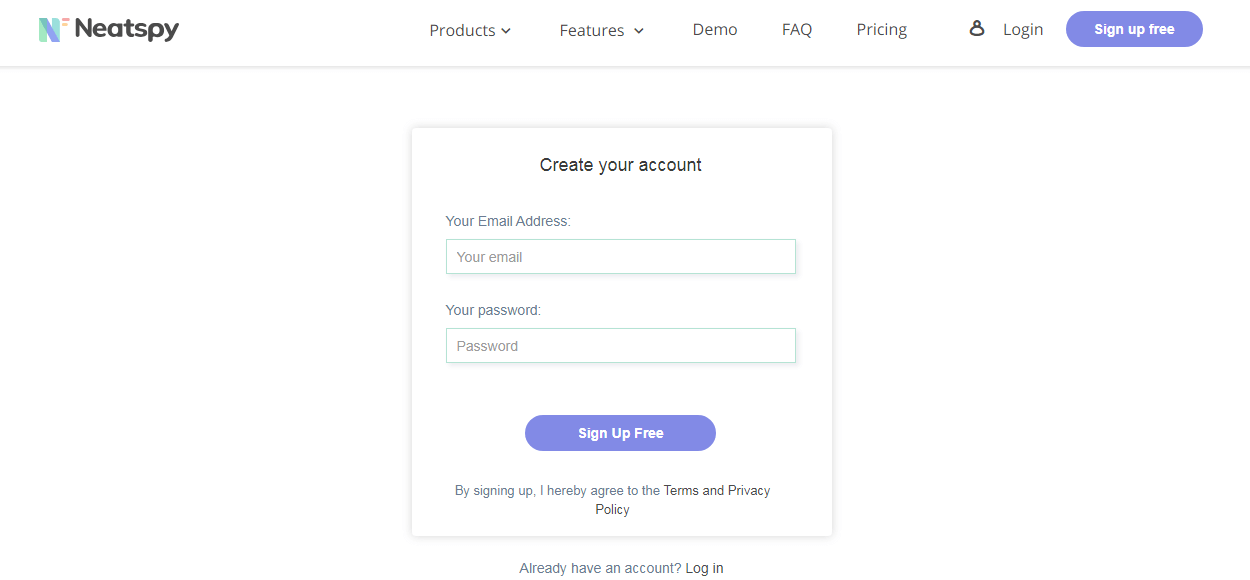 Step 2: Configure the Target Phone Number's Device
You will receive a welcome email from Neatspy with the configuration instructions for your device, after registration. The configuration process is simple and the Neatspy Setup Wizard will assist you through it.
Android Devices
iOS Devices
Enter the target phone number's iCloud credentials.
Hit 'Verify'.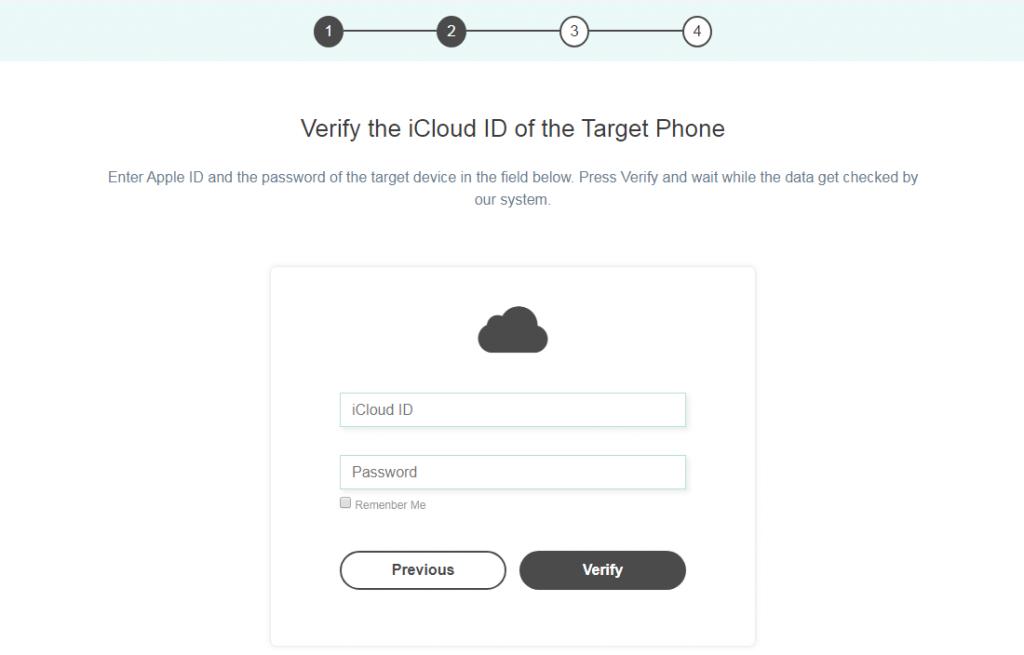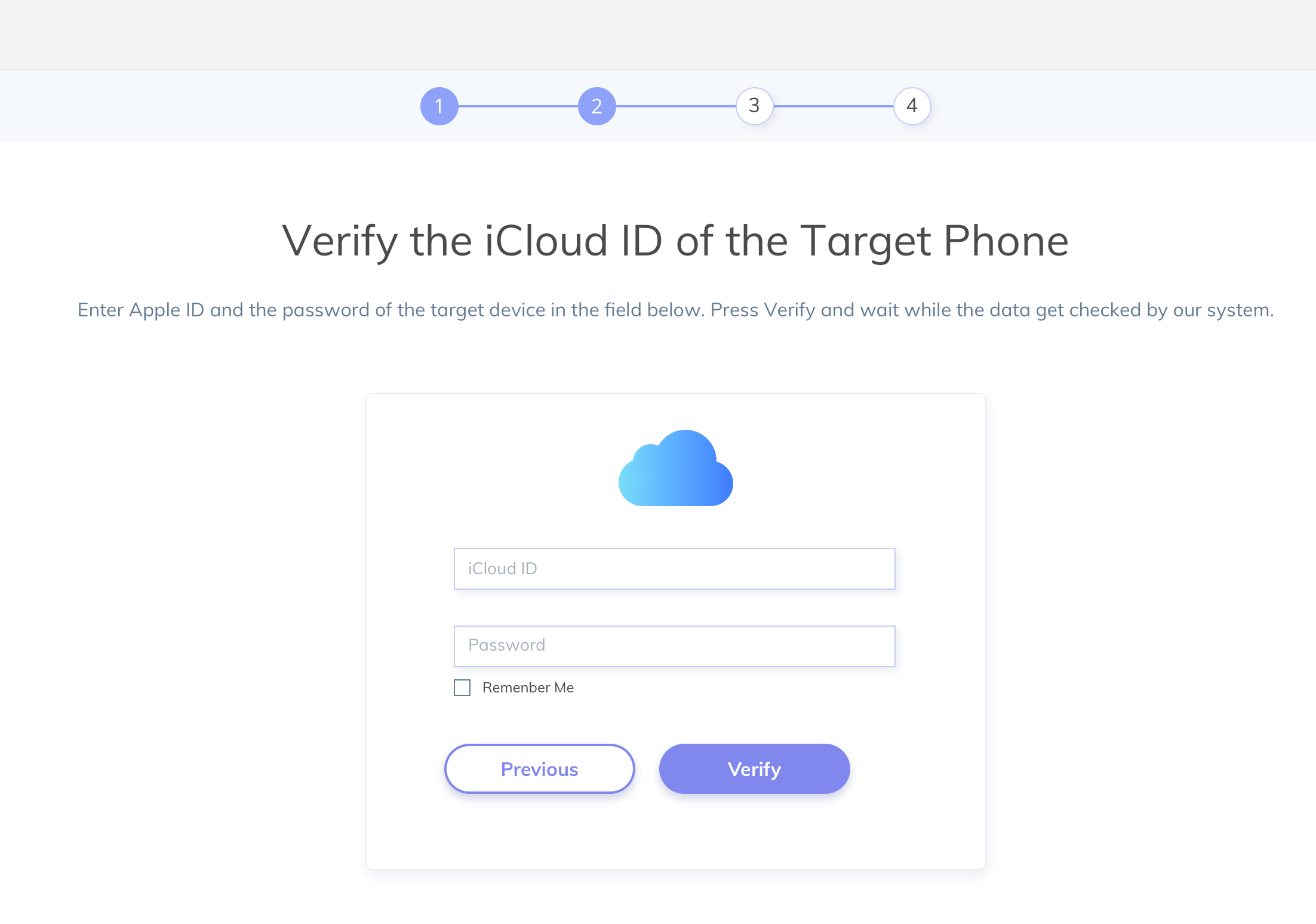 Step 3: Happy Phone Number's Location Tracking
Go to Neatspy control panel.
Select the 'Location' tab in the dashboard.
View real-time location of the phone number's owner.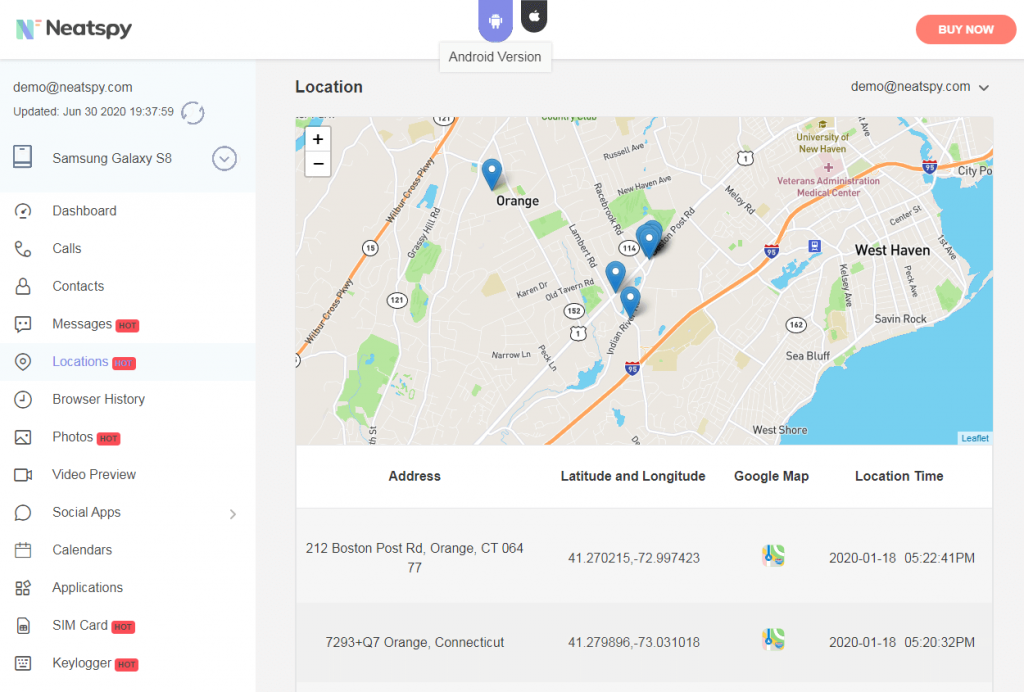 Didn't you buy it yet? Don't worry! Check all the Neatspy product features now, make a purchase and start tracking your phone number.
Compatibility
Neatspy Location Tracker is compatible with Android devices with version 4.0 or higher. For iOS devices, it supports version 7 to current.
Subscription Options
You can avail a 'Basic' plan for tracking the real-time location of Android phones all the year round, for only $ 8.33 per month. For iPhones, 'Premium' package is available at a cost of $10.83 per month to meet your location tracking needs.
View complete pricing details here.
Part 2: Type in Phone Number and Find Location
Spokeo is another reliable and trusted option used by millions to know the identity and location of people.
Simply enter the phone number and find the location of your lost family members, friends, and acquaintances. You can also search people by name, address, and email addresses.
Spokeo searches the entered entry across 12 billion records through publicly accessible government records and Spokeo's proprietary databases. Moreover, it searches the details of the phone number available through social media profiles.
The phone number lookup report contains phone number owner's email addresses, residential address, social media profiles, and criminal records.
How to Track a Phone Number using Spokeo?
It's pleasant to track someone's location using Spokeo by phone number. All you've got to do is:
Login to Spokeo.
Go to 'Phone'.
Enter a phone number.
Hit 'Search'.
You can see the complete information about the owner of the phone number including owner's first and last name, location and address history, additional phone numbers, family members and email address(es).
Compatibility
Spokeo's services can be availed online through the website only.
Spokeo does not offer a mobile app for any platform.
Subscription
You can view the full report of a person for a regular price of $1.95.You will be charged 19.95 per month after your 7-day free trial.
Part 3: How to Find My Phone Location by Number
BeenVerified is another popular phone number tracking service trusted by millions of users. BeenVerified is a reliable service as it searches through the data from government public records which is available online.
It provides a basic, yet user-friendly interface to help you search what you are looking for.
Just enter the cell phone number and hit the 'Search' button. BeenVerified will retrieve the details of owner name, age, residential address, social media profiles, and additional contact information for the entered cell phone number.
Besides cell phone number, you can search for someone by their name, address or email address. BeenVerified executes a complete background check on the target person, phone number, address or email.
The search results are displayed in the form of a well-organized report to enhance readability.
There are various sections in the report including owner's information, residential addresses, criminal records, social media profiles,  photos,  email addresses, associates, family and friends, mortgage and bankruptcies, phone numbers, career and education records. You can quickly jump to your section of interest first and see the less interesting information later.
How do I find Phone Location using BeenVerified?
Go to BeenVerified.
Select 'Phone Lookup'.
Enter the mobile number.
Hit 'Start Search'.
Note that you will have to pay a minimum fee of $ 1 to view the full report in the 5-day trial membership.
Compatibility
BeenVerified can be easily accessed online. For Android and iOS devices, mobile apps are also available.
Subscription Options
You can choose between 1-Month and 3-Month membership plans. Unlimited reports can be accessed with a 1-month membership plan for $ 26.89 per month. Or you can make an economical 3-month purchase paying just $ 17.48 a month.
Part 4: How to Find Current Location by Spydialer
Another way of finding someone's current location is with the help of GPS based phone tracker apps. Spydialer is a reliable and leading GPS Phone Tracker solution.
Spy Dialer simplifies your life by connecting the family members together in a private group called 'Circle'. You can create a circle of your loved ones, family members, friends, colleagues or even team members who have gathered up for an event.
'Check In' your location on the map and it becomes visible to everyone's map in the particular Circle. In this way, the members of Circle know the real-time location of each other. You can also set geofence alerts to get notified when someone enters or exits a particular destination.
Another interesting feature of GPS Phone Tracker app is the 'Chat' option. You can send and receive messages with people in your circle using the chat.
How to find current location by Spydialer?
Install the application.
Create an account.
Get the invite code.
Invite your family members to a circle.
Once registered, each member's location is pinpointed on the map.
Part 5: How to Track a Cell Phone Location for Free with the Number of the Cell Phone
Another useful and reliable tool for tracking a cell phone location with the number of a cell phone is Spyic.
Spyic GPS Tracking app is a flexible and versatile GPS solution for tracking someone's location by cell phone.
Spyic helps you monitor the location of someone in real-time. It displays location address information and GPS coordinates to know the person's exact location. This allows you to track the history of the route of the target user.
You will need to install the Spyic GPS Tracking application on the target Android phone. However, the installation process does not require you to root the device.
How can I track the location of a target phone or tablet with Spyic GPS Tracking App?
By following these simple steps, you can start tracking any iOS or Android device:
Register an account with Spyic.
Login to the account.
Enter the target phone information.
Complete the process of setup.

For iPhones: Enter the iCloud credentials and click 'Verify'.
For Android: Access the target phone. Download and install the app.
Now, you are all set up to remotely monitor the device.
Go to your Spyic Control Panel.
In the left side menu, click the 'Location'.
Click the 'Refresh' button to retrieve the latest data of location.
Compatibility
Spyic is compatible with Android and iOS. It supports the latest Android 9 Pie and iOS 12.
Part 6: How to Track a Cell Phone Location by Number
mSpy is a popular cell phone monitoring software to monitor all activities on the target mobile phone. The location can be tracked using data based on GPS and Wi-Fi.
The mSpy solution for location tracking is not straight forward. Gaining the location idea of a person using Wi-Fi network connectivity is rather a bit illogical and inefficient. mSpy maintains a track of the Wi-Fi networks connected to the phone. Wi-Fi networking details include name, duration, time and type. Wi-Fi history allows you to conclude on the possible location of one's cell phone.
GPS Location Tracking's simple mechanism is also available. It's coupled with the biggest drawback, though. Using the GPS location tracking feature, you need to root or jailbreak the device to track the location of the cell phone number.
You can create a geofence for certain locations and location spots with the ' Premium ' subscription package. Every time the phone number arrives or leaves the spot, an entry is made in the history of the geofence. You can see the history of geofence to know where someone was all day long.
How to track a cell phone location using mSpy?
It's easy to track a cell phone location with mSpy, but it's difficult to install. The reason is that to make use of this feature, you need to root the Android device and Jailbreak the iOS device.
Follow the below steps to track location using mSpy Current GPS Location.
Register an account with mSpy.
Purchase a 'Basic' or 'Premium' subscription package.
Once registered, you will receive a welcome email.
Click on the link to your Control Panel.
Follow the setup instructions.
When set up is completed, login to mSpy Control Panel.
See the dashboard.
Click on the 'GPS Location' tab.
Switch between 'Map View' and 'Locations List' as needed.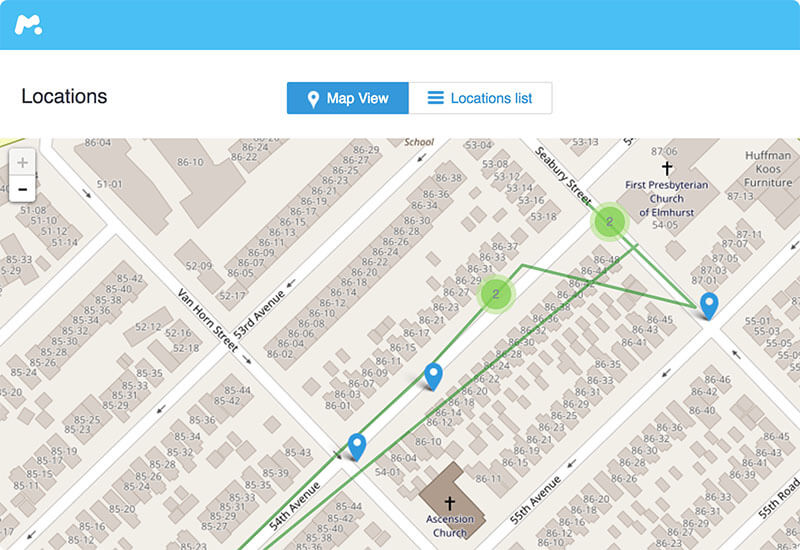 Compatibility
mSpy is compatible with Android devices running 4.0 and higher.
For iOS devices, mSpy without jailbreak version is compatible with all iOS versions. The mSpy with jailbreak is compatible with iOS 7 – 8.4, 9.0,9.1.
Subscription Options
The 'Basic' subscription plan lets you track the GPS cell phone location for $ 29.99 a month. You can use the most popular 'Premium' package for a 12-month license at $ 16.66.
Verdict
We did extensive research and discussed several options to find someone's location by cell phone number. Here are a few key points that need consideration:
Spokeo and BeenVerified
Spokeo and BeenVerified solution are functional for the United States only. If you are looking for someone whose cell phone number is registered outside the USA, these options will not work for you.
Spokeo and BeenVerified solutions provide information about residential or official addresses only. They do not provide real-time information about someone's location.
A person may have relocated without changing the official records so the information becomes useless in the scenario.
GPS Phone Tracker App
There are numerous apps available that claim to find someone's location by their cell phone number only. Be cautious! These apps are simply fake. They are either buggy and cause your phone to malfunction. Or when the user hits' Locate,' they provide an interface to enter the number and do nothing.
The trusted apps are the ones where your acquaintance and you willingly share the location with each other.
Life360 GPS Phone Tracker apps are genuine. The GPS Phone Tracker app is the right choice if you only want to track your loved ones' location in real-time.
mSpy
It is not recommended to root the Android device or Jailbreak the iOS device because doing so makes the device vulnerable to malware.
A wise decision would be to choose another alternative, like Neatspy, which meets your monitoring needs and keeps your device protected too.
You can get real-time location updates of a cell phone number's location using Neatspy GPS Location Tracker.
Neatspy and Spyic
If you are looking for a complete monitoring solution for someone's cell phone, Neatspy and Spyic are your options.
Let's make a quick comparison to help you choose between the two.
You need to root or jailbreak the device to access complete functionality. On the other hand, Neatspy provides a complete no-root/no-jailbreak solution.
Spyic customer's support takes 24-48 hours before they can cater to your request. Whereas, Neatspy provides professional customer support 24/7.
The customer's feedback has shown that Spyic drains out the battery quickly and slows down the performance of the target phone. On the contrary, Neatspy runs in complete stealth mode without affecting the performance of the target phone.
Hence, we can safely recommend Neatspy as a balanced phone monitoring solution in terms of features, performance, and pricing.