How often do you wonder what someone talks about over the phone? Very often, probably. Perhaps you're a concerned parent and you want to know what your kids talk about over the phone. Maybe you're trying to catch a cheater and the best way to do so is to listen to their conversations and find out who they are talking to!
Whatever your reasons may be, there are several spy apps out there with which you can listen to phone calls. However, the best spy app in the market is FlexiSPY and that's what we'll discuss in this article. So read on to find out How to Listen to Someone's Cell Phone Conversation Remotely using FlexiSPY!
Part 1: How to Listen to Cell Phone Calls Remotely with FlexiSPY
FlexiSPY is definitely the world's most powerful phone listening app. In fact, if you have FlexiSPY, you don't really need any advanced spy gadgets, you can find out anything you want about anyone! Because of how advanced it is, it's largely used by employers who want to monitor the cellular activities of all their employees.
As a powerful and advanced app, it's also slightly more complicated to use than some of its competitors like Neatspy. It requires you to jailbreak or root the target phone and discreetly install the FlexiSPY app into them so that it can tap their phone calls.
Furthermore, it's also the most expensive app in the market. But the cost is completely worth it because there's no other app that can do what FlexiSPY can.
Having said that, please read on for a detailed overview of its various phone call tapping features.
FlexiSPY Official Website: www.flexispy.com
Listen to Live Phone Calls
Intercepting live phone calls is perhaps FlexiSPY's most powerful, useful, and popular features. This feature is completely unique to FlexiSPY. Other apps like mSpy and Spyzie have the ability to show you call logs, but they can't give you access to live phone calls as they're happening.
FlexiSPY essentially adds you as a third-party attendant into a conference call with the other individuals of the phone call. However, you're a silent attendant so they aren't aware of your presence.
This gives you the chance to listen to everything they're discussing secretly — to eavesdrop on them essentially — without them being in the least bi suspicious. When you tap their phone calls, there's no beed or any other sound that can warn them that their call is being monitored.
Whenever the target phone receives a phone call or makes a phone call, you'll immediately receive a notification in your phone as well. As such, you can immediately trigger the feature and start listening.
However, for this to work, it's necessary for you to have a strong and stable internet connection and it's also necessary that the target phone should have the Conference Call feature.
Check FlexiSPY Live Demo here >>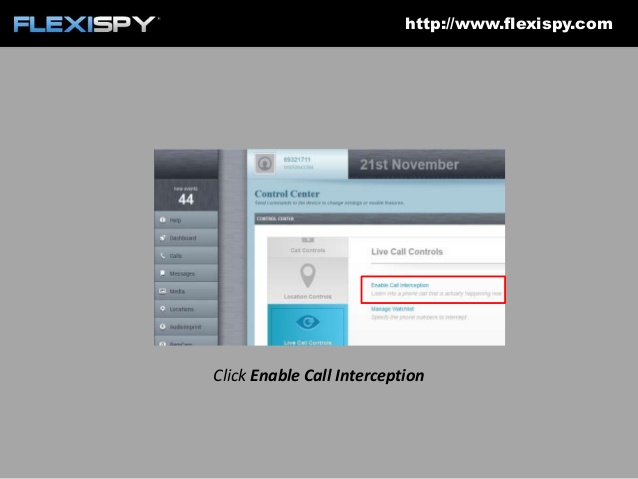 Record Live Phone Calls
Perhaps you don't have the time to listen to a conversation or maybe the connection isn't clear. Or even if you do listen, sometimes listening isn't enough.
In that case, you can also choose to record phone conversations. As such, the entire phone call will be saved in your FlexiSPY control panel. In fact, you can even set it up so that calls from a certain contact will always be automatically recorded.
You can use this feature to record all your spouse's, child's, or employee's conversations. And you can then review them later when you have the time. If you're trying to gather evidence of some wrongdoing from someone, this is the ideal method.
However, you should be careful because phone tapping and recording is illegal in several countries and states around the world. As such, even if you gather some evidence, they may be inadmissible in most legal courts.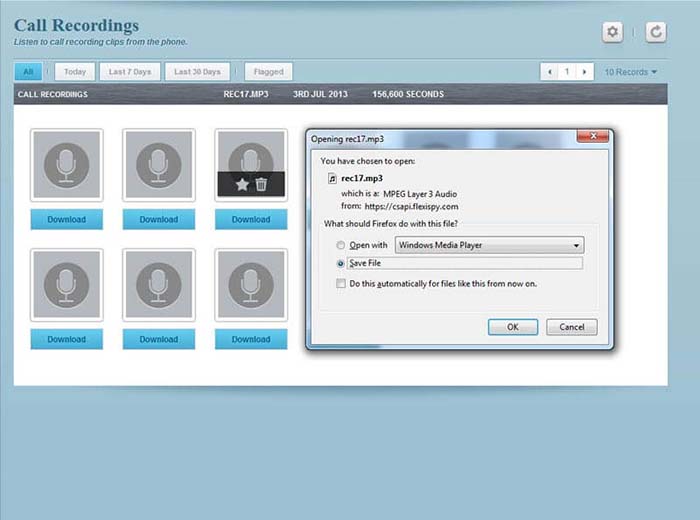 Listen to Phone Surroundings Live
This feature doesn't relate directly to recording or listening to phone calls. However, it's yet another powerful feature by which you can eavesdrop on the target user's private conversations.
The app can be used as a microphone. As such, you can listen to all of the phone's surroundings live. You can thus listen to all of the target user's conversations directly as if you were right there!
How to Listen to Cell Phone Conversations from Another Phone?
If you're convinced about FlexiSPY's strengths, the following is a step-by-step guide on how to listen to cell phone conversations from another phone using FlexiSPY.
Purchase the Extreme License of FlexiSPY for 1 month, 3 months, or 12 months. You can also get the Basic package, but that doesn't have the ability to intercept phone calls.
Physically access the target phone, jailbreak/root it, and then install the FlexiSPY app into it.
Grant FlexiSPY the ability to track the target phone.
Make sure the target phone is connected to the internet so that all of its information can be transferred to your personal control panel.
Log into your FlexiSPY account from any browser and start monitoring the target phone. Whenever they receive some phone call, you'll get notified and you can start listening.

For a detailed overview of the app, check out the live demo here >>
Conclusion
I hope this article has given you a good idea of how FlexiSPY works and why it's the best app with which to listen to someone's phone conversations remotely. As we've already mentioned, FlexiSPY is pretty expensive. However, it's the best and the only effective means of intercepting someone's phone calls. As such, it's well worth it.
If you have any other questions, feel free to mention it down in the comments section. We'd love to hear from you!