One thing that the advancement in technology has done is it has brought us closer to our mobile phones. This means that our lives now rotate around our cell phones whether at school, in the workplace or anywhere else.
However, this has not been without its downsides as it has seen cell phone targeted crimes such as cyberbullying and catfishing increase among teens. Productivity at the workplace has also been compromised, and all these have contributed to spying technology.
There has been a growing demand of spy apps from parents who want the best spyware for Android to monitor and protect their kids, employees who want to protect their patents as well as increase productivity, and even users who would like an insight into their partner's mind.
The main worry among people who would like to use spy apps is having the target user realize that they are being spied. This has therefore led to a demand for free spy apps for Android without target phone.
Part 1: Is there any free spy apps for Android without target phone?
While your perfect answer would have been yes, allow me to disappoint you and said NO. You have to install the spy app on the target phone.
This is because for any communication to happen, there must be a sender and a receiver. If you don't need to interfere with the target device, then you may have to try and get spy information from their ISP, something that's near impossible.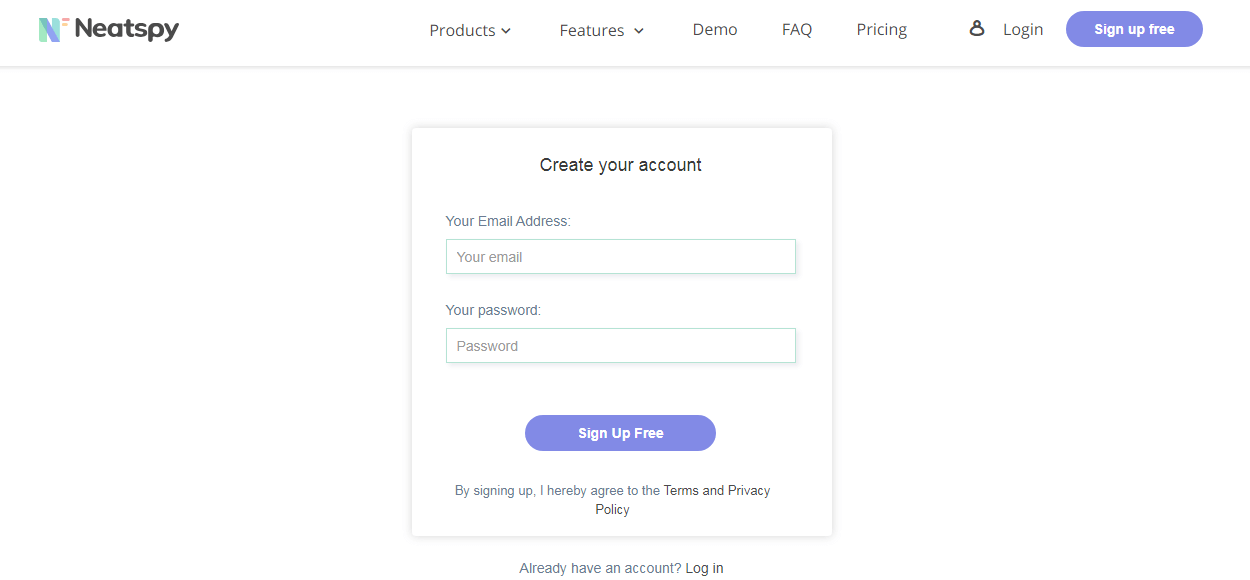 If not so, you may need to have those 'classified' CIA, KGB, and NSA tools which require impeccable knowledge and expertise.
You don't have to worry though as with time, mobile spy for Android has improved. You can now track and monitor a target device without fear of being noticed.
Related Reading: Top 10 Best Free Hidden Spy Apps for Android
Part 2: Spy Apps for Android Without Target Phone
If anything comes close to free spy apps for Android without target phone, it's Neatspy.
Neatspy is a mobile spy app for Android and iPhone that utilizes great stealth technology. This enables the app to run in the background of a target phone in such a way that the user can't notice.
After installation, the app disguises itself as something completely different and is able to carry out all its operation without raising any alarm.
Neatspy is also a fully-featured spy app that can let you monitor and track Android and iOS phones without rooting or jailbreaking. You would still be able to get a lot of information like GPS location, call details, text messages, calendar, notes, etc.
However, rooting or jailbreaking a device unlocks the whole potential of the app, and you can use advanced features like call recording.
Below are features offered by Neatspy free of charge and with a subscription.
Call Tracker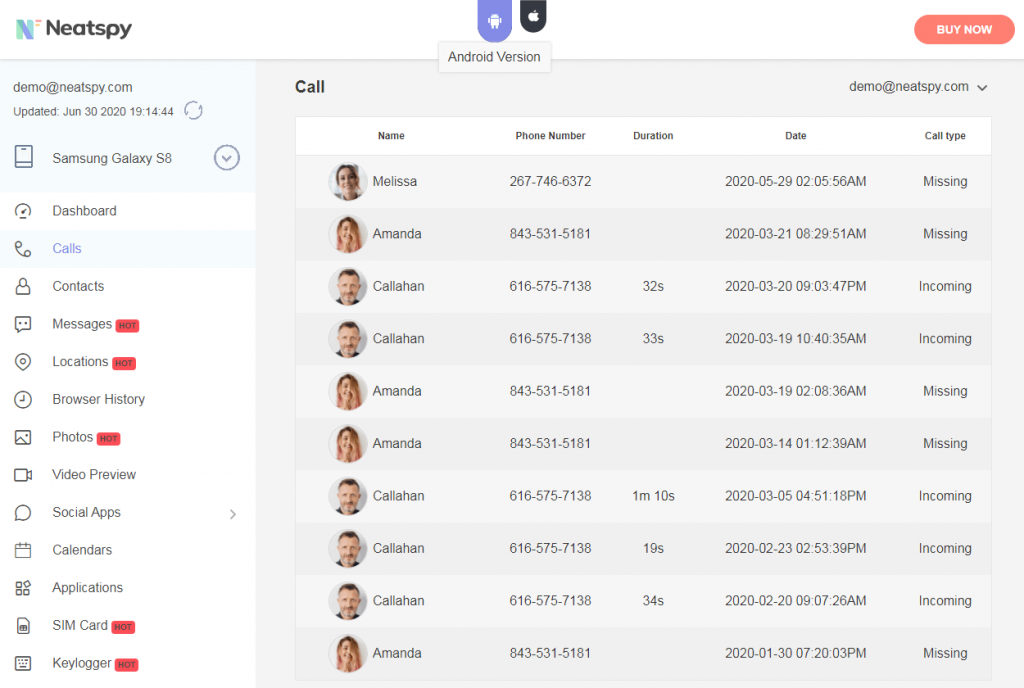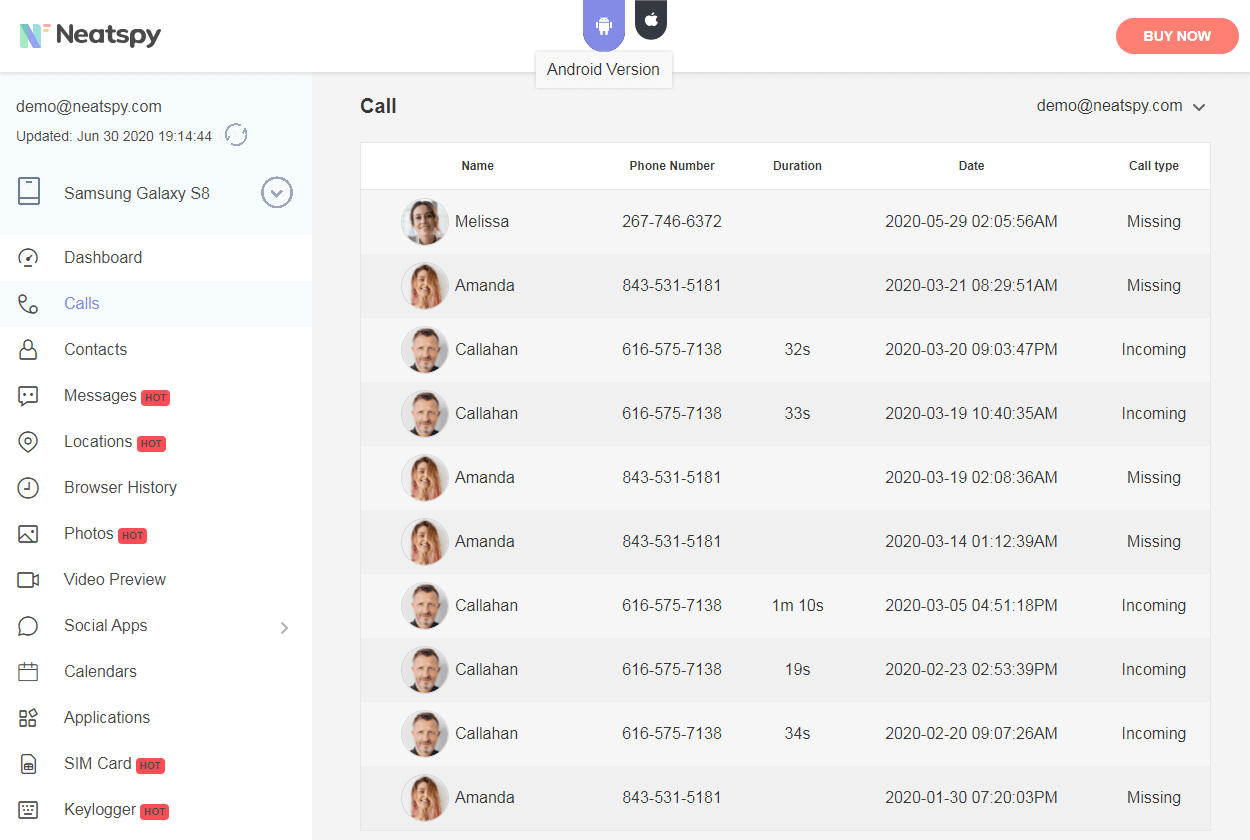 With Neatspy free mobile spy for Android, you can now get all call details that your kids, employees or spouse are making. The apps sends the contact number, number of calls, call time and call durations to your dashboard where you can access them anytime.
Spy on SMS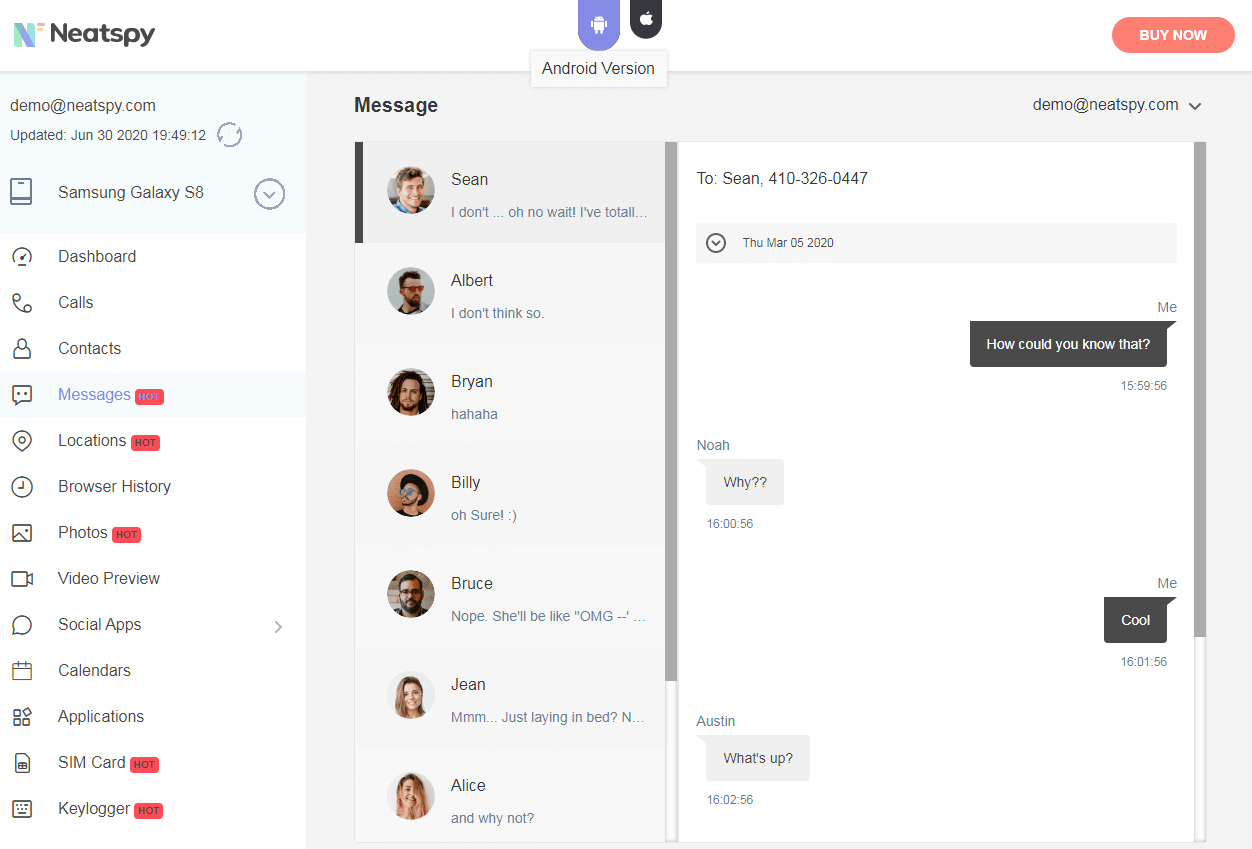 SMS are a way of life, and they can open up everything you need to know about a person. With Neatspy, you can get every single message they send or receive, and even know the ones they have deleted. Every message has a timestamp and the details of the contact person.
Track Cell Phone Location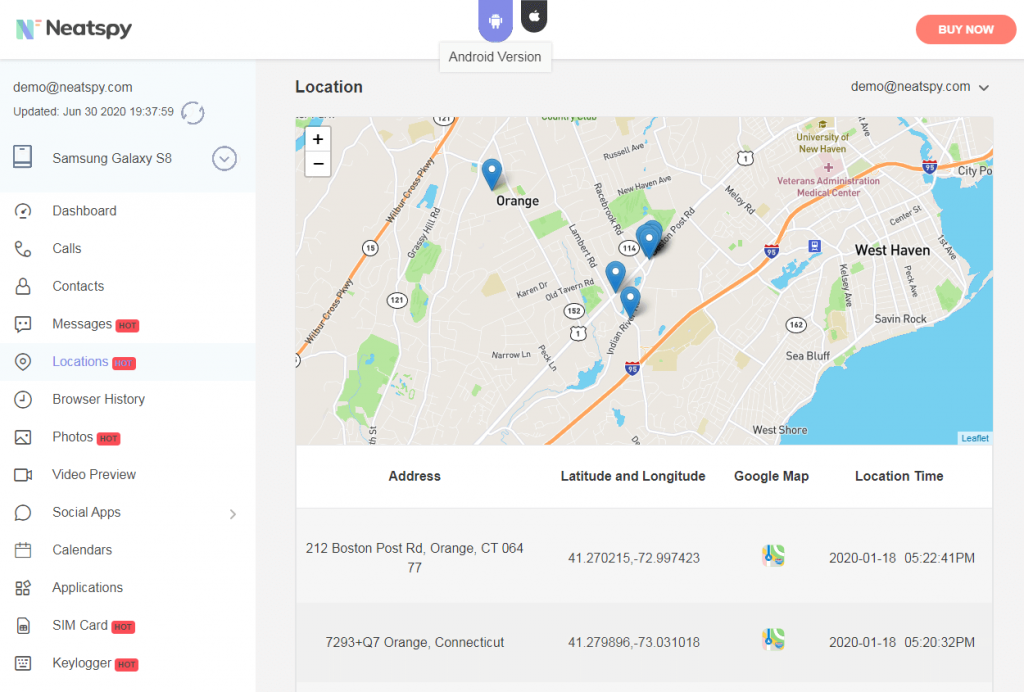 With Neatspy GPS tracker Android, you now can't lose track of a person's location. The app uses GPS as well as WiFi connection information to give real-time location. You can even use timestamps to trace the person's visits in terms of history.
Geofence Alert
With the Geofence alert feature, you can set boundaries where the target person shouldn't cross. The moment they do, you will instantly receive a notification. This can also be a specific place.
Spy on FB Messages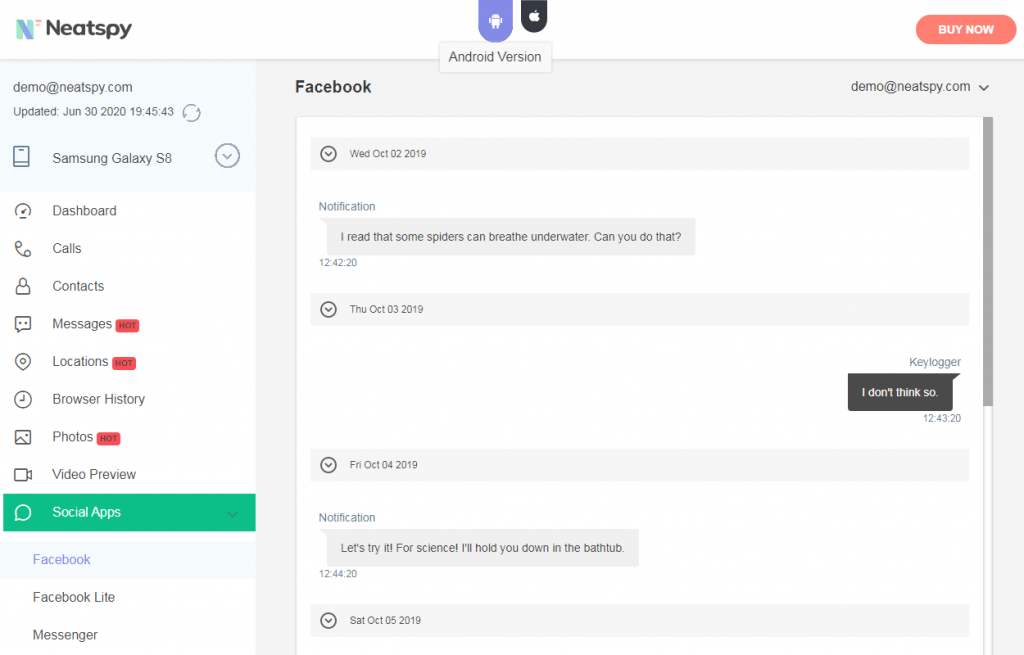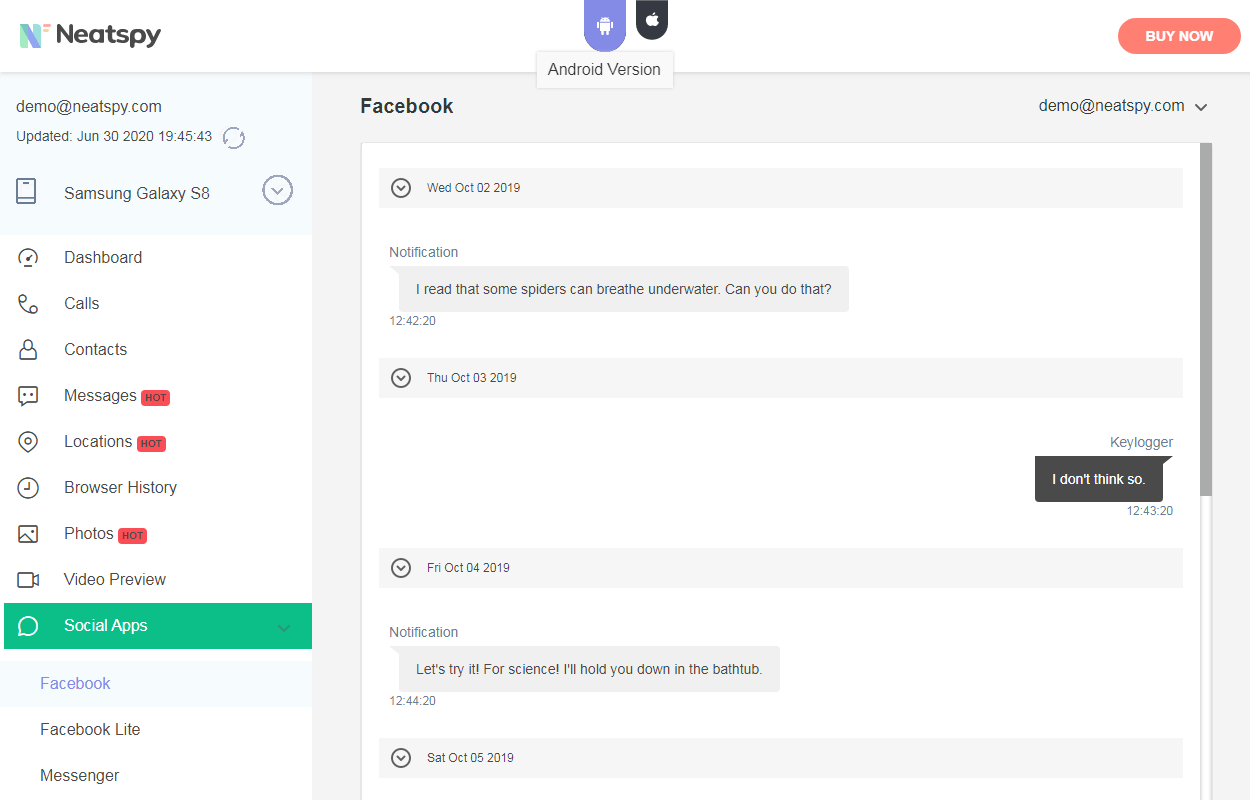 Neatspy is the best app for tracking Facebook messages. With the app, you can monitor all the messages exchanged on this popular platform. You can then review private messages and group chats and get profiles of the people someone is communicating with on Facebook. You will also be able to see all shared media files.
WhatsApp Spy
Whatsapp is the biggest online messaging service, and with Neatspy you can now see every conversation held on Whatsapp. See whoever they are chatting with, and view every photo sent or received.
Snapchat Spy
Neatspy lets you review all photos and video that are taken, deleted or exchanged with other Snapchat users. You will also be able to see all the text messages sent on Snapchat and even get the details of who they are contacting.
Can't Miss: Top 10 Free Android Spy Apps for Cheating Spouse
Instagram Spy
You can easily keep tabs on a person's Instagram messages, including all links they exchange, and even sent and received photos.
Viber Spy
Neatspy lets you see all Viber Chat logs with contact, date, and timestamp. You can also see all photos and videos exchanged via the medium.
Stealth Mode
Neatspy tracker for Android has a stealth mode feature that enables it to run in the background without being noticed. To accomplish this, the app is disguised as something completely different and useful to the phone's normal functioning.
Track Website History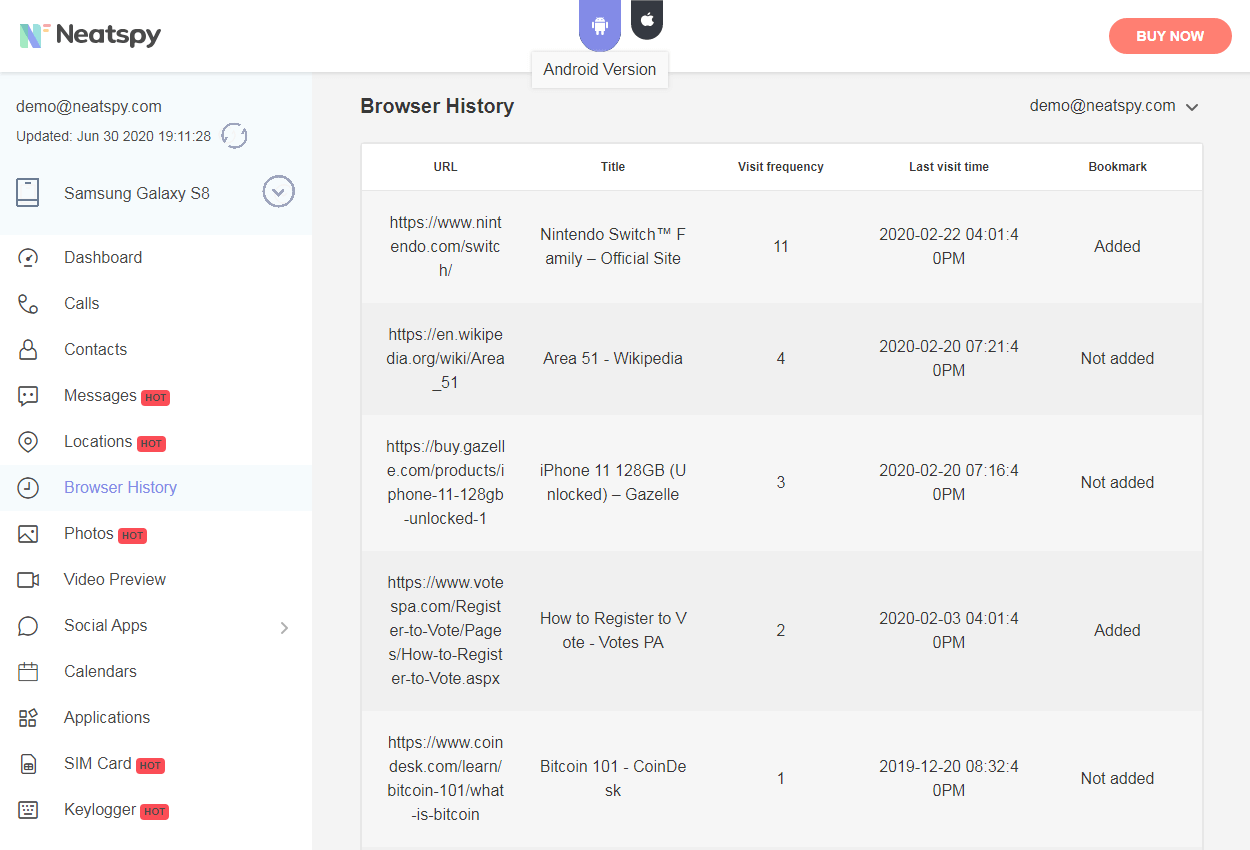 You can use the app's browser tracker to see all the sites that the target user visits, with an analysis of when and how often.
Track SIM Location
Neatspy will let you know if any SIM changes are made on the target. You will also get details of the new SIM.
Also Read: Top 12 Best Keylogger for Android
2.1. How to Spy on someone's Android Phone without them knowing
The easiest way to spy on someone without them knowing is by installing Neatspy on their Android phone. That in itself is also an easy thing to do, and here's the step by step procedure:
Step 1: Sign up free
Neatspy doesn't require much from you while signing up, and all you need to provide is an email and password. You will then be able to sign up for free!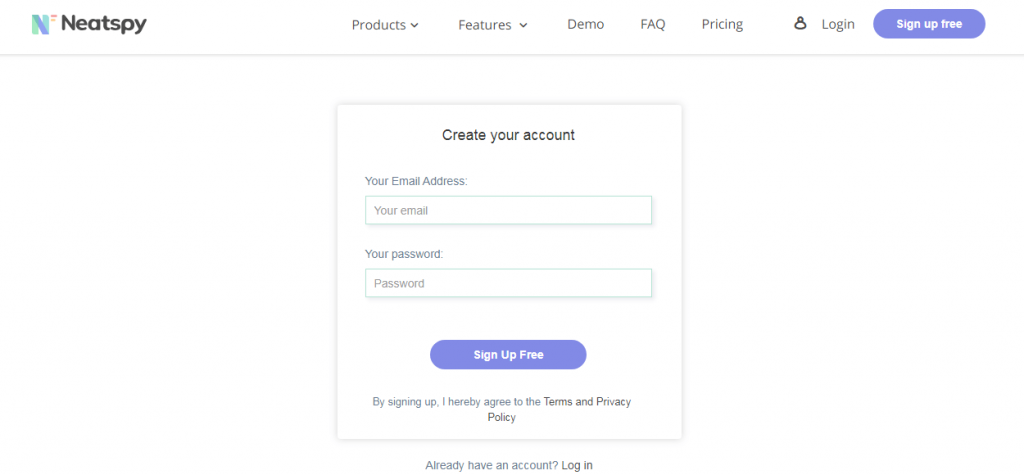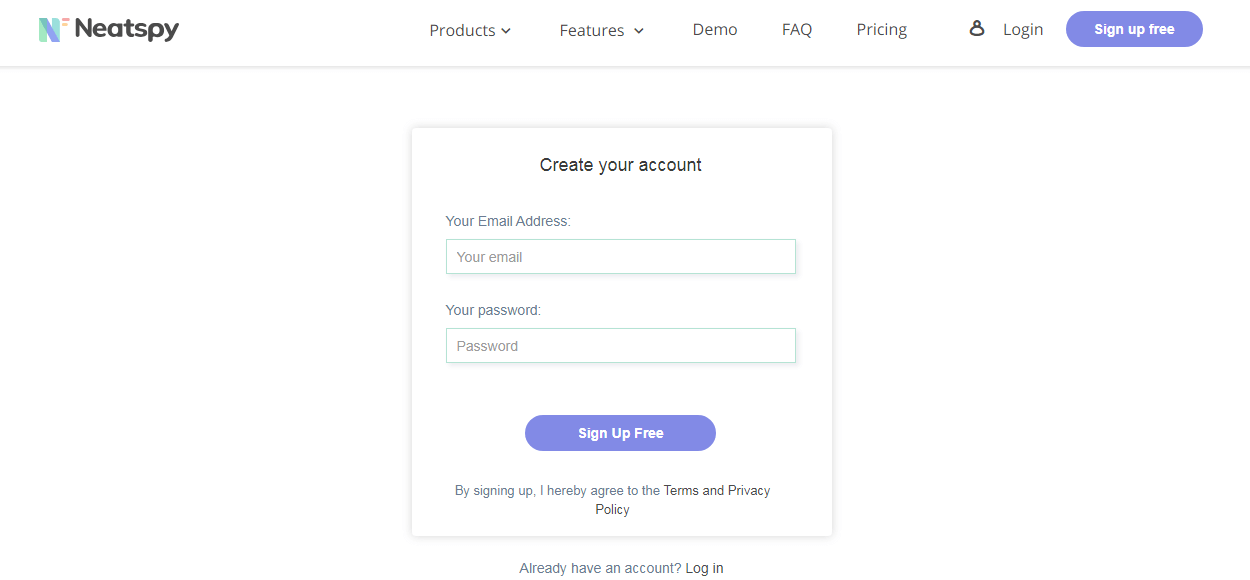 Step 2: Install the Android App
You can then download the app and install it on the target device. Check out here for more instructions.
Step 3: Start Monitoring
You can now spy on the person by just opening your personal dashboard using any browser you prefer.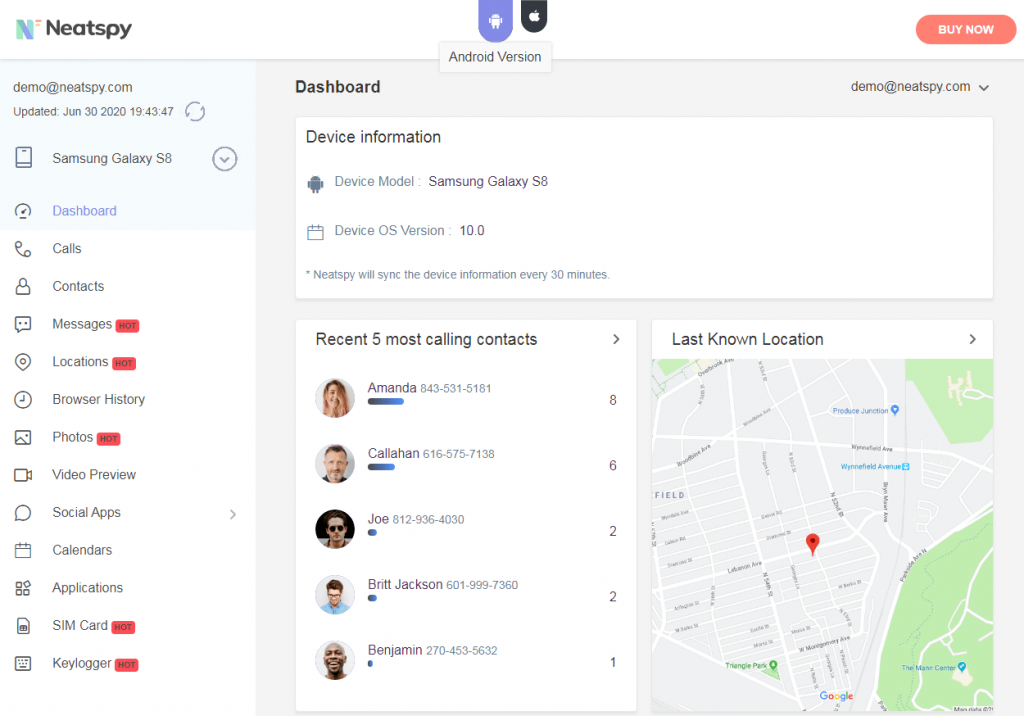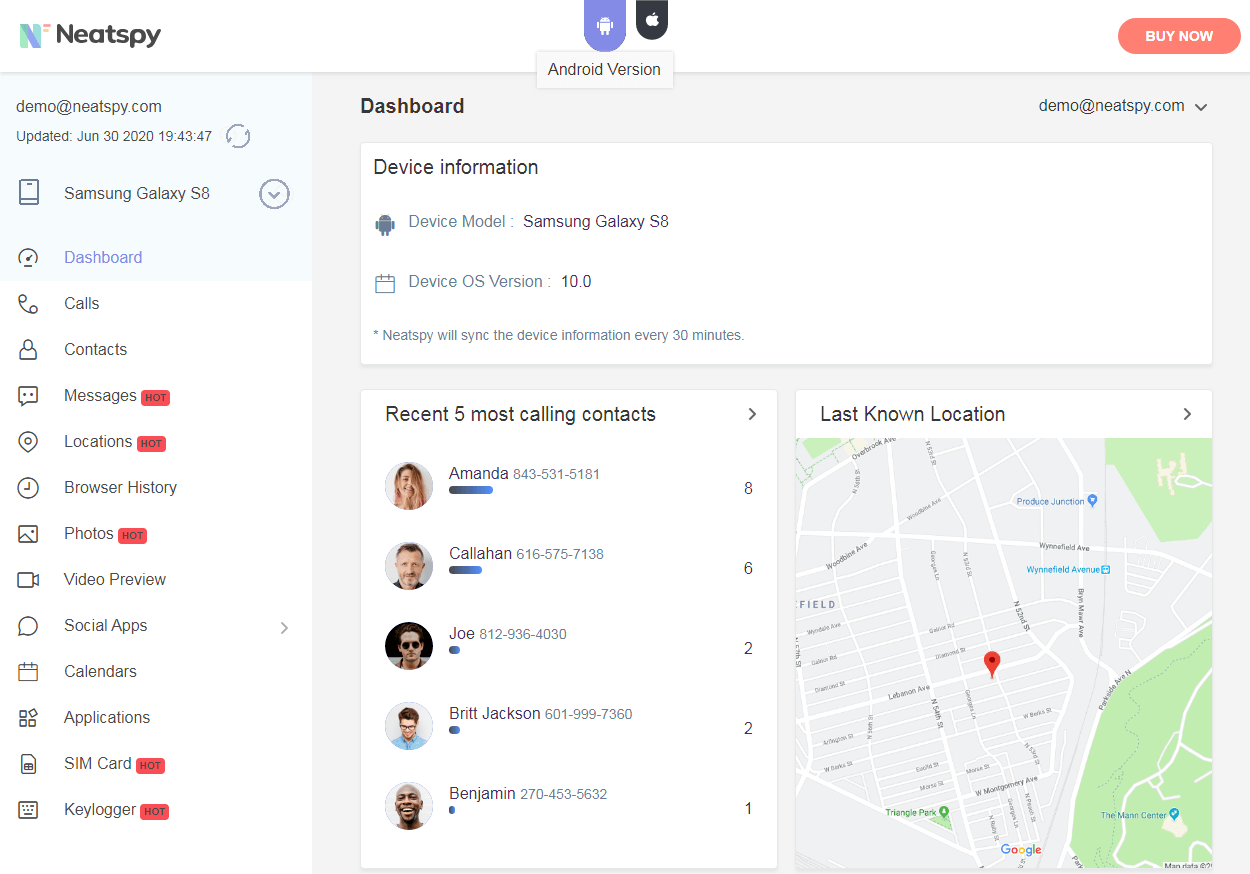 Accessing the target phone may seen like a barrier to spying on a person, but it really isn't. Installing Neatspy on an Android phone would only take you less than 5 minutes. You can then start monitoring their phone with the best free mobile app for Android, in such a way that they can't notice.