The generation of smartphones, tablets, and laptops has made life more secretive than ever. That is why online attacks are rampant not to mention the information leakage rate.
As technology advances, there is a call for monitoring solutions that can keep our subjects and loved ones in check. So, do you have a kid, employee or spouse that needs online protection or spying? Spyera is one of the apps that can aid in the task.
Here, I'm going to have a detailed review of what is Spyera and what it can do. I will also compare it with some of the leading alternatives such as Neatspy. That will give you a comprehensive overview of Spyera and what you can choose if it's not working for you.
Part 1: What is Spyera?
Spyera is a cross-platform monitoring solution that helps you spy remotely without being detected. It has broader compatibility than other related applications.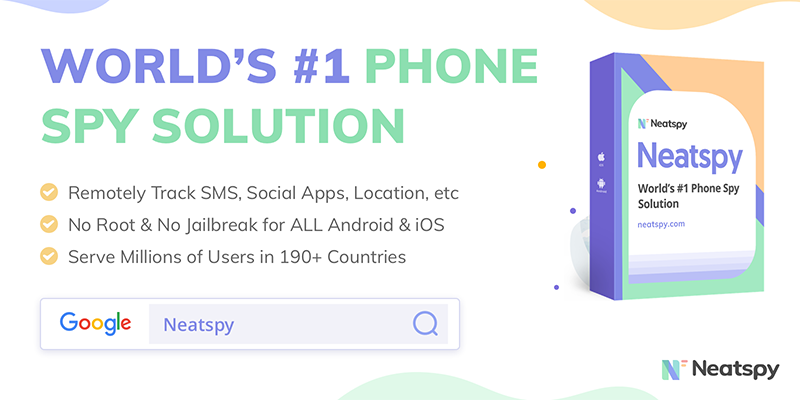 Spyera will help you monitor all calls from the target device, check on the texts and listen to surrounding conversations. The best part is that it also spies on VOIP applications among other unique features. Read on to see the complete review about features, installation and more.

What's Unique about Spyera?
First, it supports Android, iOS, Windows and Mac OS platforms. You can, therefore, use it to spy on almost every other device. Next, there are a plethora of features that you can monitor remotely via the dashboard.
Every platform has some unique features that will help you pry conclusively. Since you want to know what your kid, spouse or employee is doing, the device under use will not matter.
The ability to monitor even VOIP is also outstanding here since not many apps will enable that. You will only face one disadvantage – this app requires rooting or jailbreaking where necessary. If you want a solution that does not mess with the warranty, check on Neatspy.
Spyera vs Neatspy: Android features
Android
Features
Spyera
Neatspy
App List

(No root)

(No root)
Browser

(No root)

(No root)
Call Logs

(No root)

(No root)
Contacts

(No root)

(No root)
Facebook

(Need Root)

(No root)
Keylogger

(No root)

(No root)
Kik

(Need Root)


(No root)
LINE

(Need Root)


(No root)
Location

(No root)

(No root)
Messages

(No root)

(No root)
Messenger

(Need Root)

(No root)
Pictures

(No root)

(No root)
QQ

(Need Root)


(No root)
SIM Card

(Need Root)

(No root)
Skype

(Need Root)

(No root)
Snapchat

(Need Root)

(No root)
Telegram

(Need Root)

(No root)
Tinder

(Need Root)

(No root)
Tumblr

(Need Root)

(No root)
Videos

(No root)

(No root)
Wechat

(Need Root)


(No root)
WhatsApp

(Need Root)

(No root)
Spyera vs Neatspy: iOS features
| iOS Features | Spyera | Neatspy |
| --- | --- | --- |
| App list | (Need jailbreak) | (No jailbreak) |
| Browser | (Need jailbreak) | (No jailbreak) |
| Calendars | (Need jailbreak) | (No jailbreak) |
| Call Logs | (Need jailbreak) | (No jailbreak) |
| Contacts | (Need jailbreak) | (No jailbreak) |
| iMessages | (Need jailbreak) | (No jailbreak) |
| LINE | (Need jailbreak) | (No jailbreak) |
| Location | (Need jailbreak) | (No jailbreak) |
| Messages | (Need jailbreak) | (No jailbreak) |
| Photos | (Need jailbreak) | (No jailbreak) |
| Videos | (Need jailbreak) | (No jailbreak) |
| WhatsApp | (Need jailbreak) | (No jailbreak) |
Part 2: Spyera Features in General
When you install Spyera, you get the following:
Part 3: Spyera in Android
In Android, you need to physically install the application on the target device (smartphone or tablet) before spying.
After installation, it operates in stealth mode too. This app also boasts to hide the rooting evidence. Once a phone is rooted, it has the SuperSU icon. Spyera will get rid of that by hiding it.
It's made to install quickly and does not drain the battery. On the other hand, after rooting, you get more than 200 features. That can use more charge if you start monitoring. Spyera allows you to switch off some of the functions though.
You can also choose to temporary stop spying. Real-time analysis is possible, and you can customize to get alerts even when your name is mentioned. You can also download the spying reports when you need to use them for legal purposes of course.
How to Use Spyera in Android
Sign up with Spyera via the leading site
Choose the package that suits you. You will receive an email with the download link, login credentials, and the user manual with screenshots for installation
Download the app and install it on the target phone. Rooting may be necessary to get the most out of it
Log in to the control panel, let the information sync and start monitoring
Don't Miss:
Part 4: Spyera in iOS
In iOS, I can say that Spyera has some shortcomings. Well, you get all the features we have discussed above which include spying on IM chats and the iPhone/iPad keylogger. The issue here is that you have to install it in iOS too.
The alternative, Neatspy does not need installation in this platform. You only provide the iCloud credentials, and that's it. You have to jailbreak the device to get more features. Neatspy is a non-jailbreak solution.
As for the advantages, you also get over 200 features (after jailbreaking), and it will run in hidden mode too. So, the target user will not find it in the home screen, launcher or task manager.
After the jailbreak, the CYDIA icon appears. Spyera will also hide that as a way to get rid of the evidence. Reading data from an iPhone or iPad includes getting custom alerts, Geofencing and noting when particular numbers call.
You can also download the recorded voice calls in bulk using the download manager on the panel.
How to Use Spyera in iOS
Sign up with Spyera
Choose the appropriate package. You will receive an email with the download link, login credentials, and an installation manual
Install the app in the device. You will have to root it first
After installation, log in to the control panel and start monitoring
Part 5: Spyera in Windows and Mac OSX
The features here are somehow different since you don't get many calls from computers. Apart from what we have discussed above you also get the following:
Monitor network activity: See all the network connections which include the logins, used bandwidth and the print the work going on.
Monitor USB activity: Take note of all USB connections used on the computer. It also reveals the date and time a particular USB was used.
File transfers: Reveals information about the opened files, the modification and if they were sent to anyone among other activities.
Remote updates: If there is need to update Spyera, click the update icon to get the latest version. The updates are free of charge.
Tamper controls: You can choose to hide the Spyera icon or make it visible.
Installing Spyera in Computers
Sign up with Spyera after making sure you have a reliable internet connection
Choose the suiting package and wait for the confirmation email
Download the app on the targeted computer via the link in the email and install using the manual provided
Log in to your control panel remotely and start monitoring
Spyera Alternatives
Part 6: Compatibility
You have already seen that you can use Spyera in a broad range of devices. Here if the compatibility information:
Android: All Android phones and tablets including those with version v9. Rooting required
iOS: All iPhones and iPads including those with version 11.4.1. Jailbreaking required
Windows: Supports XP, 7, 8 and 10
Mac: Supports Mavericks, Yosemite, El Captain, Sierra, and High Sierra versions
It's also compatible with Blackberry and Symbian, but there is no information about the two platforms.
Part 7: Pricing
It's not cheaper than Neatspy's $10 Premium plan, but it's still one of the affordable ones. Here are the options available.
Smartphone plan: Available for iPhone, Android, Symbian, and Blackberry targets. It costs $32 per month. You can choose to go for the three months package for $189, six months for $289 or the yearly package which needs $389.
Tablet plan: This one is for iPads and Android tablets. The monthly plan goes for $24. Three months package needs $149 while the six months deal goes for $189. If you want to pay yearly, you will need to cough $289 for the 12 months package.
Computers plan: You can choose this one if you are spying on Windows PC or Mac. It needs $10 for the monthly payment, $79 for the three months option, $99 for six months or $129 for the next 12 months.
All compatible devices plan: The above plans only get you one license. Here, you get three licenses – computer, tablet, and smartphone. It needs $28 per month. If you want to pay in advance, you can choose the yearly plan that goes for $489 or a two-year option that needs $689.
Part 8: Customer Support
You can contact Spyera using the contact form available after clicking 'submit request tab' at the bottom of the support page. They do not say anything about 24/7 support, but they guarantee to answer your questions within 24 hours.
The support page is also full of information about most of the questions customers ask. If you don't find any answers there, feel free to contact them at any time. You can also choose to call them, but customers have complained about them not being reachable.
You may like:
Conclusion
Spyera is a robust monitoring solution that works cross-platform. Therefore, it is a suitable alternative if you have devices with different operating systems and you want them all monitored.
It does not filter or block anything which is one area Spyera should improve on in the future. You also need to jailbreak/root the device which is not okay if you don't want to tamper with the warranty.
If such problems make you worried, then check Neatspy as an alternative. Otherwise, Spyera will help you know what your targets are up to and their every move without detection.