The precious artifact is stored in tight security with access to very few people. The authorized person comes in and enters the passcode, while the intruders are trying to track keystrokes. How do the intruders know what the passcode is?
Sounds like a scene from science fiction movie? Maybe, it is. How about dragging the scene out of the movie and dropping it into the reality? Are you not curious to find out if it is possible to trace one's keystrokes remotely?
You may not be interested in decrypting access to a high profile item. Yet, you may like to know what another person is typing on the personal gadget. Is it possible to decode the other person's keystrokes without staring at the movement of their fingers?
Bingo! Yes, you can log someone's keystrokes on their personal devices – be it an iPhone or iPad. Are you wondering, 'How?'
Give us the opportunity to explain how you can track the keystrokes on another device. Shall we begin?
The tool that helps you in tracing someone's keystrokes is called 'Keylogger'. We will understand the keylogger in the next section. Additionally, we will skim through the top 10 best iPhone keyloggers to help you choose the right one for you.
Part 1: What is iPhone Keylogger?
An iPhone keylogger is a tool for digital surveillance and comes as a feature in an iPhone spy app. It tracks every stroke and tap on the iPhone. Thus, iPhone keylogger enables you to read all conversations, see internet search history, view calendar events, view notes and reminders of the target device.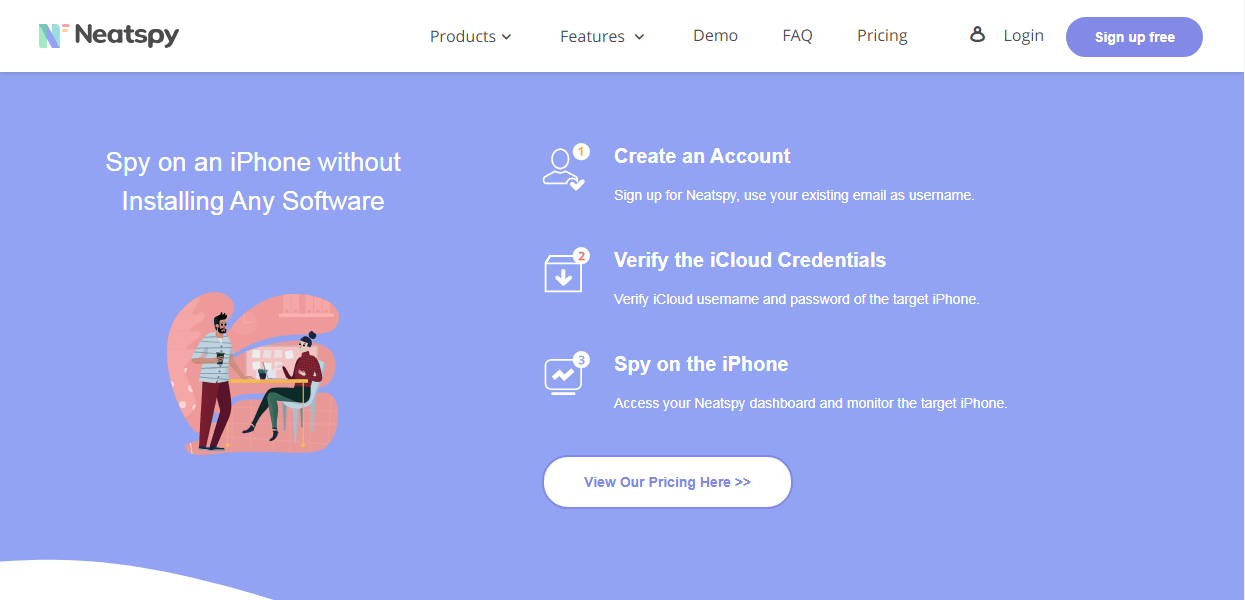 Why do I need an iPhone keylogger?
A keylogger is a powerful tool that can be used to:
Use mobile phone as a surveillance device.
Track your loved ones and make sure they are safe enough.
Monitor your kid's activities and extract passwords for their social accounts to see who they are engaged with.
Oversee employee's activity on the company's device.
Track and analyze the activities on a suspected criminal's cell phone.
Track your own devices.
Hack user accounts and steal confidential information.
Many companies have come forward to build up an iPhone keylogger app to serve your reason of monitoring a target device. It becomes your ethical responsibility to use it for a justified reason and stay satisfied internally.
Can I install a keylogger on iPhone?
Yes, you can install a keylogger on iPhone by jailbreaking it. Otherwise, you can not install it because iOS does not allow third parties to run their apps.
However, we recommend you to avoid jailbreaking your loved one's iPhone. The reason being jailbreak will make iPhone equally exposed to cybercriminals. This might lose the whole point of monitoring activities to assure the safety of your loved one.
Part 2: Top 10 Best Keylogger for iPhone and iPad
Let us take a brief look at the best keylogger for iPhone.
1.  Neatspy
Neatspy is the best iPhone keylogger spy application in the market. It is a reliable and leading iPhone spy app enjoying the support of million of users in over 190 countries.
Developed primarily for parental monitoring, Neatspy is more than a mere keylogger tool.
Why should I choose Neatspy?
You would love to choose Neatspy's iOS keylogging solution because Neatspy:
Is a completely legit spy app.
Has a aesthetic, intuitive and incredibly user friendly interface.
Meets all your iPhone monitoring needs.

Track the messages, iMessages, call logs, WhatsApp and LINE conversations.
Track internet surfing activities by retrieving the browser history.
Retrieves the media files ,including photos and videos, on target device.

Can be set up within a few minutes.
Neither requires any download nor requires installation app on the target iPhone.
Does not require you to jailbreak the device.

Neatspy offers a no-jailbreak iOS keylogging solution.
It neither voids target iPhone's warranty nor exposes it to vulnerabilities.

It is compatible with all iPhone and iPads.
Provides professional technical support.
Want to roam around and experience the Neatspy iPhone keylogger solution yourself? Check out our live iOS demo here.
Get started with Neatspy iPhone Keylogger
Getting started with Neatspy iPhone keylogger tool is really fast and easy.
Step 1: Sign up to Neatspy
Enter a valid email address.
Choose a password.
Click 'Sign Up' to get a Neatspy account and purchase a premium subscription.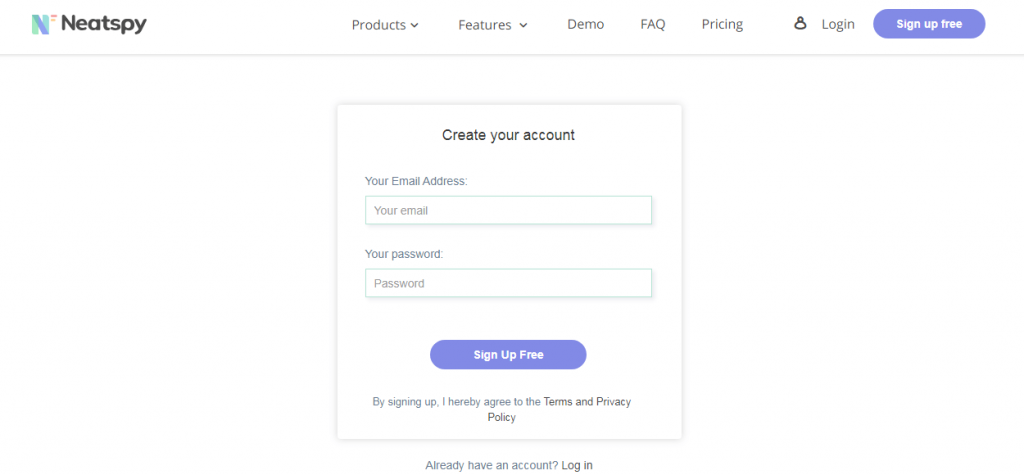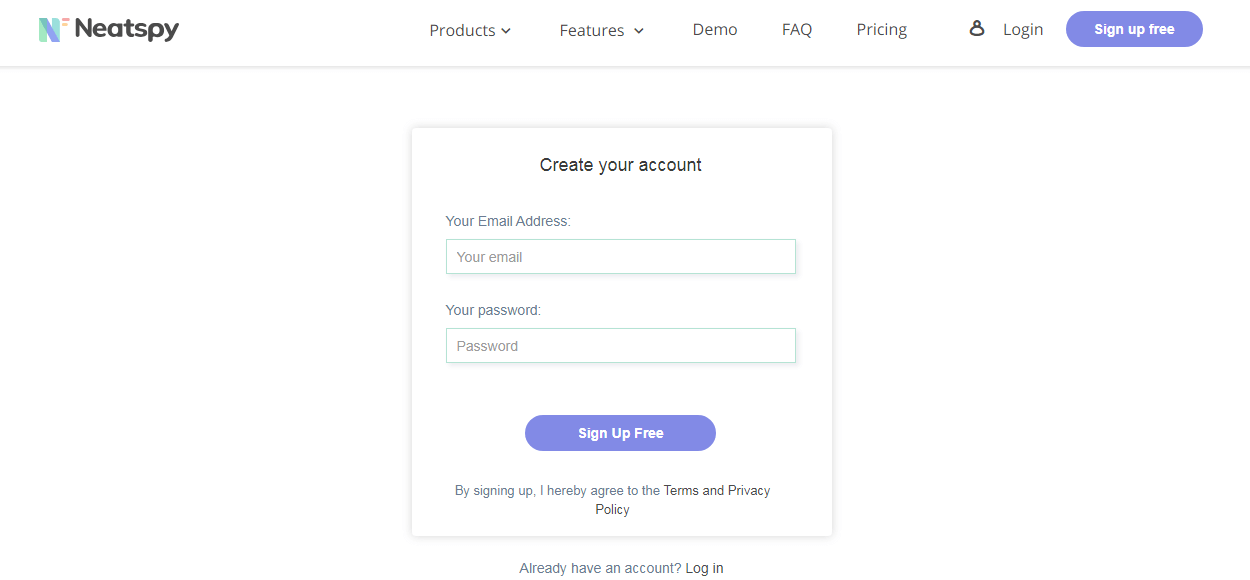 Step 2: Go to Neatspy Control Panel
Go to Neatspy welcome email in your inbox.
Click 'Start Monitoring' to enter Neatspy control panel.
Name the target device appropriately.
Select iOS in Mobile Device.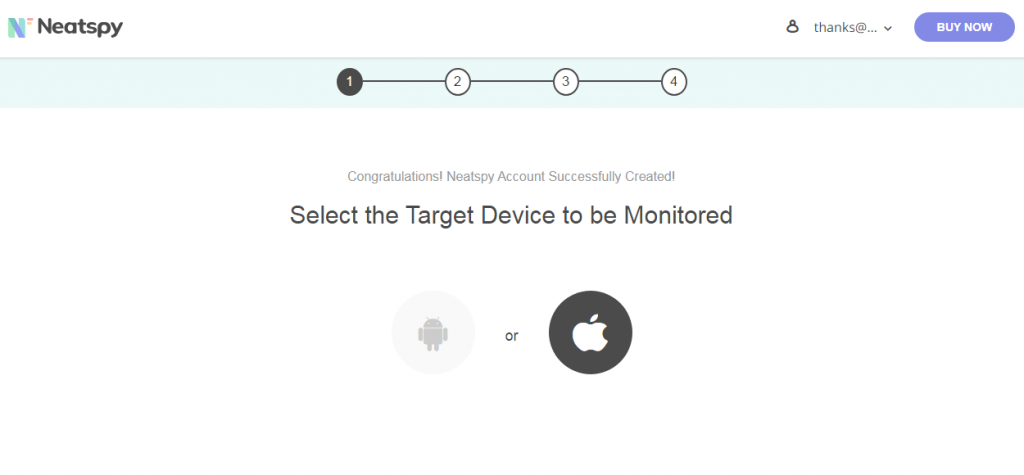 Step 4: Configure the iPhone
Now, you can configure the target device.
Enter iCloud credentials of the target device.
Click 'Verify'.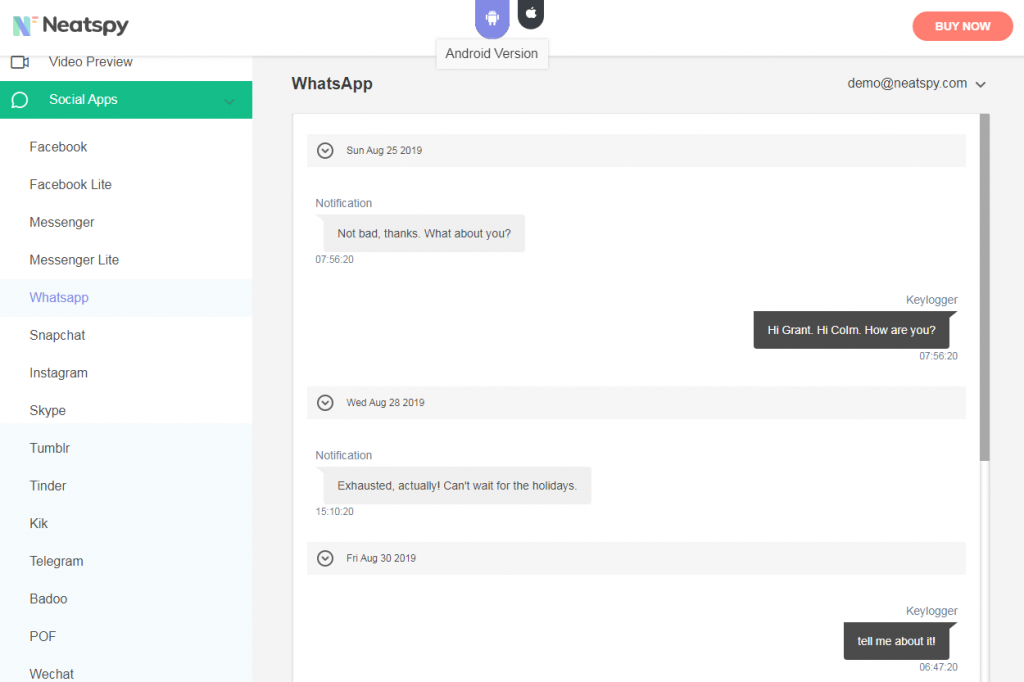 Step 5: Happy Monitoring!
Once iCloud credentials are verified, data begins to sync up to your Neatspy dashboard.
Play around to monitor all activities.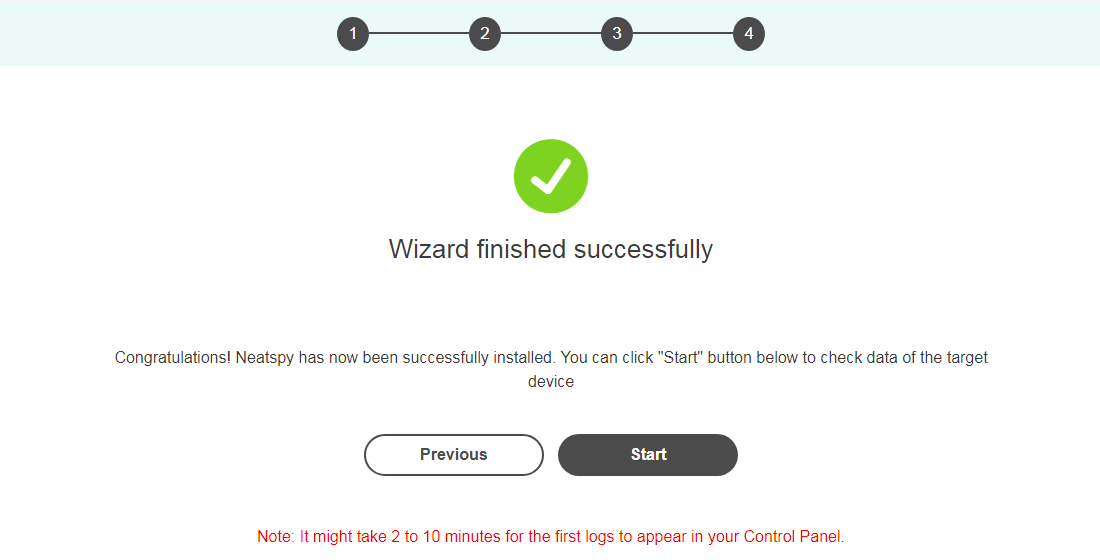 Don't Miss: 10 Best iPhone Spy Apps to Spy on iPhone Without Jailbreak
2.  Best iPhone Keystroke: Spyier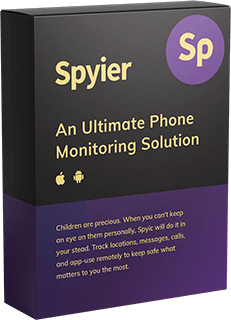 Spyier is widely used as a Parental Control App for iPhone and iPad. Spyier lets you monitor almost every single activity on the target device. You can monitor calls, voice messages,SMS, GPS locations, geo-fencing, photos, videos and much more.
Spyier stands out from its competitors by providing you the ability to track phone surroundings and an enhanced iPhone keylogger.
Spyier lets you track all keystrokes typed on the target iOS.You can track all typed keystrokes, email keystrokes, chat app keystrokes, SMS keystrokes and website URL keystrokes. Spyier gives you the privilege to monitor pasted texts and words which are hidden as asterisks too.
Also Read: How to Spy on iPhone Without Installing Software
3.  Spyic iPhone Keylogger
Spyic is a more advanced and professional spy app for iPhone and iPad.It has all the basic features that a spy program generally offers. What makes Spyic unique from its competitors?
Spyic offers a 'Password Cracker' feature. It is a more advanced form of iPhone keylogging.
Password cracker keeps a record of all keystrokes on the device. Also, it lets you view all passwords and pins being entered to any site directly. This makes it easier to manage.
The best thing about Spyic is that you do not need to purchase the entire spy solution. If you are interested in iPhone keylogger only, you can purchase 'Password Cracker' as standalone software.
There is one discouraging thing about Spyic though. It only works on the jailbroken iPhones and does not offer remote installation. This means you can consider using Spyic only if you are a pro at spying and hacking.
4.  Minspy iPhone Keystroke Logger
Minspy is yet another notable monitoring application for personal gadgets. Minspy Official aims to protect your family and business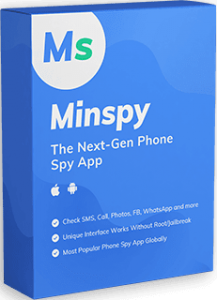 with an invisible keylogger for iPhone. It provides you protection on your iPhone, iPad and Mac devices.
iPhone Keylogger comes as a standalone feature of Minspy. It has the option to run in visible or invisible mode. It captures every single keystroke on the target device and makes it available for you in your web account.
Minspy's iPhone Keylogger record messages, search terms and even deleted text messages. It captures all passwords for you be it Facebook, Instagram, LINE, Skype or email accounts. iPhone keylogger records the iCloud and iPhone passcode as well, so that you may access target device whenever you want.
Besides keylogging, Minspy lets you monitor phone calls, see call logs, record phone calls, view messages, and instant messaging apps, spy on emails and a lot more.
5.  Spyine
Spyine is a powerful and professional cell phone monitoring app. With over 30+ features, it covers all applications and gives you uninhibited access to the target iPhone.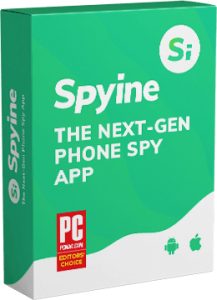 Spyine website offers cell phone monitoring solution in two modes: with jailbreak and without jailbreak. Any spying solution on iOS without a jailbreak limits your spying capability. Once you jailbreak an iPhone, you acquire complete control on the device.
iPhone keystroke logging is categorized as an advanced spying activity. This means you shall choose Spyine with jailbreak solution to use its iPhone keylogger feature. Spyine with jailbreak iOS solution is compatible with iOS 7-8.4, 9.0-9.1.
The Spyine keylogger enables you to read the written conversation and maintain a keystroke log of the iPhone. Spyine provides you the ability to set a 'Keyword Alert' on the target device. Whenever your loved one types the particular keyword, you will receive a notification alert.
Moreover, Spyine allows you to monitor communication apps, track GPS location, build up a geofence, monitor phone calls, review contact list, access emails, track internet usage and browsing history.
6.  Spyzie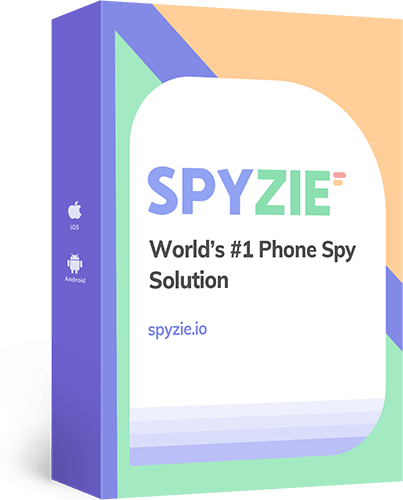 Spyzie is a relatively simple, web-based monitoring tool. With an intuitive and colorful user interface, Spyzie believes in the legal control over the device for offering its spy services.
Spyzie does not bother you with the mess of jailbreaking target iPhone devices. However, you will need access to the iCloud credentials of the target device to assure you are using it for legal purposes only.
Spyzie iPhone keylogging functionality enables you to monitor call logs, text messages, emails, conversations in instant messaging, and social media applications. It retrieves the record for a calendar, notes, contacts, media files, and browser history.
7. Fonemonitor
Fonemonitor is an advanced iPhone monitoring and tracking software. Fonemonitor offers jailbreak and without jailbreak mode to track the activities on iPhone.
Fonemonitor tracks the most popular social media applications including Facebook Messenger, WhatsApp, Kik, LINE, Tinder, Skype, Instagram, Viber, and iMessage. You can also track the call logs, media files, and browsing history.
Fonemonitor prepares analytic reports for call logs and browsing history to highlight the most frequent and noticeable activities.
8.  Highster Mobile
Highster Mobile is a cell phone spy and tracking software. It provides a no jailbreak solution for iPhones. Highster Mobile is compatible with all iPhones, iPads and iOS versions.
It can be quickly set up on the target device. All you need to do is to use OTA (over-the-air) link on the target device. The setup will begin automatically and you will be able to monitor the activities on the target device. It provides remote access to iMessages, text messages, call logs, GPS location, social networking apps, media files, emails, and browser history.
Highster Mobile does not come with a live demo, but with a free trial and 30-days money back guarantee. Start your free trial and make sure you are buying the right product.
9.  TrackMyFone
TrackMyFone offers a no jailbreak solution with over 30 features for monitoring the iPhone device.It is compatible with iOS versions of 6.x, 7.x, 8.x & 12.2.
TrackMyFone lets you monitor calls, SMS, GPS location, Geo-fencing, WhatsApp, Viber, Facebook, LINE Chats, Skype, media files and internet history. Moreover, it allows you to create alerts for specific activities or keywords.
A unique feature of TrackMyFone is its ability to provide you remote control access of the device. You can send remote commands to the target phone such as wipe phone, lock phone, and take screenshot.
10.  MMGuardian
After all this hefty list of iPhone keylogger, MMGuardian gives you a sigh of relief with its minimal features. If you are a parent with a limited budget yet you want to keep your child safe from cybercrime, MMGuardian is the right choice for you.
It lets you track the location of your child. It enables you to configure a safe browsing environment for your child. MMGuardian will send you alert notifications when the app detects any inappropriate image.
Did you find this list helpful? Which iPhone keylogger meet your requirements? Write to us to know your experience of iPhone Keylogging.