Mobile phones have become indispensable. We carry them everywhere we go, including courtrooms, churches, schools, boardrooms – well, you get the picture. 
Unfortunately, the prevalence of mobiles has given rise to crimes like hacking, cyber bullying, cyber stalking and catfishing. The onus is on you to be vigilant. 
The best way to combat cybercrime is awareness. Keep an eye on what matters to you. That includes your children, family members, and employees. That's where location trackers enter the picture. 
With a GPS phone tracker, you can keep an eye on the people close to you without them knowing. You'll know where they've been. Their movements will give you the clues you need to determine whether you should be concerned. 
In this guide, we shall seek 20 best cell phone tracker apps to help you track a cell phone without them knowing.
Part 1: Using A Phone Tracker Without Them Knowing
The biggest concern when tracking your kids, employees or spouses is whether they'll find out. Even if your intentions are good, they might not see it that way.
We, however, have good news for you: It's possible to track someone's phone without their awareness. How? The best way is using Neatspy Cell Phone Tracker.
Neatspy: Best Phone Tracker App Without Permission
Neatspy allows you to both determine a person's location in real time and view their location history. Will they know? Nope. Neatspy is super-stealthy. It runs in the background, using a minuscule amount of system resources.
Once installed, you can hide Neatspy. This means that even when the person views their installed apps, the Neatspy entry won't be there. The target won't smell anything fishy.
The iOS version of Neatspy is fully web-based and works without jailbreak. You can install it remotely. Not only is it impossible to detect, it's also super-convenient to use. 
Neatspy is compatible with the latest iOS and Android OS versions. It also works on both smartphones and tablets.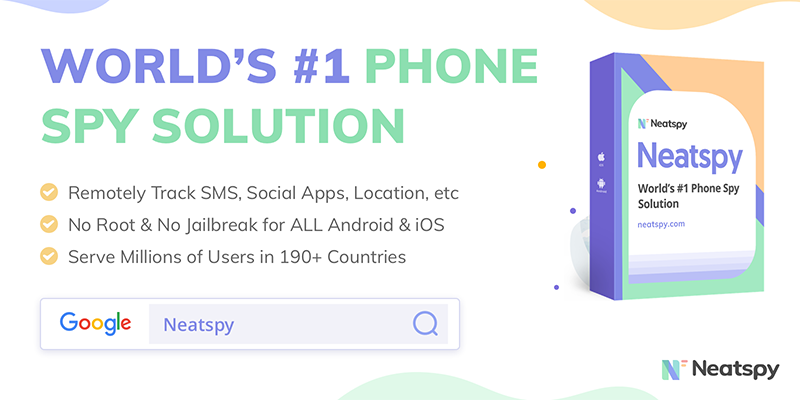 Part 2: How to Track a Cell Phone Without Them Knowing (For Android)
Tracking an Android phone has never been easier with Neatspy.
To track without the targeted person knowledge, you just need to:
Step 1: Sign Up Free. Neatspy only requires your email and password.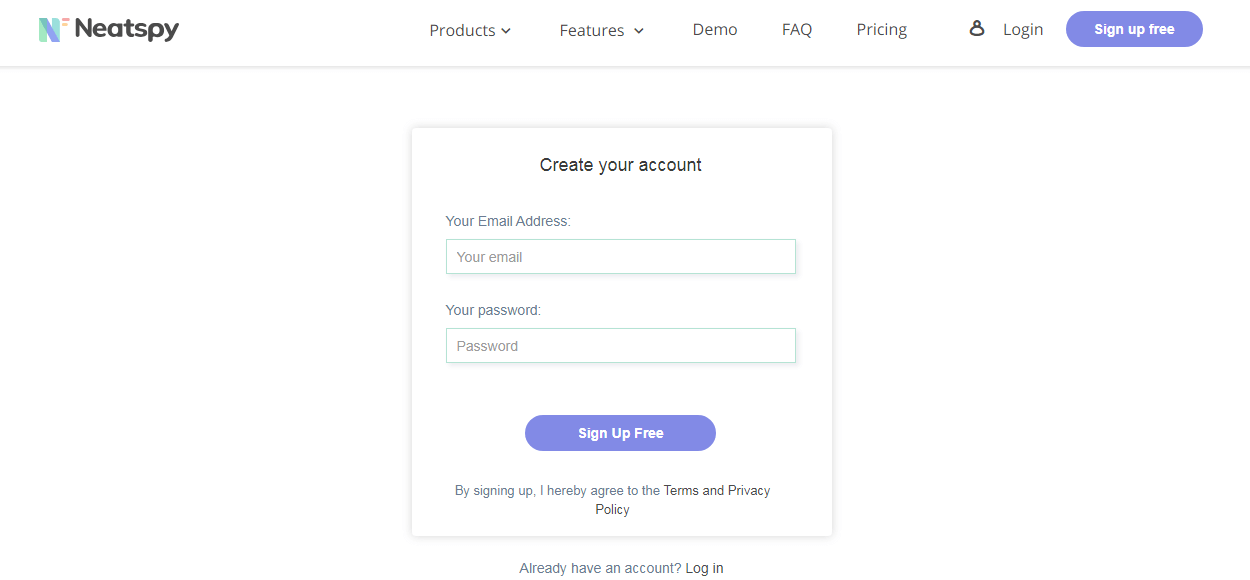 Step 2: Get the download URL and download the app in the target Android device. For more detailed instructions, you can click here.
Step 3: After the installation, Neatspy will begin tracking immediately. You can then access your phone tracker online by logging into your dashboard from any browser. You'll see the location of the target phone in real time!
Part 3: How to Track A Cell Phone Location Without Them Knowing (For iOS)
One of the main reasons why most people go for iOS software devices is because of its security features. It's always been very hard to track an iOS device. But with the recent advancement in tracking apps like Neatspy, it is now very easy to track an iPhone.
Neatspy makes iPhone tracking way far too easy than you can imagine. You won't even need to have access to the target device that you want to track. All you need to know is the target device' iCloud credentials. iOS devices sync their vital information to iCloud. Neatspy can then access all information from there.
All you need is sign in with your account. The device, however, needs to have the iCloud feature for back up enabled.
To track with iPhone without them knowing, you just need to sign in to Neatspy with their Apple ID and password.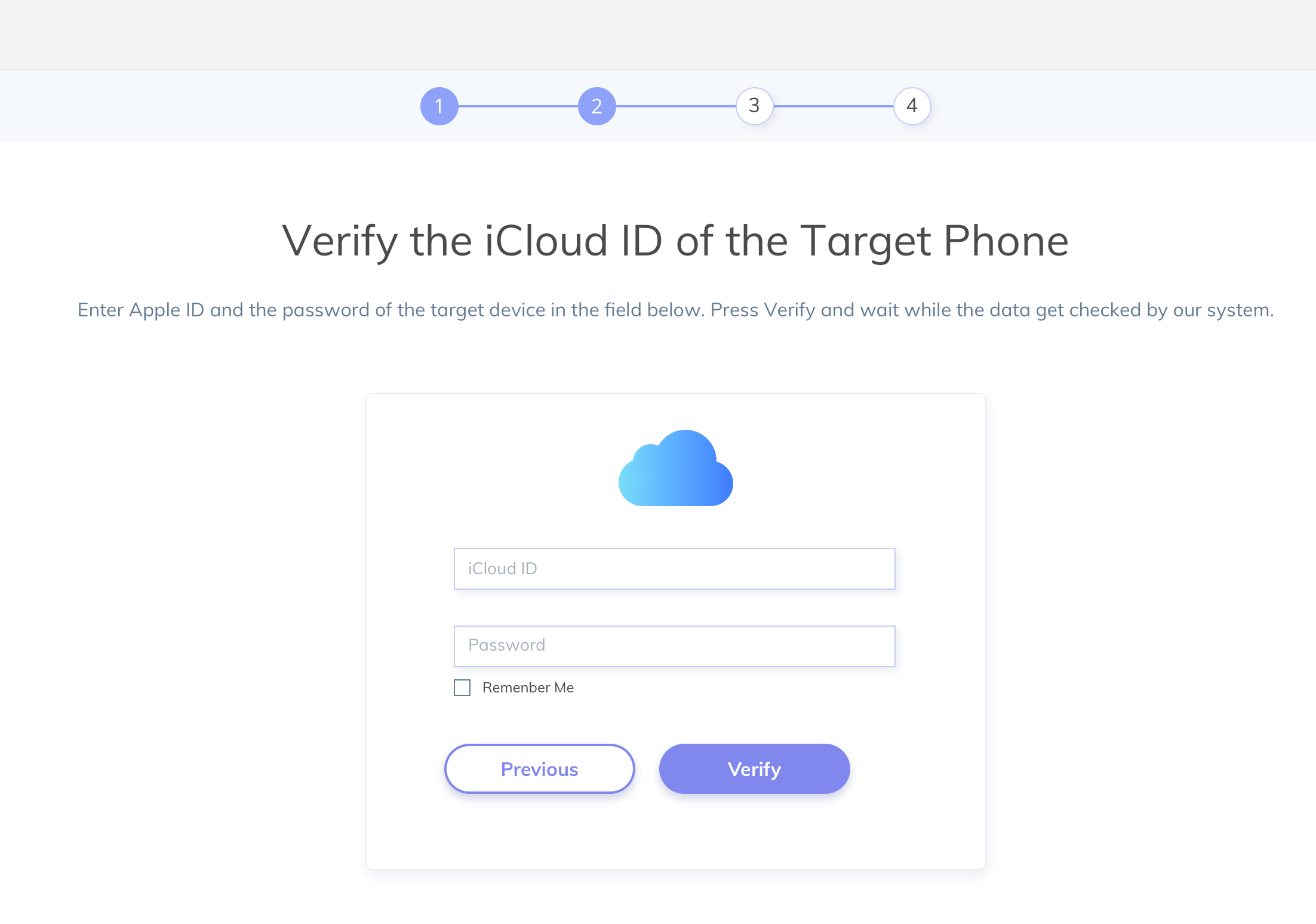 After the interface syncs the data after logging-in to the iCloud account, an interactive dashboard will display all the vital details of the device. In-depth information related to the device can be found on the left panel.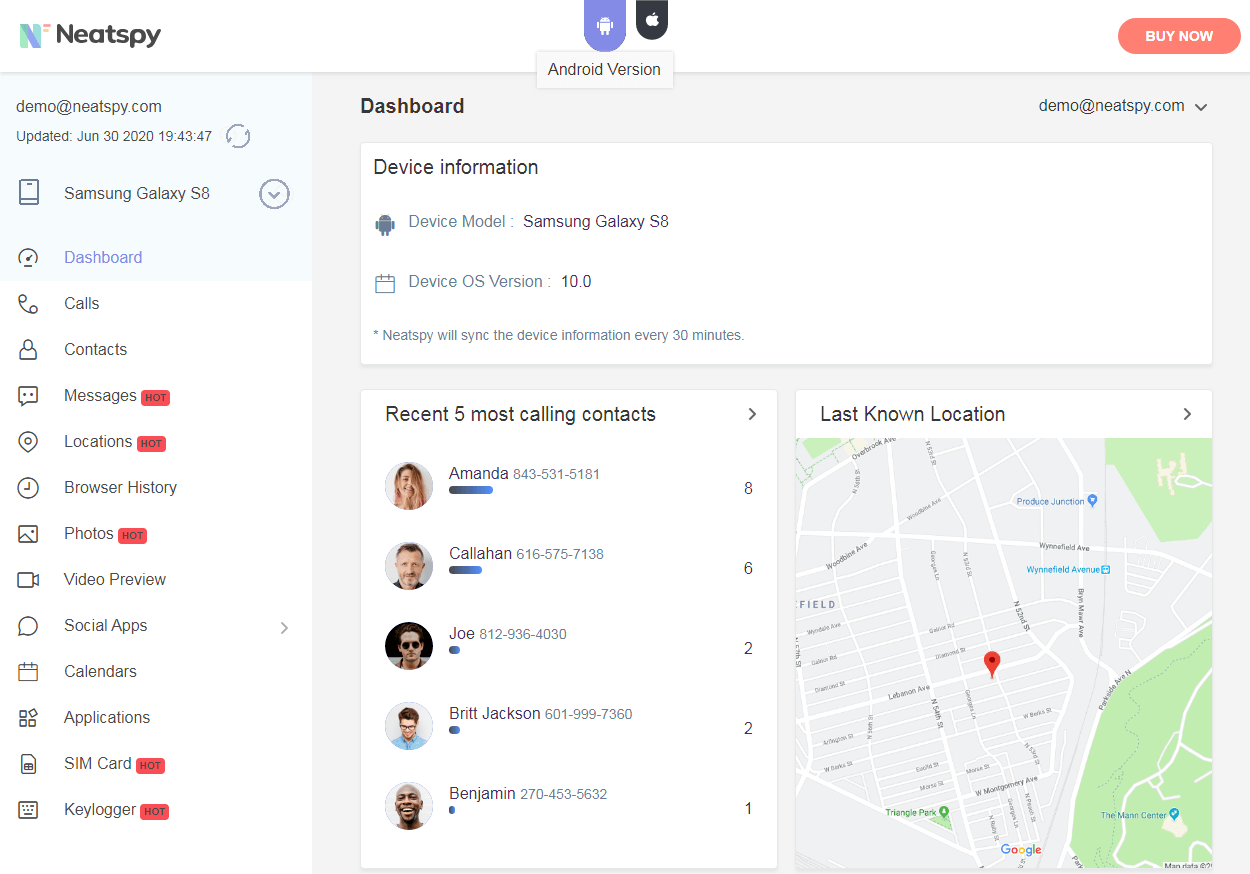 In this way, you can easily spy an iPhone without them knowing using Neatspy!
Part 4: How to Track Someone's Phone without Them Knowing with Spyic
Spyic is a highly trusted iOS and Android cell phone tracker app to track phone without them knowing. It's used by millions of people worldwide. It's discreet, easy to install, and compatible with both target Android and iOS devices. 
Why Spyic? 
Here is why Spyic is a such a standout app for phone location tracking: 
Spyic works without jailbreak or root. It's uncomplicated to set up. You can start tracking someone's location in minutes. 

Spyic for Android is a very small app. It runs hidden in the background and uses next to no system resources. It's virtually impossible to detect. 

Spyic for iOS is fully web-based and impossible to detect. You can set up and access the app remotely. 
How to Track A Cell Phone
Interested in trying out Spyic? Here's how to set it up: 
Step 1: Sign up for a free Spyic account. Use an existing email ID. 
Step 2: Choose the target platform: iOS or Android. Then, follow the setup prompts. 
Step 3: Wait for the Neatspy dashboard to load up and sync with the target phone. This could take a few minutes. On the dashboard, look for the "Locations" option in the selection panel. 
The Location window gives you a detailed view of a person's present and past movements. Places visited are pinned on a virtual map. You get details like addresses, geographical coordinates, and timestamps.
Part 5: How to Track Someone by Phone Number Without Them Knowing
Spokeo is a great cell phone number tracker. It can also be used to track the details of an unknown caller without access to their phone.
Spokeo lets you track a cell phone location online through its website. For over 10 years, Spokeo has been serving people to track their loved ones and protect them from scammers, criminals, and catfishers.
Spokes searches across 12 billion records to look up the most recent owner of phone number and related available data. The phone number lookup report many contain phone number owner's email addresses, residential address, social media profiles, and criminal records.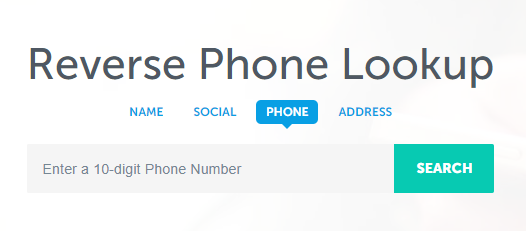 Spokeo Mobile Apps
Spokeo does not offer a mobile app for any platform.
How to Track a Phone Number using Spokeo?
Tracking phone number using Spokeo is fun. All you have to do is:
What can I track using Spoke Phone Number Lookup?
You can see the following information of a person using phone number :
Owner's first and last name
Location and address history
Additional phone numbers
Family members
Email address(es)
Telemarketer complaint form
What can I do with Spokeo Phone Number Tracking?
You can use Spokeo's phone number tracking services to
Find lost friends and family.
Get details of the unknown caller.
Identify any scammer or catfisher.
Update contact information.
Track and complaint against telemarketers.
What Can I not do with Spokeo Phone Number Tracking?
It is important to note that you can not use Spokeo phone number lookup service for
Employee screening.
Screening of tenant.
Accessing secure financial information.
Insurance screening.
Any purpose specified in the Fair Credit Reporting Act (FCRA).
Part 6: How to Track A Cell Phone Location for Free with the Number of the Cell Phone
ZoSearch is a popular and reliable phone number tracking service for everyday use. Use ZoSearch's intuitive user interface to search a phone number in the enormous public data.
ZoSearch Mobile Apps and Website
Use ZoSearch on the go! ZoSearch offers its service in the following modes:
App for iPhone/iPad.
App for AppleWatch.
App for Android.
The online version of the website.
How to Track Someone by Cell Phone Number Without Them Knowing
Tracking phone number using ZoSearch is easy:
Login to ZoSearch.
Go to 'Phone Lookup'.
Enter a phone number.
Hit 'Search'.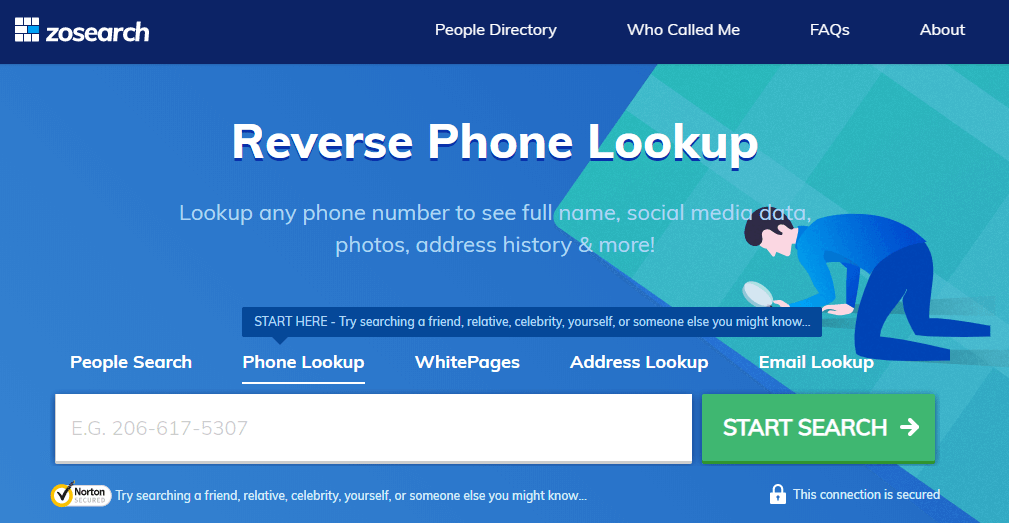 What can I track using ZoSearch Phone Number Lookup?
You can track complete information of a person using a phone number including:
Owner details
Residential addresses
Criminal records
Social media profiles and photos
Email addresses
Associates
Family and friends
Mortgage and bankruptcies
Phone numbers
Career and education record
What can I do with ZoSearch Phone Number Tracking?
You can use phone number tracking services to
Find your lost loved ones, distant relatives and other family members.
Reconnect with people from your old neighborhood.
Access court records without going to court in person.
Check out the social profiles of a stranger before you become friends.
Find addresses to send invitations or greeting cards,
Track out an unknown phone number.
More importantly, you should check out what is in your public record to avoid any possible legal trouble.
What Can I not do with ZoSearch Phone Number Tracking?
It is important to note that you can not track a phone number for
Employment screening.
The hiring of household workers.
Tenant Screening.
Evaluation of educational qualification.
Review a person's eligibility for business and financial transactions.
Why should I track phone number using ZoSearch?
You would love to track a phone number using ZoSearch because it offers:
Also Read: How to Find Someone's Location by Cell Phone Number
Part 7: How to Track A Phone Location for Free (For Samsung)
Tracking a Samsung phone is as simple as an iPhone. For most Android phones one has to install tracking apps, but for the Samsung phone, one can track a phone using a Samsung Account which has a feature called Find My Mobile.
Find My Mobile has features like the GPS phone tracker, remote device locker and siren signal alert sender. Tracking using a Samsung account is free.
Track a cell phone location for free
Create a Samsung Account by going to the Android Settings > Account. Then choose Add Account and select Samsung Account
Log into your account by entering your Samsung ID and password, and then enter.
Go to Find My Mobile icon, select Register Mobile tab and GPS track phone location for free.
Also Read: How to Track a Cell Phone Location Without Installing Software
Part 8: How to Track a Phone Location Without Them Knowing for Free (For iOS)
Find My iPhone is a feature that was implemented by Apple to help people on how to track lost iPhones. However, if you are tricky enough, you can use this feature to track someone's location using their iPhone, iPad or iPod touch.
To use Find My iPhone to track someone for free, you need to have their iCloud credentials. You also need to make sure that the functionality is also enabled on their mobile phones.
How to Secretly Track A Cell Phone Location for Free
Open the Settings app on their iPhone or iPad.
Tap on "Apple ID" at the top.
Tap "iCloud."
Scroll down and click "Find My iPhone."
Switch it on.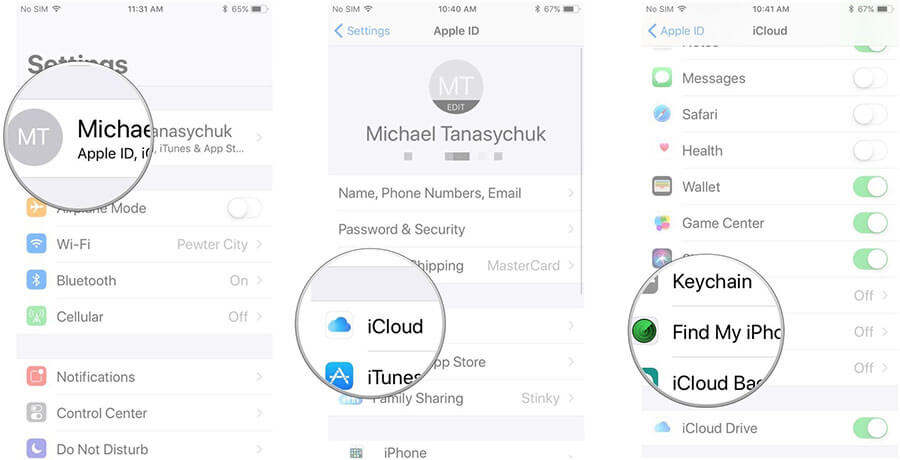 From there, you can now track their location using either a browser or your iPhone.
To use a browser:
Go to www.icloud.com using any browser.
Log into their iCloud account.
Click "Find iPhone."
If prompted, enter the Apple ID and password.
Click on "All Devices" at the top, and select the desired one.
You will now get a map with their current location. You can zoom in to see the precise location.

To use your iPhone:
Launch the Find My iPhone
Log in with their iCloud ID.
Tap on the name of the device you'd like to track.
You will now get a map with their current location. You can zoom in to see the precise location.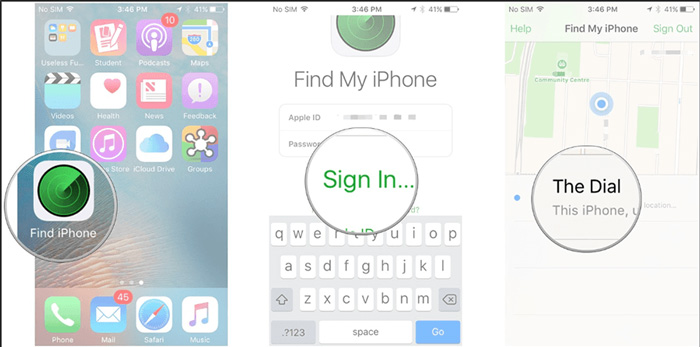 Since Find My iPhone is meant to find a lost phone, you will have options such as "Play Sound," "Lost Mode" and "Erase." Be careful not to use them, as the other person will know that their device is compromised.
You may like: How to Track an iPhone Without Them Knowing
Part 9: 5 Best Free GPS Phone Trackers to Track a Cell Phone Location for Free
#1: Maps – Navigate & Explore
If you want a free cell phone location app, then Maps – Navigate & Explore is a great option. Maps – Navigate & Explore is one of the best phone tracker apps for Android phones. GPS signals from any WiFi spots close to the target phone can be used to determine the exact location of the phone.
Maps – Navigate & Explore allows users to track someone's cell phone on a detailed map online. Furthermore, it gives users the chance to access all phone location information directly from their control panel.
#2 My Location: GPS Maps, Share & Save Locations
My Location: GPS Maps, Share & Save Locations may not have the most advanced features, but it can still track the cell phone location efficiently. The best aspect of "My Location" is that you can purchase it once for a lifetime, and you don't have to make regular payments, unlike other apps. This makes My Location the best free phone tracker app in this list.
#3 GPS Phone Tracker
GPS Phone Tracker is yet another one of the best GPS phone tracker apps in the market. It allows you to track GPS location in one of two ways – continuous, or on demand. The 'Continuous' method keeps uploading the current location of the phone according to a timer. The 'On Demand' method allows you to get the current location of the device whenever you request it, thus conserving battery.
Furthermore, as one of the most powerful and free location tracking apps in the market, it also allows you to download the GPS location or view the route map.
#4: Find My Friends – GPS Tracker
Find My Friends – GPS Tracker is one of the most basic free GPS phone trackers in the market. It can remotely track the location of Android and iOS devices, from wither a phone, tablet, or a computer.
While it doesn't have a lot of the advanced features available in the other free cell phone locator apps, it does allow you to track someone's cell phone location for free based on their GPS.
Furthermore, it also offers a 10 day money-back guarantee. As such, you can use it to track location and then get your money back, making it one of the best free phone tracker apps.
#5: Android Device Manager
Formerly known as Android Device Manager, this is Google's phone recovery feature. You can also use it to track someone through their mobile phones. All you need to do is install the Find My Phone App. It's available on the Google Play Store.
After downloading the app, launch it. You will be required to enter the associated Google account, and so you will need the email and password used on the device.
Immediately after entering the credentials, the app will locate the device and let you see its location in real-time.
Part 10: 5 Best Online Mobile Location Tracker by Phone Number
#1 Zaba Search
Zabasearch is similar to ZoSearch and Spokeo but it's a lot more advanced. While the previous websites are largely meant for personal use, this website is used by professionals as well. It's extremely user-friendly and all you have to do is enter the phone number in the search bar and click on 'Access Records', but it gives you entry into a range of different features.
Features:
Zabasearch is 100% confidential. As such, no one will know that you're investigating someone.
You can access reports from any device, your laptop, iPhone, tablet, etc.
It generates a details background investigation on the caller's identity. An average report size is usually around 17 pages and it can tell you a lot about them.
Zabasearch can give you the following information

The caller's first and last name.
Their current registered address and all past addresses.
Email addresses registered to that name or number.
All associated phone number.
Any criminal records.
Details of previous arrests or warrants against them.
Details regarding bankruptcies.
Information regarding complaints filed against them.
Eviction notices.
Birth certificate.
Marriage and Divorce records.
In addition to all of the information mentioned above, Zabasearch can reveal a lot more as well. Basically, it gives you all the information you need to figure out who a person is and whether they can be trusted.
However, it has one major weakness. Like Spoker and ZoSearch, it can't give you the caller's current GPS location, only their known addresses.
#2 Spydialer
Spydialer isn't quite as advanced an online mobile number tracker as the websites and apps mentioned previously. In fact, it's a pretty straight-forward but rudimentary website that gives you the basic information you need – the caller's location – and nothing more.
You can use this website to track mobile numbers 24/7. It can hone in on the caller's current GPS location and reveal that information to you.
As such, it doesn't just give you their known home address, it tells you where they are currently. This feature is the only reason we've included it in our list.
It negates the biggest drawback of the previously mentioned mobile number tracker websites, and you don't need to install an app into the target phone for it to work. As such, you can use it to track any number from anywhere in the world.
How to Track A Cell Phone Location by Number
Go to the Spydialer Official Website.
Enter the phone number that you want to track, along with the extension code.
The cell phone must not have a (-) negative sign, and it must come with a country code.
Click on 'Start Tracking Now.'
You'll get access to the target phone's current GPS location along with info regarding their registered home address.
#3 Number Locator
Number Locator is a free mobile number locator developed by Elegant Recursion Inc. All you have to do is enter the number into the search bar and it will give you the number's location on an interactive map.
This app works both online and offline and it has a beautiful and detailed interactive map. Furthermore, the results are produced within a matter of seconds.
The biggest issue with the app is that it has a lot of pesky pop-ups that ask you to upgrade to a paid version to access the advanced features.
#4 TurePeopleSearch
TruePeopleSearch is extremely advanced and offers you a lot of different options and features to work with.
It has a database that covers around 200 countries around the world, and the interface is extremely attractive and user-friendly.
You can even make calls and send messages to the unknown callers from the app directly.
The biggest drawback of this app is that it needs an active internet connection to function.
#5 Spyier
Spyier is an extremely professional and user-friendly mobile number tracker website. The unique aspect of this is that it's used to determine a caller's legal background. You have to enter their phone number in the search bar and click on 'Access Records'.
The results will help you uncover whether the caller has any criminal records, arrest warrants, bankruptcies, etc. Basically, you'll find all the public information about them you need to decide whether it's safe to contact them.
Spyier guarantees that all of your searches will remain 100% confidential. You can access the reports from the web browser, mobile, tablet, etc.
An average report size is 17 pages and it includes everything from Birth Records to Marriage and Divorce Certificates, and Police/Court Records.
Part 11: 5 Useful Tips to Track A Cell Phone by Number Without Them Knowing
Whether trying to help the target person or doing it for your own benefit, spying is something that you shouldn't be caught doing. This is why you should always try to cover your tracks to avoid complicating your relationships with them. Here are a few tips that you should always keep in mind in order to remain undetected, as well as to enhance your spying experience.
Don't act out
The simplest mistake you can do while spying on someone is to tell them. You may not tell them directly, but by showing that you know too much about them. If you have an issue to address, try to find an explanation that will not make them suspect you.
Always stay updated
Not only should you know about the current spy trends, but you should always make sure that you update your spy app. This is because updates are meant to correct something that can either be wrong or improve on something that has become outdated. Failure to update the spy app may make it easily detectable by an updated operating system.
Choose a compatible app
Sometimes you don't only need to track a single person, but your whole family. Choosing a spy app that supports multiple platforms like Neatspy helps you track all your kids/ employees regardless of whether they use an Android smartphone or iPhone.
Keep Your Account Login Details Secret
Most spy apps will require you to create an account so as to access tracked devices. It's important to keep your dashboard private. Do not bookmark it, keep your login details anyhow or use a simple password. This can make you be caught easily and if you were spying on your spouse, things might go south quite fast.
Choose your tracking app wisely
Not all mobile phone track apps deliver what they promise. It's important to look at the quality of service offered by the app in comparison with the price. Neatspy gives you a safe starting point, and it's the best app you can use to track cell phones without them knowing.
You now know how to track a cell phone without them knowing. If you follow the given guidelines, you shouldn't worry about being caught. Though there are various methods that you can use to track a mobile phone, using Neatspy is the best. For example, the Google Play Store notifies a person that their location has been traced using Find My Phone. With Neatspy, you don't have to worry about the target person knowing. If the app sounds too good, that's because it is!