There are many options to go for when considering free spyware for Androids and iOS in the market. That is why most of us are left with a hard time trying to select the best suitor. It takes much time going through the reviews and product pages.
What makes it worse is when you decide your favorite app only to realize that it does not help. Some of them even send malware attacks once you install.
If you have been there, it's time to worry no more. Say goodbye to those bad apps that can't even issue a refund.
Why? Here we have a list of the best spy apps to take home with you. All you have to do is read on and see which one suits what you want to spy.
Part 1: Neatspy
One of the most efficient ways to spy on phones and keep track of the activities is using Neatspy solution. It is a global leading monitoring application that has earned trust from millions of users in over 190 countries.
You may have seen it published in recognized media outlets such as Android Authority and Forbes among others. That means even the big corporation agree it is an app you can't afford to miss if you want to spy on phones and tablets without a hitch.
One of the reasons users trust Neatspy is because you don't need rooting/jailbreaking to access the target device information remotely. After following the installation process, you can access the dashboard and see all the activities on the device with minimal knowledge.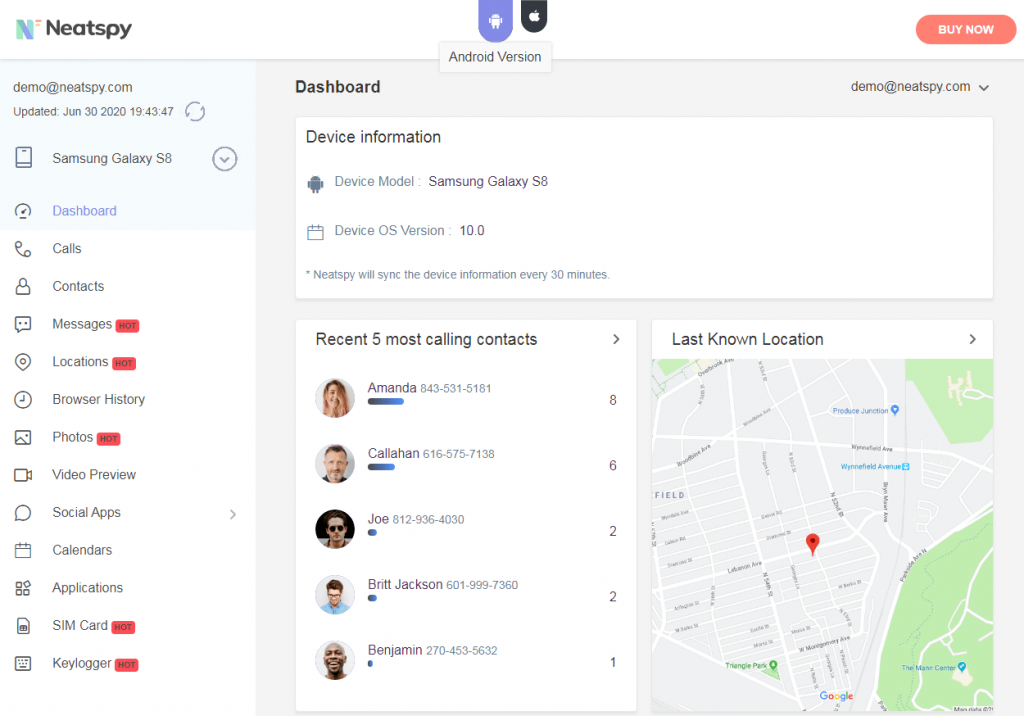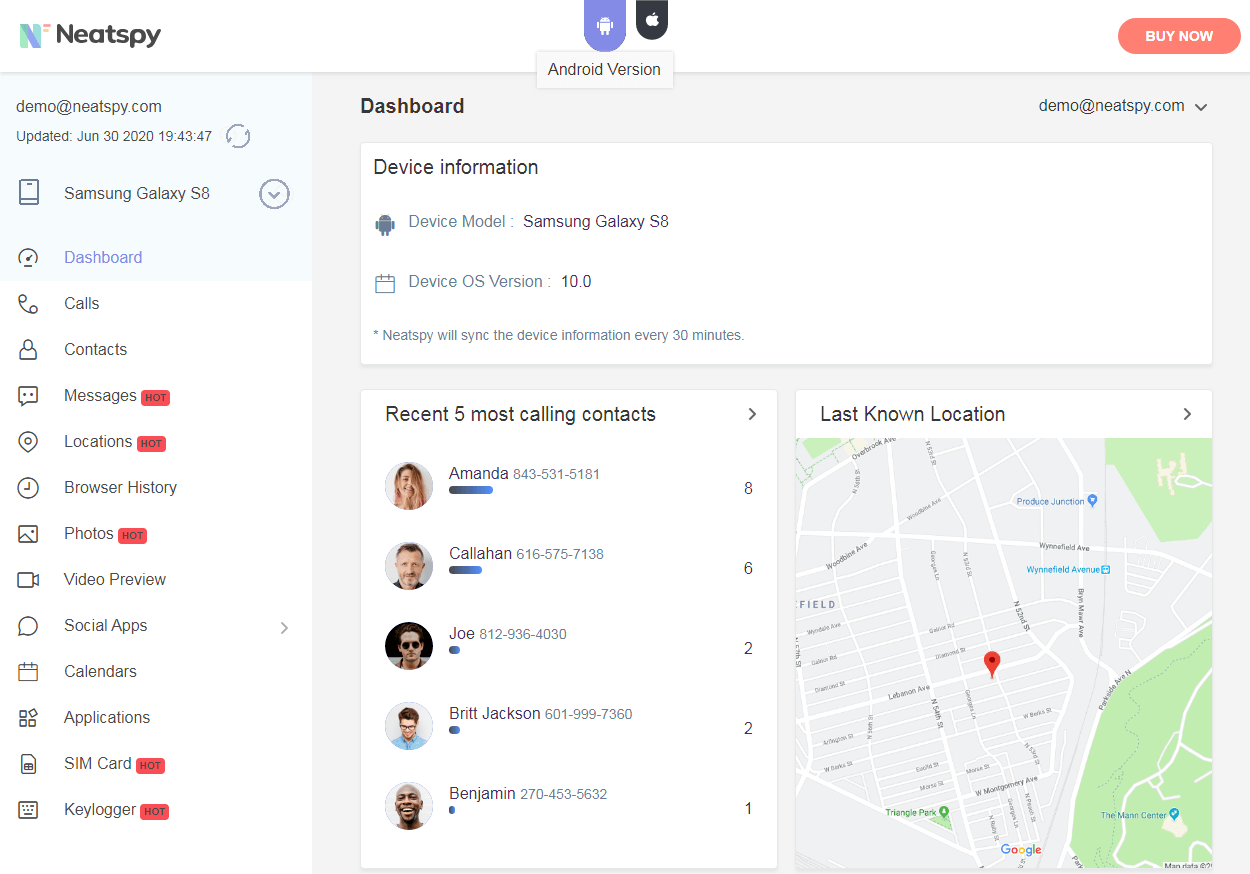 1.1 Free Spy Apps for iPhone (No downloads & No Jailbreak)
Neatspy is available for the Apple world. There are more than many tracking features that will aid in fetching information from the iCloud after setting up.
The best part about it is that you don't have to jailbreak the iPhone or iPad to access the reports. You also don't install any software on the phone.
With the iOS solution, you can access all the messages, including iMessage. Did the target delete some of them? Neatspy fetches that too, the participant's details and the time they were sent. For more features, how about visiting the free live demo.
If you know the iCloud credentials of the device you want to spy, you can install Neatspy remotely without touching the phone.
Once installed, it operates in stealth mode. That means you are the only one who knows that the app is running.
It's legal and safe to use it hence the best recommendation for parents and employers. For compatibility, you need iOS 7 and above.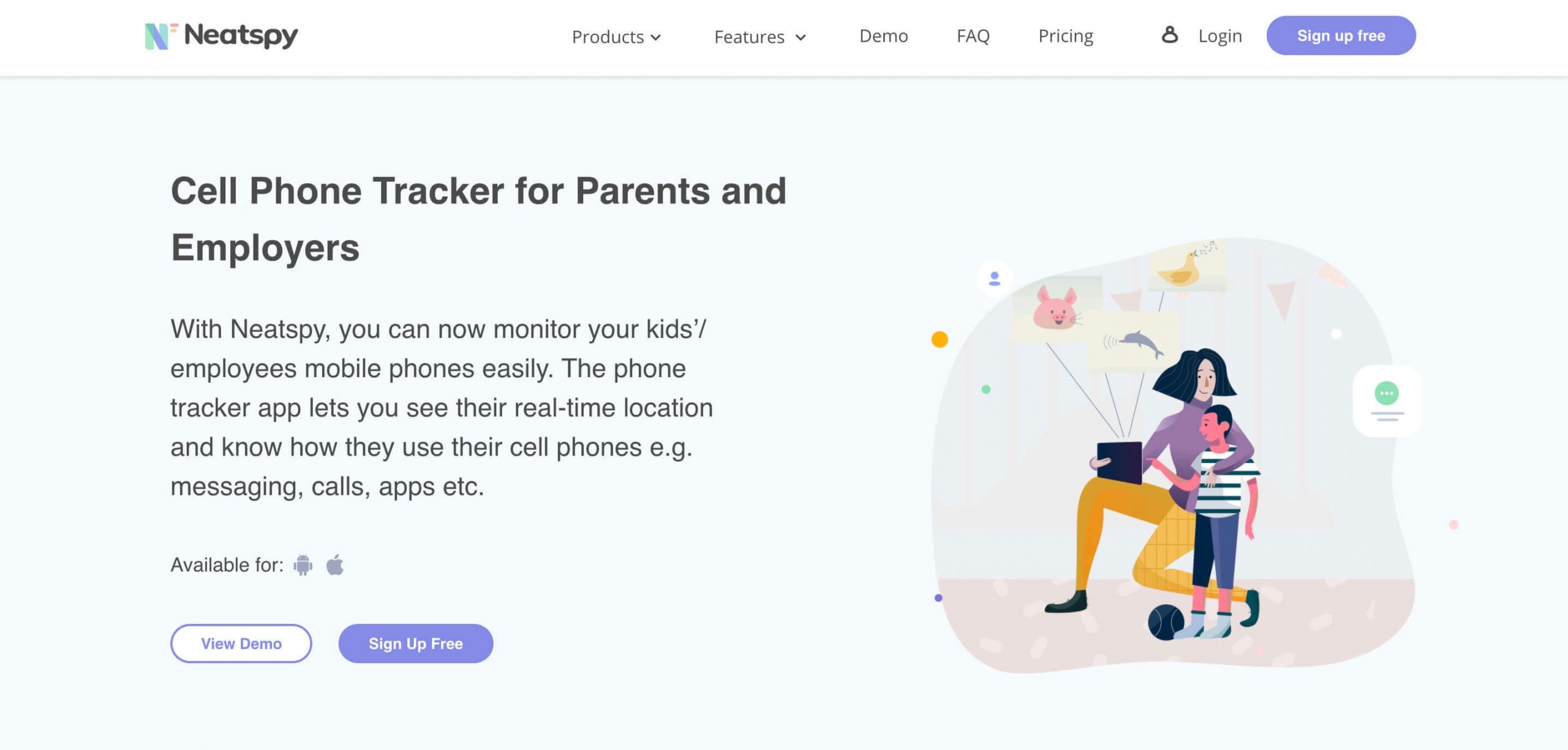 1.2 Best Free Android Spy App (Hidden & No Root)
Neatspy also works on Android. You don't have to root the device, and you can access the information remotely without going back to the target.
You, however, need to install Neatspy on the target for you to access the data from another device.
Installing in Android 4 and above takes less than five minutes to do so. It is as small as 2MB which means the target phone user will not know that anything is consuming phone space.
After installing, you need to choose the hide application option so that it can work in stealth mode. No rooting is required.
If you don't need to spy anymore, the control panel has a one-click option to uninstall the app from the target device.
Since it uses less space, it also means that battery consumption is low. On the other hand, that also depends on how many times Neatspy fetches data from the phone.
Check the Android demo here.
Part 2: Spyier – Free Spyware for Androids
Spyier can be used to access another phone remotely. Most of the users are parents who need to know where their children are and what they are up to.
Once installed, you can use it to track location, view social media activity, SMS, call log and browsing history among others.
What users love about it is that you can block the sites that you don't want the target to visit, and mark restricted areas. To see how it works, visit the demo page.
Also Read: 10 Best Free Hidden Spy Apps for Android (100% Undetectable)
How Spyier Works
The installation steps on Android are easy to follow. After completion, you will have access to the dashboard without any further alterations.
It will work effectively in fetching data but be aware that it may drain the target's battery.
After installation, the app's icon will disappear, making it invisible to the target phone's user.
It helps if you have an internet connection for the target device for it to work. After visiting the Spyier page, you can go to the Support tab at the top navigation for more information. Lastly, Spyier is now compatible with Android 8.0 Oreo.
Part 3: Spyic – Best Free Spy App
Spyic is another leading spy app that most of the parents use to monitor their kids. Apart from gaining access to Facebook and other social media platforms, it also helps in location tracking. More features include internet history, tracking calls and messages and access to media files.
There are too many tools to explore once you install this solution. After installation, the information from the target phone is availed on the dashboard remotely. It is compatible with Android and iOS, and there is no rooting or jailbreaking needed.
However, if you want to access more features and info from the target, you may be prompted to root/jailbreak. In iOS, the jailbreak option has a limitation when it comes to compatible devices.
Try Spyic For Free
Spyic has a 7-day trial option if you want to see how it works. All you need to do is visit their site and fill in your contact information. After that, activate the 'Get Free Trial' option which gives you full access to Spyic for the next one week.
That way, you can install it for free and see how it works before making the purchase decision. If you don't want to buy, make sure you cancel the free subscription within the seven days.
With the free version, you can track the Facebook messenger, calls, location, emails, app use, keystrokes, and the list is endless. After installation, you don't need the target phone again. The information is available on the control panel that you can access remotely at your convenience.
Don't Miss: Top 10 Free Android Spy Apps for Cheating Spouse
Part 4: Minspy
Minspy is another excellent spying App. It can be used in both smartphones and computers to spy on the activities happening in the devices you are targeting.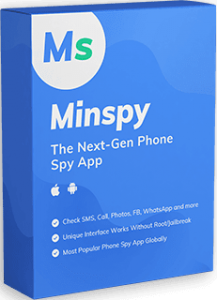 After recording, this application will upload the data in your established account. You can view different parts of the information via the control panel's feature list.
Just like Neatspy, it also runs on stealth mode to hide it from the target's knowledge. It even does not have the 'Hoverwatch' name so the user will not know even after checking.
The best thing about it is that you can use it to track your family or employees using one account. It permits monitoring up to five devices using the same account. The targets appear on the dashboard, and you can toggle from one to the next.
How it works
You can set up an account for free. You only need a valid email address and password.
After installation, the information from the target phones is stored in the servers in the form of data logs. The software shows you the recorded reports for viewing.
As long as you are the only one with the account credentials, the collected information is only available to you.
You, however, need the target to be connected to the internet for uploads. If data usage is too much, you can set Minspy only to work while on Wi-Fi connections.
For compatibility, it only works with Android.
Can't Miss: Top 12 Best Keylogger for Android
Part 5: Spyine – Free Spy App
Spyine is one of the free spy apps for Android without target phone. You can use it to follow the standard features such as calls and messages. For more Spyine, there are advanced features to aid you in the task. One of the options in the many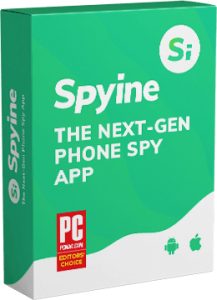 highlights is, of course, the ability to track.
A summary of the features includes accessing instant chats from messages and social accounts. The GPS tracker shows the current target location, and you can easily control the phone remotely after setting up.
Part 6: Phone Spying – Free Spy App
This solution will also aid you in fetching information from your target. After setting up, you can use it to read all the messages from the phone via the control panel.
It also operates on stealth mode, so you don't have to worry about the target user being informed about some spying activities.
Some of the esteemed features include accessing web history, Geofencing, keylogger, and GPS tracking ability. Phone Spying also allows you to capture screenshots remotely and access media files. It is not necessary to jailbreak the phone you want to monitor.
Part 7: NetSpy – Free Spy App
You can acquire NetSpy spy app free before you can advance to payments. It is useful in recording all the messages on targets, access call logs, geo-fencing, and keylogger among others.
To make sure your spying activities are a secret, it can operate in hidden mode, and no rooting/jailbreaking is needed for it to function. You also get to enjoy features such as video access and remote screenshot capture. When it comes to payments, it is affordable when you decide to do so.
Those who have already used it know that it has a nice and interactive dashboard for easy navigation.
Part 8: Phonesheriff – Free Spy App
If you want a sheriff to tell you what's going on with your employees, kids or even spouse, via their phones, Phonesheriff will be on duty as needed. Installing it can alert the target device user, and things could go wrong.
That is why you need to access the phone first. After that, turn off the app's icon, and you are good to go. Once installed, the dashboard has the usual features such as GPS tracking, accessing messages and IM chats, setting customized alerts and more.
What you will enjoy after acquiring it are the restrictions you can impose, blocking web pages that you don't want to be visited, and even locking the phone. Whether you are on iOS or Android, this solution will solve both platforms.
Part 9: StealthGenie – Free Spy App
StealthGenie can monitor iOS, Android and Blackberry devices. That's a larger realm for it compared to other spy apps. As the hacker, you can receive all incoming and outgoing messages, emails, IM chats and intercept calls.
The features on the dashboard are advanced to cover the three compatible platforms.
Part 10: Teensafe – Free Spy App
The last item on our list is Teensafe. You can sign up for free if you need something to check on the employees or kids. Some of the distinct features include tracking video calls from the target phone or tablet.
If you don't want to pay first, it has a free trial version that will take you through how it functions.
Check out this Teensafe review to find more info about this app.
Conclusion
As we summarize, before you select free spyware for Androids and iPhones, it is essential to go through the company's profile. Do your homework to avoid unwanted surprises. Some spy apps are known for that.
It is okay to be selective and stingy until you find the solution that works for you with no compromises. Lastly, go through customer support and the available reviews to see if the company has a good reputation.