Cell phones have advanced to become part of our everyday lives. That is why most conversations are happening on the phone rather than physical meetings. The ability to send messages is now the norm, and there are numerous apps to do that.
Increased phone chatting has brought the need to spy on text messages. While the solution is to look for a text spy, the question is, do spy texts really work? We will shed on that and more about how spy apps work in general.
You will also see the different approaches that spy apps use to make them useful.
Part 1: Does Text Spy Work?
While numerous text spy apps will claim to give results, not all will work. That's a sad thing because it also gets harder to trust the already available solutions. If you have ever used one with issues, then you know what we are saying.
On the other hand, there are solutions that you can pay for and get the best out of them. That's light at the end of the tunnel since it's not an easy job to spy on people's messages.
It would help if you avoided those who say they can do it for free since you become vulnerable to scams. Now, if you get a working spy app or links to reliable solutions, here is what you should expect.
Part 2: How Does Phone Spy Software Work?
If you check out an app like Neatspy, it's a known and trusted spy application. It can get you the text messages, calls GPS location, and more. It also supports Android and iOS monitoring requests, and it does so in stealth mode.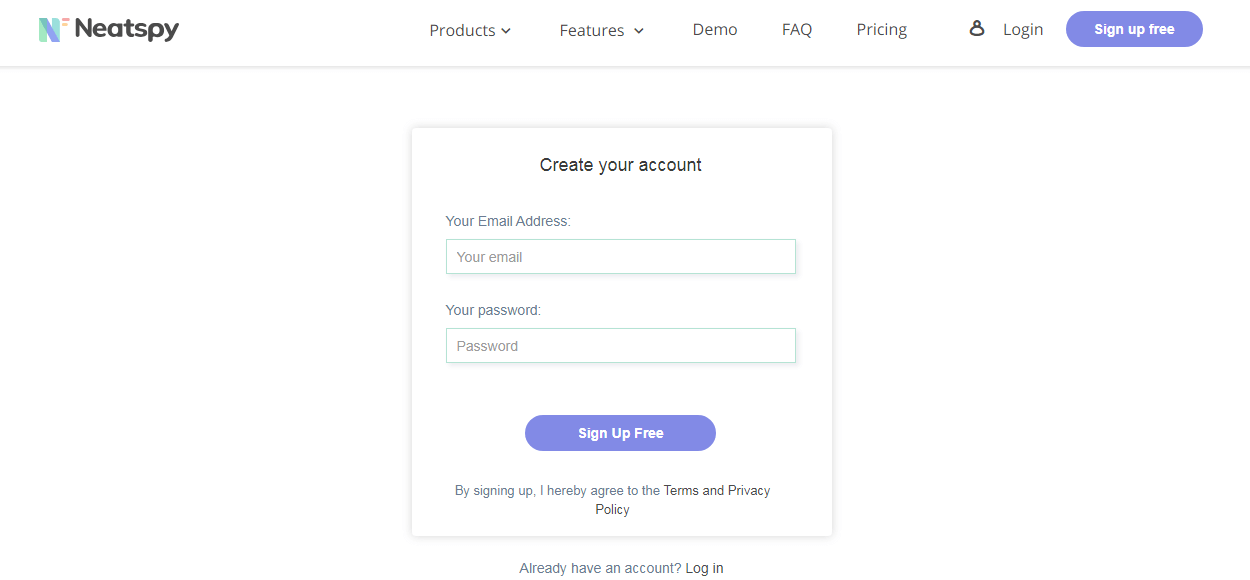 Now, that is a trend that defines how a spy app should work. It's a spy app, so it's supposed to do that secretly. Next, it' supposed to collect the frequent and vital information that will satisfy your spying needs.
All the collected data goes to the servers, and it's available to you via your web control panel. You will get different names and terms in the features based on the app, but the analogy is the same.
Depending on the platform, you may be required to register, purchase a plan, and install the app. After that, you can confirm your purchase and login to the web control panel to access the dashboard.
Also Read: How to Spy on Text Messages Without Installing Software
2.1 How Neatspy Android Solution Work?
Neatspy's Android version works by extracting data from the targeted phone and revealing it on your control panel. To do so, you need to create an account and install Neatspy on the phone you want to spy. No rooting is required before installation.
Once installed, it operates in stealth mode so that the user does not know that you are spying on them. It will then reveal all the text messages, calls, browser history, GPS location, and more on a user-friendly dashboard. We will see more of that in the next section.
Getting started only involves three steps: register, download, and install. After that, you can log in to the web-based control panel to view the results. It's a 100% reliable and safe to use Neatspy, especially if you are the worried parent or employee.
To make it effective, it consumes less than 2MB space and does not drain the battery while fetching the information. You can read more about the installation details here.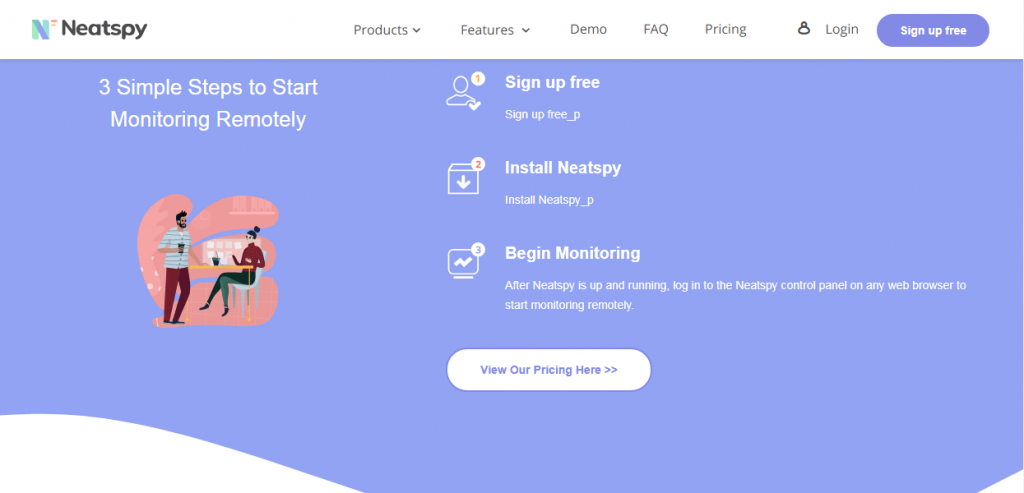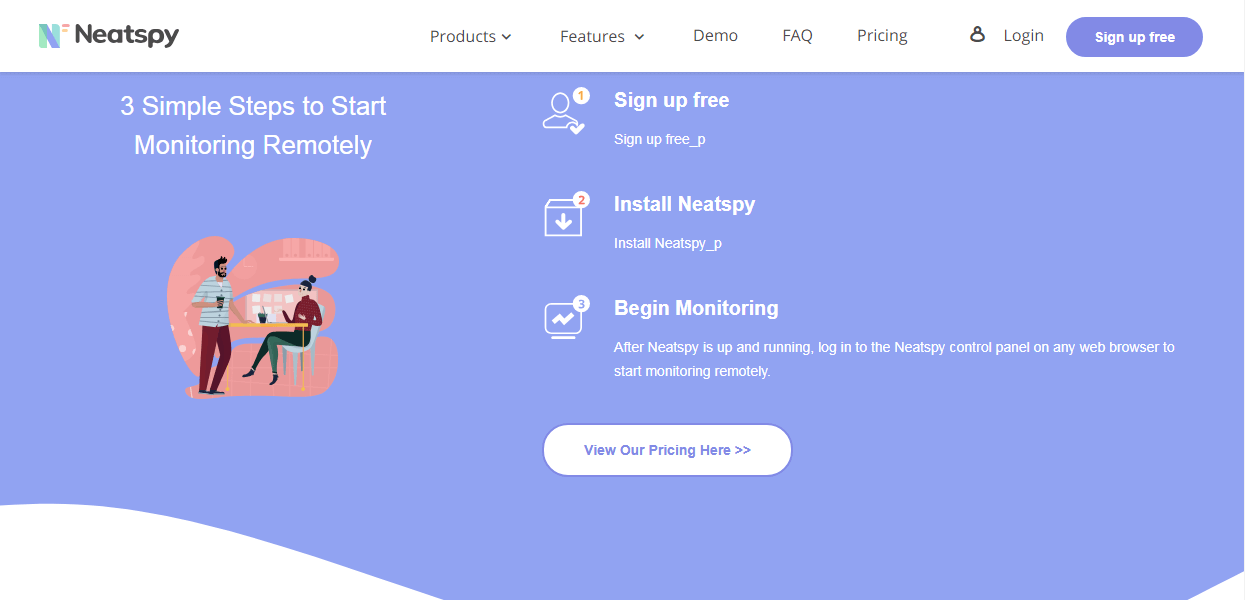 2.1.1 Spying On Default Apps Using Neatspy
Once you install Neatspy on the target's Android device, it will bring you information related to the defaults apps. That's the strength of using a reliable monitoring application. Some of the things that Neatspy will reveal from the system applications include:
Text messages
Contact list
Call log history
GPS location
Browsing history and other internet activities
Media files (photos and videos)
Calendar and personal notes
SIM card information
In every data accessed, you get everything that the target user is also viewing. In messages, for example, you will get the text itself, sender/receiver details, phone numbers, and timestamps.
2.1.2 Spying on Social Media Apps with Neatspy
Neatspy's Android solution is also very good at capturing social media activities. We know that's where all the kids and young ones are all hiding. The adults have also found it as an excellent way to extend communication.
Under the social media feature, the dropdown reveals all kinds of social media applications available these days. In each, you get all the messages and shared files. You also get to see the contact details of those in the chats and the time when it all happened.
If you are worried about your target's social media activities, here is a list of apps that Neatspy will capture:
Facebook, including the lite version
Messenger (and the lite version too)
Snapchat
WhatsApp
Skype
Instagram
Tumblr
Telegram
Tinder
Badoo
Kik
Wechat and more
If there is a new platform that they are using and you don't know about it, check the Applications feature. Anything else installed on the phone is accessible there.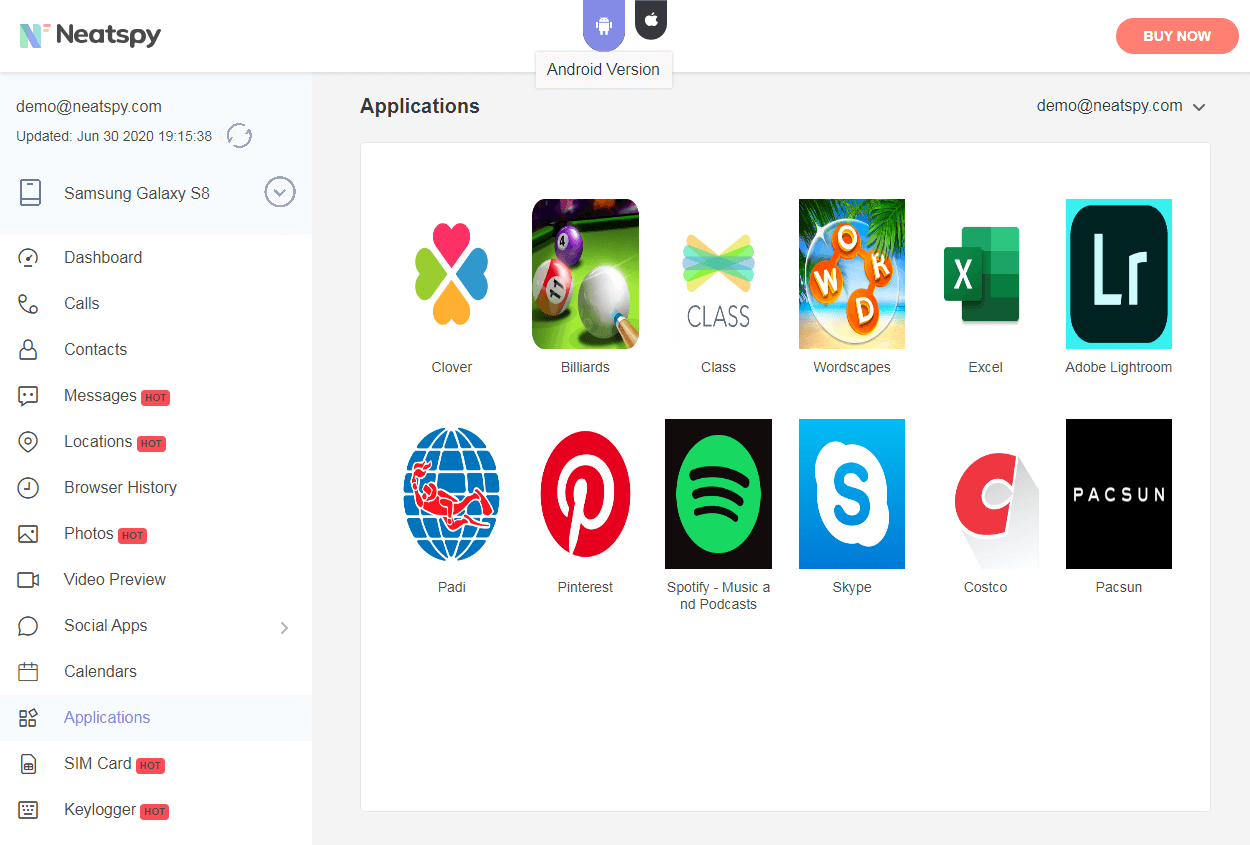 2.1.3 Android Keylogger
This is a feature in Neatspy that allows you to capture all the keystrokes made on the targeted device. It collects everything from the typed messages, to passwords and anything else requiring keyboard input.
If there is an app that requires you to log in, you can collect the recorded password in the log files. That means you can hack into social accounts with web-based access and emails. The usernames and passwords are already gathered for you.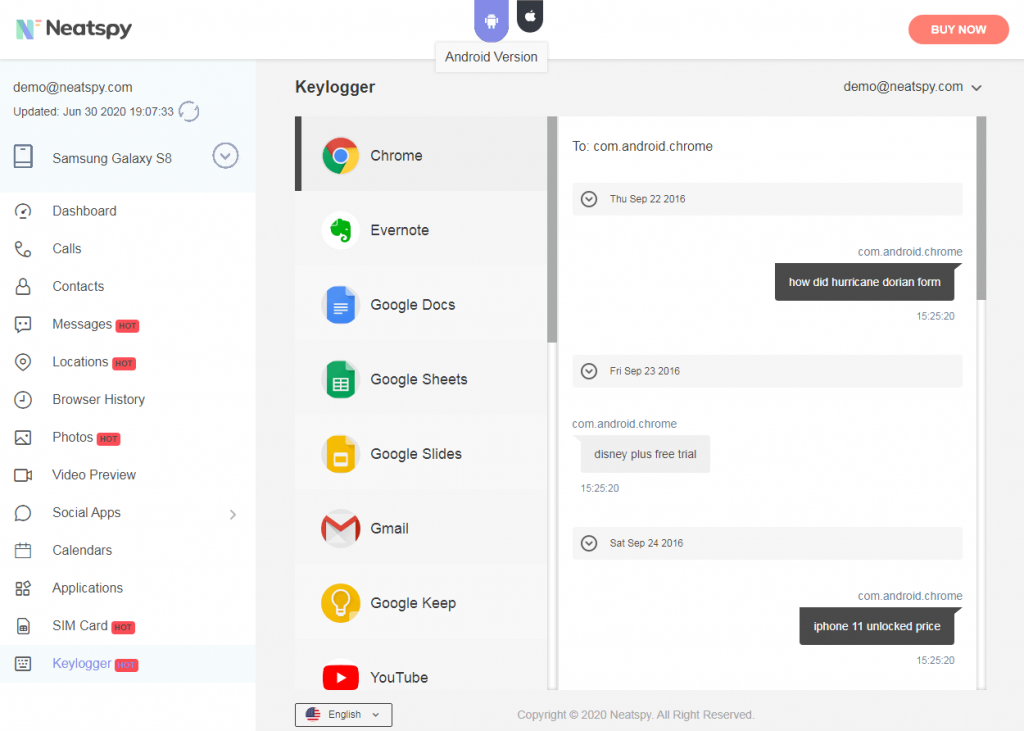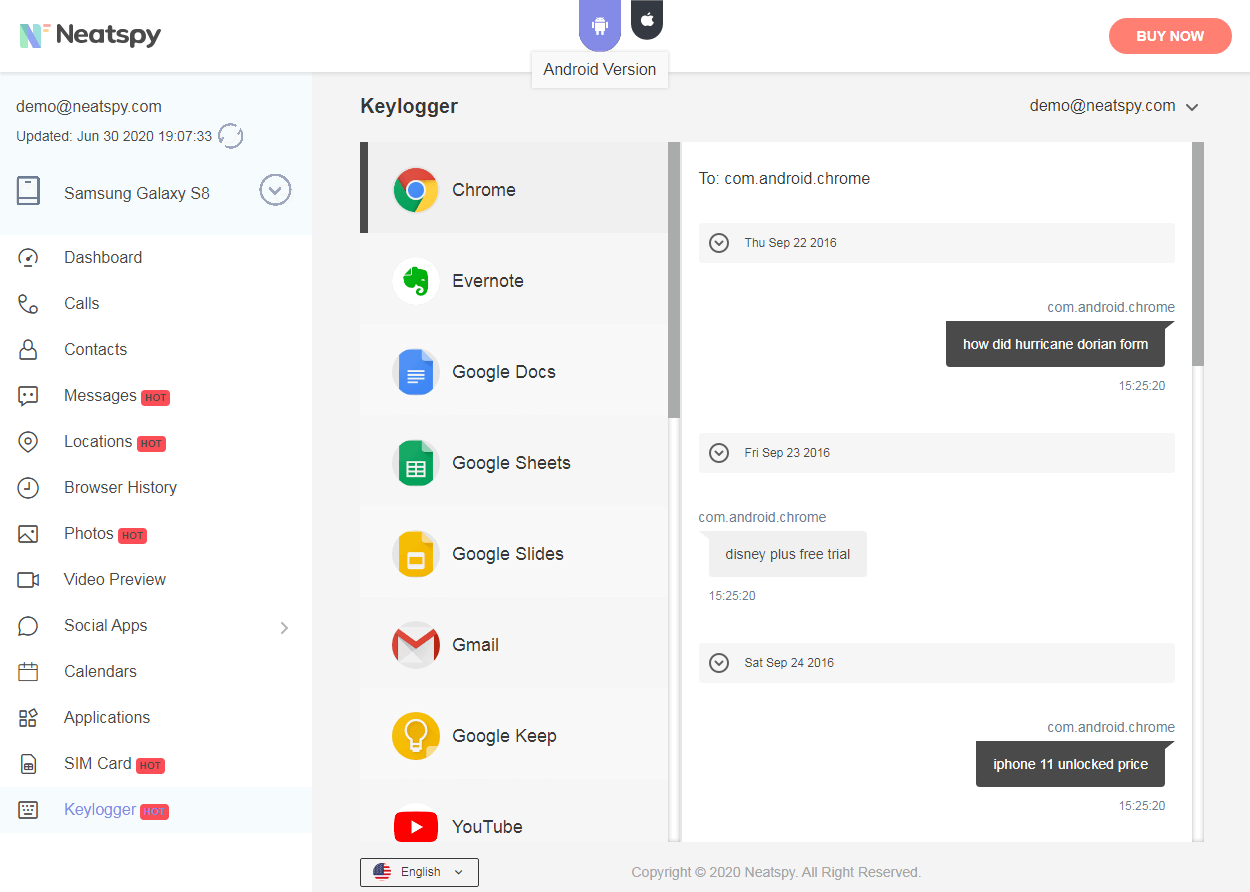 2.1.4 Compatibility
Neatspy Android app is compatible with all Android devices with version 4.0 and above. You can view the demo here to see how it works.
2.2 How Neatspy iOS solution work?
In iPhones and iPads, Neatspy takes a different turn in how you use it to access the devices. First, it's a non-jailbreak solution, so it doesn't tamper with the OS to access the data. Next, there is no installation required for you to start.
Everything can be set up remotely if you have the target's iCloud credentials. It would be best if you made sure that the two-step verification is disabled on the device before installing.
If you have the cloud details and the two-step is off, register on Neatspy's website, and provide the iCloud credentials. If the user has more than one device under the same cloud, choose the one you want to monitor and proceed to finish.
The information from the cloud syncs with your newly created account, and then the dashboard appears.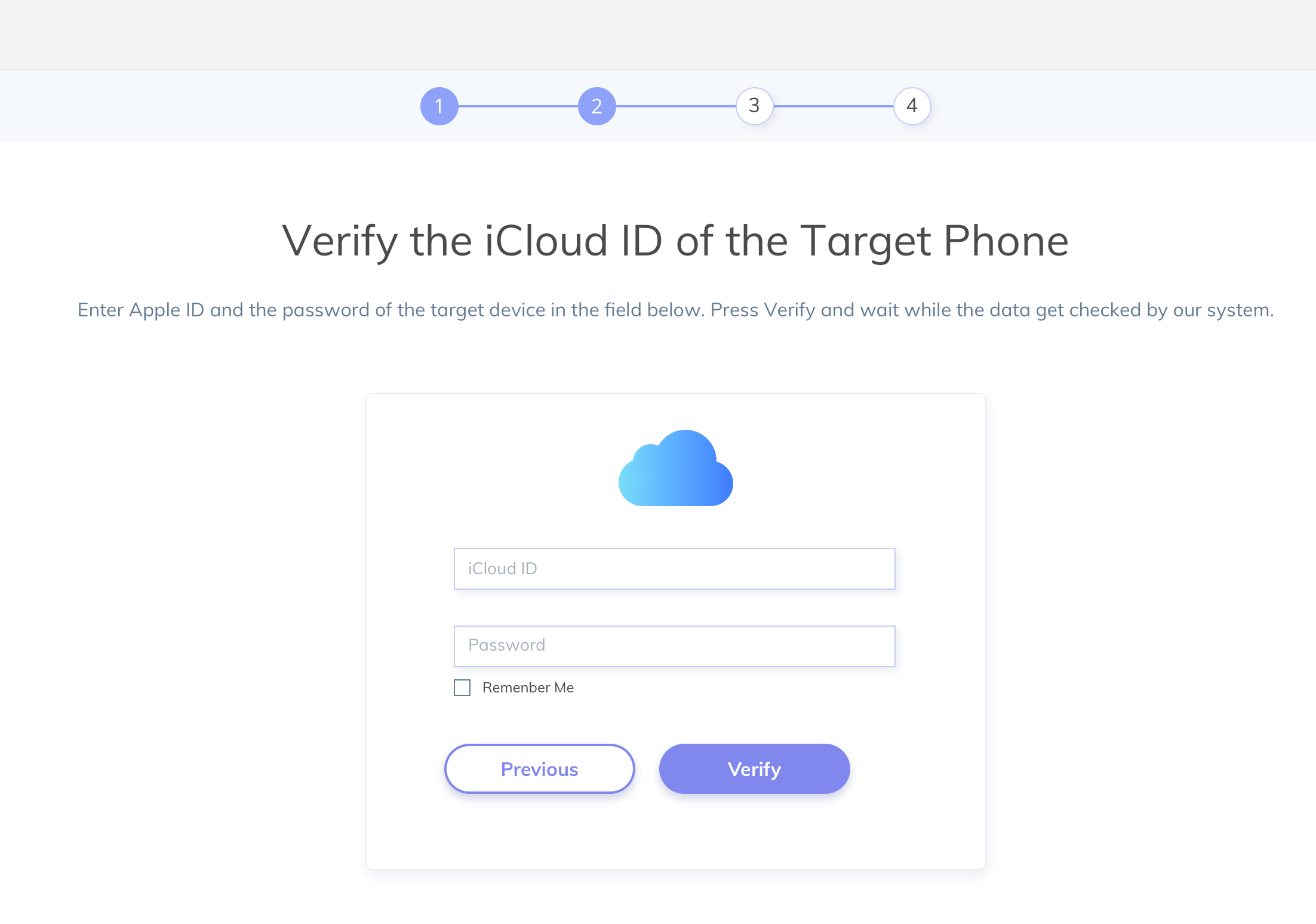 2.2.1 Spying on default iOS applications using Neatspy
The control panel reveals the following about system applications in iOS devices:
Text messages which include iMessages (even the deleted ones)
Contact details
Call log information
GPS location
Browser history
Media files (photos and videos)
Calendar and personal notes
Just like in Android, it will reveal every bit of information, including the relevant supporting details. Remember that to get all this, you don't need to jailbreak to access any special features.
2.2.2 Spying on Social Media Application in iOS Using Neatspy
The iOS version also captures vital information related to social media apps. Depending on the platform, you can view the messages, media files, and contact details. It all happens in real-time, which means nothing will escape you.
Under social apps feature, you can get all the Whatsapp and LINE messages. If they are using the browser to access the web-based versions, the history will be there for you. Also, if the target user has installed a social app, it will be available under the Applications feature.
2.2.3 Compatibility
As long as the target user has iOS version 7.0 and above, you are free to use the Neatspy service. For more information on how it works, click here to view the demo.
Conclusion
It's essential to remember that you need a reliable internet connection when using an app like Neatspy. That way, you will have no trouble fetching the information and accessing it on the panel.
Neatspy is one solution that genuinely testifies spy texts do really work. Among other features, you will get all the text messages and the relevant details that make the spying successful. Before making the purchase, make sure that your device is compatible.