We are now using the internet for various activities which include learning and entertainment. That is why your 10-year old kid is attracted to the content on YouTube while chatting on social media. Now there is a problem since they know too much.
The same case applies in the work setting where the web has opened the vulnerability of leaking information. If not that, then someone is busy on social media instead of working.
It would be best if you had a solution that makes sure that your kid is safe while surfing. You also need to ensure that the employees are productive. Here, I have the WebWatcher for you to spy on the potential cyberbullying and other online dangers.
This review will reveal what it is and how it works. I will also compare it with Neatspy to see where it fails to deliver. That way, you will have the full WebWatcher information and an alternative too.
Part 1: What is WebWatcher?
It is a cross-platform monitoring application that fetches data from the target device and avails it on the dashboard. You need to have an account for that to be possible. It does so discreetly, and you can access the captured data remotely.
It works in several operating systems, but it's centered more on revealing the internet related activities. You can also see the messages sent and calls logs too.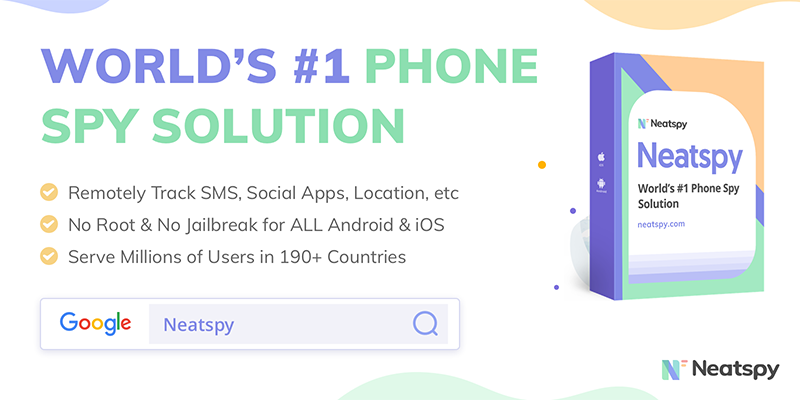 What it does best is viewing the web as the target uses it to view content or chat with friends.  You can also track the actual location using the GPS. So, you can see what is happening on popular messengers and know where they are without them knowing.

What Is Unique About Webwatcher?
It supports multiple operating systems including the Chromebook. So, you can use it in various devices if the target has more than one. In case they have more than one device, what WebWatcher does is to combine the reports collected into one.
It does not monitor live calls, but it will get even the deleted messages. On the other hand, it will spy on almost every other social media platform used on the target device. That includes Snapchat, Instagram, Tinder, Viber and Kik among others. Let's see what the features hold.
WebWatcher vs Neatspy: Android features
Android
Features
WebWatcher
Neatspy
App List

(No root)

(No root)
Browser

(No root)

(No root)
Call Logs

(No root)

(No root)
Contacts

(Need Root)

(No root)
Facebook

(No root)

(No root)
Keylogger

(Need Root)

(No root)
Kik

(No root)


(No root)
LINE

(Need Root)

(No root)
Location

(No root)

(No root)
Messages

(No root)

(No root)
Messenger

(No root)

(No root)
Pictures

(No root)

(No root)
QQ

(Need Root)

(No root)
SIM Card

(Need Root)

(No root)
Skype

(Need Root)

(No root)
Snapchat

(No root)

(No root)
Telegram

(Need Root)

(No root)
Tinder

(No root)


(No root)
Tumblr

(Need Root)

(No root)
Videos

(Need Root)

(No root)
Wechat

(Need Root)


(No root)
WhatsApp

(No root)

(No root)
WebWatcher vs Neatspy: iOS features
| iOS Features | WebWatcher | Neatspy |
| --- | --- | --- |
| App list | (No jailbreak) | (No jailbreak) |
| Browser | (No jailbreak) | (No jailbreak) |
| Calendars | (Need Jailbreak) | (No jailbreak) |
| Call Logs | (No jailbreak) | (No jailbreak) |
| Contacts | (Need Jailbreak) | (No jailbreak) |
| iMessages | (No jailbreak) | (No jailbreak) |
| LINE | (Need Jailbreak) | (No jailbreak) |
| Location | (No jailbreak) | (No jailbreak) |
| Messages | (No jailbreak) | (No jailbreak) |
| Photos | (No jailbreak) | (No jailbreak) |
| Videos | (Need Jailbreak) | (No jailbreak) |
| WhatsApp | (No jailbreak) | (No jailbreak) |
Part 2: WebWatcher Features
If you choose to install it, here is what you get:
Don't Miss: Top 12 WhatsApp Spy Apps You Can't Miss
Part 3: How WebWatcher Works
Like the major monitoring applications, WebWatcher is designed to operate in hidden mode. It also brings all the information from the target device via the features we have just discussed above.
The only issue here is that some features are accessible in one platform but not supported by the other. If you need an app where most features are available despite the operating system, then check on Neatspy.
The flaw of having to root or jailbreak a device for access is not available in WebWatcher. It is, therefore, a safe spying app that will not ruin the target device warranty. There is another thing with WebWatcher.
If you are monitoring an iOS device, you may from time to time be required to be on the same network. That way, it will be able to back up all the information since the last sync.
When compared to Neatspy, the latter delivers information to your panel as long as the device is on the internet. Back to WebWatcher, any device that you need to monitor needs physical access. In Neatspy, they have a remote installation option on iPhones if you have the iCloud ID.
Apart from the few differences, the Watcher will do an incredible job at capturing all the web-related information. Let's see how you can install it in the different platforms it supports.
Part 4: How to Use WebWatcher
Installing WebWatcher in Android, Windows, Mac and Chrome
First, sign up using any device. It's free to do so
After making the purchase, download the app on the phone, tablet or PC you want to monitor. It takes less than 5 minutes for the whole installation procedure. You can also choose to try it for free first
WebWatcher will start to record the info right after installation discreetly
Login remotely using any device and start viewing the collected data
Installing WebWatcher in iOS
Sign up using the available device, make a purchase or choose the free trial
Next, access the iPhone or iPad you want to monitor
Plugin in the phone using a USB cable on a Windows PC or Mac. Follow the instructions on the screen to complete the setup. This is a one-time step
Log in using another device and start viewing the recorded data on your control panel. You may be required to be on the same Wi-Fi network for synchronization
Part 5: Compatibility
Since it works on several operating systems, let's see where it's applicable within the versions.
Android: Works in Android 2.1 and above but compatibility information says it works in versions 4-9.
iOS: Works in all iPhones and iPads between 8.0 and 12 versions.
Windows: Works in Windows 7, 8, 8.1 and 10.
Mac OSX: Supports from version 10.8 to 10.14.
Chromebooks: Compatible with all Chrome users which include Asus, HP, Dell, Samsung, Acer, Lenovo and Google.
Part 6: Pricing
It's a good thing that WebWatcher will give you a trial moment, but the prices are a bit scary. It also depends on the subscription you are going to take.
The yearly package needs $160, but there you are liable for getting a discount. The good thing is that if you continue using it for the next year, the price goes down to $67. That gives the customers a considerable discount for remaining loyal.
There are however additional charges as you go on. They include:
Unlimited updates which are necessary will go for $25 more.
For sending email alerts to your inbox and dashboard, makes use of E-Notify which needs $29.95. The reports submitted by WebWatcher are only active for the next 15 days. Recording them is therefore necessary.
You have access to the first 1000 screenshots assigned to your package. After that, you need an extra $17 for 1000 more if you want to continue using them
We did not mention that you can install WebWatcher remotely. Why? Because for you to do that, you will need to purchase the White Glove service that costs $19.95
You can monitor several devices, but that requires you to buy a license for every device.
Due to the added costs, you may be forced to check a cheaper alternative like Neatspy. This substitute only needs a onetime payment regardless of the plan you choose. There are no hidden costs afterwards.
WebWatcher Alternatives
Part 7: Customer Support
You can choose to send them an email, chat on the forum or call their customer support number. For you to send a mail, you have to do it via the contact form.
They promise to give you a full refund if you are not happy with the application. The only issue is that the team doesn't say anything about refunding the additional payments if you also made some.
On the positive side, they will answer any questions that you may have.
Part 8: Pros and Cons
Pros
It captures most of the web activity
Useful in spying on social media platforms
It takes a few minutes to install
Works in several operating systems
Cons
It is more expensive than substitutes such as Neatspy
There is an uneven distribution of the accessible features depending on the OS you are targeting
Does not include features such as Geofencing and listening to calls
Has additional costs apart from the initial purchase
Keylogger feature only works in Windows PC
The app removes the reports collected after some days
Conclusion
The WebWatcher is a reliable monitoring app that can help you spy on internet activity and apply moderations. While it does an outstanding job on the web, it has some severe shortcomings.
When it comes to controlling the web, you have to block what you don't want to be accessed manually. Also with the additional payments, it's clear that you will have to spend more on other specialized services.
If such limitations do not outweigh the need to profusely on the target, then WebWatcher is ready for you. Otherwise, you may opt to check on Neatspy to avoid such flaws.