** This post was updated on: September 26, 2019 **
Are you a parent worried about the kind of crowd your kid has been hanging with? Are you concerned about your teenager's online activities? Are you an employer suspicious of the fact that one of your employees might be leaking trade secrets? Are you afraid that your spouse may be cheating on you? Or are you just someone who really needs a monitoring device to spy with?
If you identify with any of the scenarios stated above, you're at the right place. To be able to spy you don't need to go jumping off buildings or climbing walls like James Bond, you just need a good spy app.
And in this article I'll give you all the details you need to know about one of the best hidden spy apps in the market – mSpy.
Over the course of this mSpy reviews, I'll tell you exactly what is mSpy, how it works, what its unique features are, why it's better or worse than other spy apps in the market, how to install it and spy with it, and anything else you might want to know. So read on for a detailed review of mSpy.
PART 1: What is mSpy?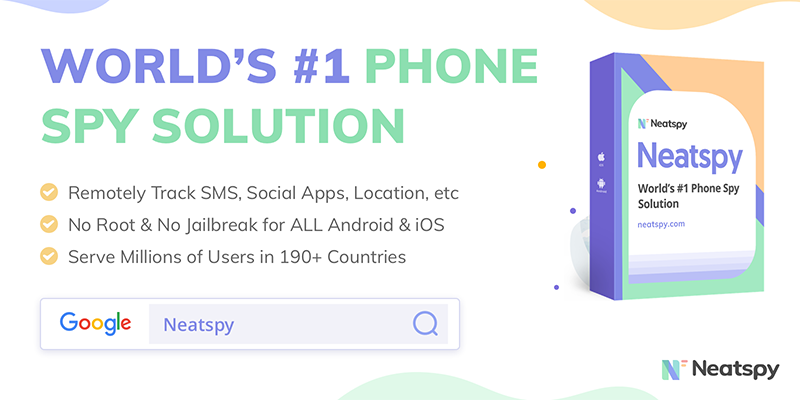 mSpy is one of the highly professional mobile spy apps that has been developed primarily for the benefit of parents and employers. However, even though it is legally created for their benefit, it can really be used by anyone at all.
This is a powerful monitoring tool that can give you complete uninhibited access to your target individuals phone. And you know how it is, if you control someone's phone, you control their whole lives. Think about it, if you can hijack someone's phone, you get access to all of their contacts, calendars, browser history, social media accounts, etc.
However, this sheer strength of power afforded by spy apps like mSpy can be a good and a bad thing. I'm obliged to let you know that you shouldn't use this spy app for unethical purposes like stalking someone, as that can be dangerous and illegal.
And in this case, you may even risk imprisonment if you do so. So you should ideally use it as parents monitoring minors, employers monitoring your employees' company phones, or perhaps under extreme circumstances spousal monitoring.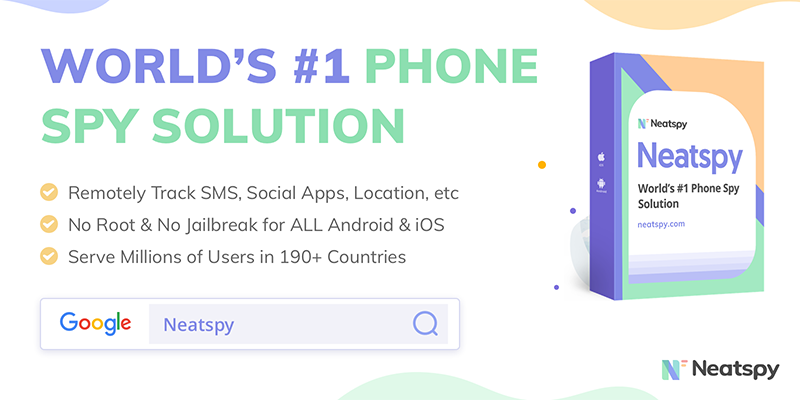 Is mSpy legit? Is it invisible?
However, even in these cases where it's perfectly legal to spy on someone's phone, you probably are hesitant to do so because you don't want to risk losing your target's faith.
For example, kids are likely to lose trust in their parents if they find out their parents are monitoring them, and employees are likely to develop ill will towards their employer, if they find out they're being monitored.
As such, mSpy offers you a completely discreet means of monitoring on someone's phone without them being aware of it.
Once you install the software into a phone, it runs in the background and becomes virtually invisible. As long as the phone has an internet connection, all the data from that phone would get transmitted to you.
If all of this sounds too complex for you, then don't worry. mSpy is actually very user-friendly and also comes with great customer support available via email, live chat, or phone.
Mspy vs Neatspy: Android features
Android
Features
Mspy
Neatspy
App List

(No root)

(No root)
Browser

(No root)

(No root)
Call Logs

(No root)

(No root)
Contacts

(No root)

(No root)
Facebook

(Need Root)

(No root)
Keylogger

(Need Root)

(No root)
Kik

(Need Root)


(No root)
LINE

(Need Root)


(No root)
Location

(Need Root)

(No root)
Messages

(Need Root)

(No root)
Messenger

(Need Root)

(No root)
Pictures

(Need Root)

(No root)
QQ

(Need Root)

(No root)
SIM Card

(Need Root)

(No root)
Skype

(Need Root)

(No root)
Snapchat

(Need Root)

(No root)
Telegram

(Need Root)

(No root)
Tinder

(Need Root)

(No root)
Tumblr

(Need Root)

(No root)
Videos

(Need Root)

(No root)
Wechat

(Need Root)

(No root)
WhatsApp

(No root)

(No root)
Mspy vs Neatspy: iOS features
| iOS Features | Mspy | Neatspy |
| --- | --- | --- |
| App list | (No jailbreak) | (No jailbreak) |
| Browser | (No jailbreak) | (No jailbreak) |
| Calendars | (No jailbreak) | (No jailbreak) |
| Call Logs | (No jailbreak) | (No jailbreak) |
| Contacts | (No jailbreak) | (No jailbreak) |
| iMessages | (Need jailbreak) | (No jailbreak) |
| LINE | (Need jailbreak) | (No jailbreak) |
| Location | (Need jailbreak) | (No jailbreak) |
| Messages | (Need jailbreak) | (No jailbreak) |
| Photos | (Need jailbreak) | (No jailbreak) |
| Videos | (Need jailbreak) | (No jailbreak) |
| WhatsApp | (Need jailbreak) | (No jailbreak) |
PART 2: What makes mSpy Unique amongst other Spy Apps?
So now that you have a brief idea about what Spy apps are in general, and what mSpy is specifically, we can talk about how does mSpy fare against its competitors.
After all, in a free market capitalist society, the quality or strength of a product is only determined by the quality of its competitors.
Most of the primary features of mSpy like call logging, message viewing, accessing browser history, etc, are common to all the other spy apps as well. This makes sense because these are the very basic functions of spy apps. However, there are also certain areas in which mSpy is unique and excels far above all of its competitors.
1. mSpy is a No-Jailbreak solution:
Most spy apps require you to jailbreak iPhone so that you can install the app and give it access to the iPhone. While mSpy is one of the first spy apps that can spy iPhone without jailbreak. In fact, with mSpy you even have the ability to spy on a phone without even installing the software into it.
However, to gain access to the iPhone's contents without jailbreak you need access to the target's iCloud account. You can check the below video about how to track an iPhone without jailbreak via mSpy.
If you want to install mSpy on Android and see how it works, you can directly go to PART 6.
In the table given below, you can find out which features can be accessed with or without jailbreak.
mSpy with & without jailbreak
| Jailbreak | No-Jailbreak |
| --- | --- |
| Geo-Fencing. | Intercept Text Messages and MMS. |
| Keylogging. | Call History & Contact List. |
| Apps and Webpage blocking. | Website History. |
| Blocking incoming calls. | Access to Calendar, Notes, & Task. |
| Wiping the data off the device remotely. | Access to Installed Apps. |
| Accessing social media and instant messaging accounts like Snapchat, Viber, Skype, etc. | Find out about all the Wi-Fi networks the device connects to. |
| Setting keyword alerts so you can be instantly notified when a certain keyword or phrase is used. | Access to WhatsApp. |
| Emails access. | Intercept iMessage communication on iOS. |
| The ability too change the target device. | GPS location tracking |
| Access to all the stored photos and videos. | Spy on text messages |
| Receive notification whenever the SIM card changes. | |
| Check Website | Check Price |
2. Keylogging:
mSpy is one of the best Android keyloggers which can be used to find out a user's passwords. It's true that if you have access to someone's entire phone you don't need their password to access their social media or mail.
However, if you want to access their accounts normally, without the use of spy software, you'll need their password. This is where this feature comes in.
Keylogging allows you to gain access to all the buttons being pressed in the target iPhone. This will not only let you view all messages being sent out of the phone, but also give you access to all of the user's passwords, which you can later use at your own will.
Also Read: Top 10 Best iPhone Keylogger
3. License for Multiple Devices:
mSpy app doesn't allow you to use the same license in different devices together. However, you do have the ability to split your time with one mSpy account amongst many devices. You can deactivate one and activate the other.
Most other spy apps don't even allow you to install the app on any other device. You have to monitor just one device for the entire duration of your license.
4. 24/7 Customer Help:
Most other spy apps have limited customer support. Some of them require you to fill up a form and wait for a reply, some of them require you to send emails, and as such they can be annoying in times when you're in a rush. mSpy gives you complete access to technical assistance 24/7, using a chat window, email, or even phone.
Furthermore, if you're a pro spy you can even purchase their mAssistance for $43.99, which gives you complete access to a personal assistant who can help you out with all your technical needs. This mAssistance feature will also provide you with assistance to jailbreak a phone, install the software into it, navigate the mSpy control panel, or anything else you might need.
Check 15% OFF mSpy coupon here >>
PART 3: Other Features of mSpy.
mSpy has an abundance of features, both commonplace and unique ones. Below you can find a completely exhaustive list of their useful features and what they can do.
Basic features:
1. Manage Calls:
mSpy gives you access to all calls that are coming in or going out of the phone. In addition to that, you also get complete access to the information regarding each calls, how long they went on for, where they came from, etc.
2. Text Message interception:
You can track all the text messages being sent or received from the phone in real time. You can even find out the contact details of the person with whom the target phone is texting, and consecutively block them. This is useful if you find out that your kids are interacting with someone they shouldn't be chatting with.
3. Email interception:
This feature allows you to gain complete access to their mailbox, and so you can find out all the sites that they're subscribed to, all the people they're chatting with, and the contents of the emails they're sending. This can be used by employers who want to make sure their employees aren't using company time for private activities or interactions.
4. GPS Tracking:
mSpy can give you an accurate and details GPS location of the target phone. You can use it to make sure your children are coming back home directly after a school. Or if they're late, you can find out whether they're stuck in traffic or if they have gone off somewhere else. This is especially helpful to keep little children safe.
5. Geo-Fencing:
This feature allows you to set up a perimeter for the target phone. So whenever the target individual goes beyond that perimeter, you'll directly receive an alert on your device.
6. Monitor Browser History:
You can find out exactly what they're surfing for online, for how long, and when. You even have the power to block certain websites from the computer. You can use it to find out if your spouse visits pornographic sites, and to block them if they do.
7. Calendar and Address Book access:
You can find out about all of the target individuals' slotted events, and all their contacts.
Don't Miss:
Powerful features:
Hijack Social Media Accounts: You gain complete access to all their social media and instant messaging accounts such as Facebook, Snapchat, Viber, WhatsApp, Skype, etc. You can then simply passively spy on their cell phone, or you can even take control of it and send out messages from their account, pretending to be them. However, be careful because that constitutes identity theft and fraud and some states and countries have strong laws against such activities.
Access all apps: You can find out which apps have been installed into the phone and find out what they're being used for.
Control of phone gallery: You can gain complete access to all the phone's photos, videos, audios, notes, etc.
Remote access: You gain access to a person control panel with which you can hijack the functionality of the phone if you so choose. This means that you can monitor the phone from anywhere at all, you don't need to be anywhere near it.
Detailed Analysis: You can even set up a request to get period detailed updates and analysis of all the activities of the phone.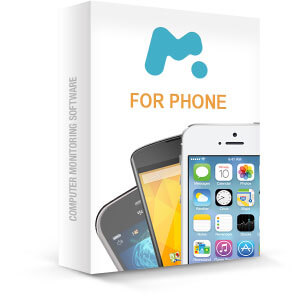 mSpy Coupon Code:
Get 15% OFF on mSpy Subscription Plans: Basic, Premium, Bundle Kit, Family Kit at mSpy.com.
Redeem Coupon Now
PART 4: Which mSpy Features can be accessed without Jailbreaking iPhone?
As mentioned earlier, mSpy is a non-jailbreak solution as long as you have the target's iCloud account. However, this is limited. While most of the essential features can be accessed without jailbreaking, there are other features which cannot be accessed without jailbreaking the iPhone and installing the software.
PART 5: mSpy is compatible with which devices?
mSpy is highly compatible with all the popular devices, iOS, Android, Windows and Mac. mSpy has received little to no complaints regarding compatibility, and as such it is a pretty universal app.
Compatibility:
Jailbroken iOS: iOS 6 – 8.4; iOS 9 – 9.1
Non-Jailbroken iOS: All iOS versions
Android: At least Android 4+
Windows: XP; Vista; 7; 8; 8.1; 10
Mac: OS 10.7 Lion; OS X 10.8 – OS X 10.11
PART 6: How to use mSpy? How does it work?
mSpy is one of the easiest apps to install, and within 15 minutes you can be all set up and you can start monitoring any phone you wish to. However, different devices have slightly different installation processes. As mentioned earlier as well, for an iPhone, if you choose to go with the jailbreaking function, you'll need a direct access to the target phone, you'll have to jailbreak it, and then install it.
If you choose the no-jailbreak option, then you'll need the iCloud account details and you'll be able to sync your device to theirs without much difficulty. Below you'll find the broad outline of steps you need to follow.
How to use mSpy?
After you select the price package that you want to purchase, you'll have to make the payment.
Once the payment has been processed, you'll receive a welcome and confirmation email. This message will include a link to your control panel, and your login details.
You can follow the link to your control panel.
The first time you try to log into mSpy control panel, you'll have to enter a new device. If you want to monitor an iPhone without jailbreaking you can choose the "without jailbreak" feature. Following this, you can simply follow the setup and you'll gain access to the limited features using the target's iCloud details.
Alternatively, you can choose the jailbreak method, in which case you'll get a detailed instruction about how to install mSpy app into the target phones, be it iPhone, Android, or Blackberry.
How to download and install mSpy?
How to install mSpy on an Android:
Go to Settings > Security. Make sure that the "Unknown Source" option is enabled.
You'll find the mSpy download link in your control panel, which can easily be accessed from your phone.
After the download, install the app by simply following the Setup.
Now you'll have to launch the app and agree to their terms. You'll be asked whom you want to monitor. You can choose Employee, Child, or Others. You can also decide whether to allow the icon to display in the target phone after installation.
A dialog box may pop up asking for access, just tap "Allow."
Now you'll have to enter the registration code from your control panel.
After this process is complete, you can reboot your phone. Now you just have to wait a while before you notice activity being logged into your control panel.
Also Read:
PART 7: How much does mSpy cost?
mSpy has one of the most flexible and vast price packages in the market, and the license for them can be bought for either a month, 3 months, or a year.
The cheapest option available is to get the Basic Package for 1 month for $29.99.
The Premium Packages come in a range of $69.99 to $199.99, and they have all the features available.
The Family Kit Package is the most expensive as it provides you with all the features and the ability to monitor 3 devices simultaneously. This package can only be purchased for 6 months or 12 months, for $359.97 or $479.97, respectively.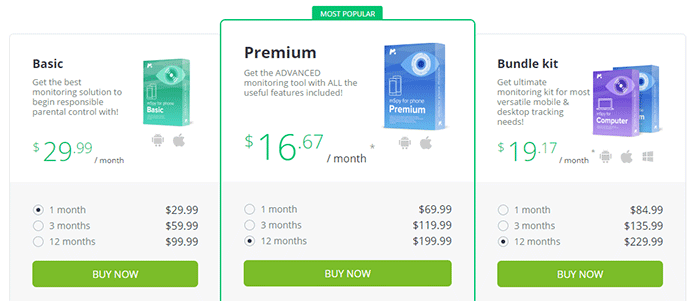 PART 8: What is the quality of mSpy Customer Support?
mSpy offers one of the best customer support teams amongst all the different spy apps in the market. Because you may need immediate assistance at any moment, they have a 24/7 service. You can reach them via live chat, emails, or even by phone.
However, this option is available to you based on your subscription package. A Basic Plan will only fetch you email support. However, a Premium Plan can get you email or live chat support as well.
You can even ask for a telephonic support, which can be purchased for $12.99. This support will walk you through all the steps of installation. Furthermore, if you purchase mAssistance for $43.99, as mentioned earlier, you get access to your own personal assistant who can even guide you through the jailbreak process, or conduct it for you.
Refund Policy:
If you have a general problem with mSpy installation or download which can't be solved by the customer support either, then you'll be eligible for a complete refund. However, this refund comes with conditions applied.
Users can only get a refund within 14 days of purchase.
Only the primary mSpy buyers can get a refund. You won't be eligible for a refund if you got several subscriptions.
You can only receive a refund once.
It is impossible to receive the refund if your device has been outlined as incompatible in their compatibility page.
PART 9: Is mSpy a Reliable Company?
Because of the discretion that you need to maintain while using a spy app, it is imperative that your app company is 100% reliable.
mSpy, I am happy to say, is a completely reliable company because it never works in the shadows. The presence of mSpy is known and acknowledged worldwide. It has received international acclaim, and has a 95% customer satisfaction rating.
In fact, they've received endorsements from outlets as well known and trustworthy as CNet, The Huffington Post, abc, Forbes, Fox News, Lifewire, Daily Mail, CNN, amongst many others as well.
mSpy also has a plethora of great testimonials from happy customers from across the globe. You can check out all their reviews and endorsements at the bottom of their Landing Page.
If you want to know mSpy alternative, you can also check my review on other mSpy competitors: FlexiSPY review and Highster Mobile review.
mSpy Alternatives
PART 10: FAQ
1. Does mSpy work worldwide?
mSpy is compatible with all network carriers and works regardless of the geographical location of the device. As such, mSpy will continue to function as long as the target phone receives a stable and strong internet connection as the information needs to be transmitted to your control panel.
2. Will the mSpy logo be visible on the target phone?
mSpy only works in the background mode. Furthermore, the logo that comes up after the installation can easily be disabled and removed from the dashboard.
3. Are there are legality issues with using mSpy?
mSpy is a completely legal software that has been designed for the purpose of being used by Parents and Employers. If you use mSpy in those capacities, or on your own phone, then you're perfectly clear. However, if you use mSpy to spy on anyone else, then you might be treading on a very grey area. And as such, you should familiarize yourself with your state's privacy laws.
4. Can mSpy be installed into a target phone without physical access to it?
On an iPhone, if you choose to install mSpy without jailbreaking, then you can install it remotely. However, if you choose to avail of the complete set of features by jailbreaking iPhone then you'll need about 15 minutes of access to the target phone. You also need physical access to the phone if it's an Android.
However, if you choose to get this done through mAssistance, they can jailbreak and install mSpy without your involvement.
5. How can the mSpy software be uninstalled?
iOS: Enter Cydia > Installed > iPhoneInternalService > Modify > Remove.
Android: Enter the Phone Settings > Security > Device Administrators > Update Service > Deactivate > Settings > Apps > Update Service > Uninstall.
mSpy Reviews Conclusion
Overall, I believe mSpy is understandably the king of spy apps at the moment. It is perfect for both Families and Professional settings, as it offers a breadth of features. So you can purchase it accordingly based on the flexible packages.
You also have the ability to go for a non-jailbreak solution, even though it restricts some of the most sophisticated features. While it might be a little difficult to install, it's still a lot simpler than many of its competitors.
Furthermore, mSpy is an extremely reliable company and always handles your discretion well. It has enough systems in place so that your kids or your employees would never find out that they're being monitored, unless you tell them yourself. I only beseech that you use the app ethically and stay safe.
However, I'd love to hear what you have to think about this. What are your takes on spy apps, do you think they're wrong or perfectly justified? Has this mSpy app review post proven helpful to you? If you have any other questions, do leave them down in the comments section and I'll get back to you with an answer soon as I can!