The essence of investing in apps to spy on text messages is to track conversations of those we care about. It could be you're your family members or your employees. Whoever they are, you need to make sure that they don't indulge in illegal or immoral activities.
These days, smartphones are coming with more apps which the evil-minded use to target the innocent. A scenario of your child, partner or employee also being the bully or involving in immorality among other things cannot be excluded.
Do you want to leave anything to chance? We guess not. Read on to see the best apps to spy on text messages and phone usage in general on the target phone. Most of the apps in our review include more features other than text spying.
Part 1: Neatspy
Neatspy is our first item on the list as the best text message spy app that works on both Android and iOS platforms. In addition to spying on all text activities on the target phone, it also aids in location tracking if you want to know where your target is.
Once installed, you enjoy a rich selection of tools that help you survey almost everything else you thought was undetectable. Both individual and commercial use has given this monitoring application a boost in trust.
That's why it is a reliable solution that serves millions of users in over 190 countries. You can tell all that by the enormous number of reviews in authority sites such as Forbes, CNET, TechRadar and Android Authority.
Design
The dashboard is easy to navigate from one feature to the next. Everything is visible, and you will like the arrangement of fetched information once the app synchronizes with the installed device.
Navigating from one feature to the next only requires you to click on the item in the feature's menu on the left.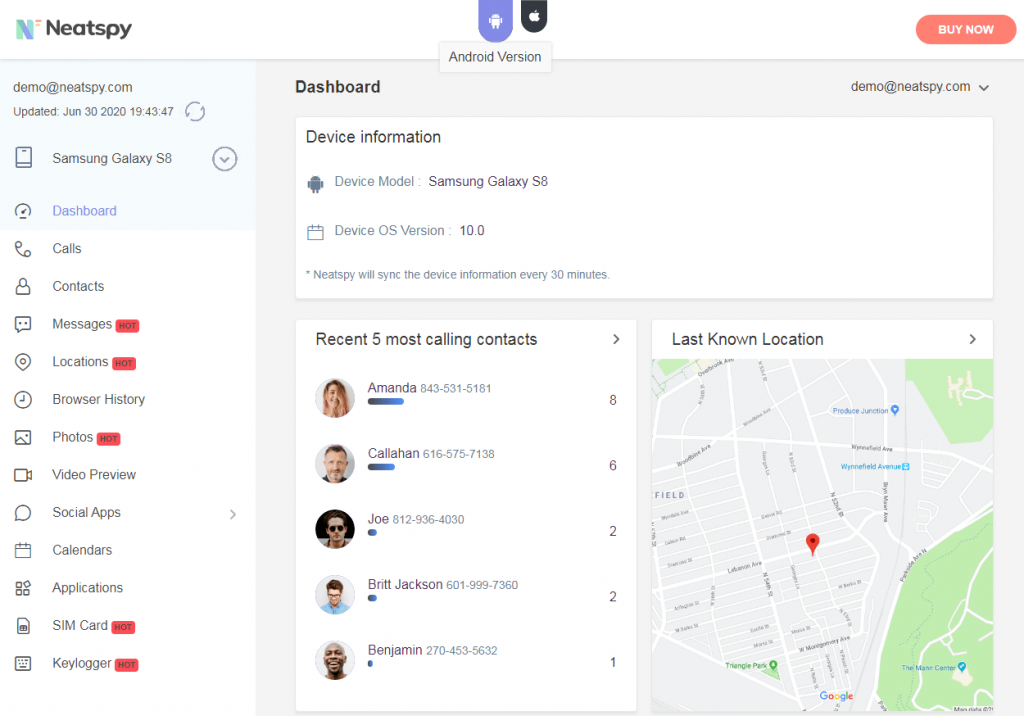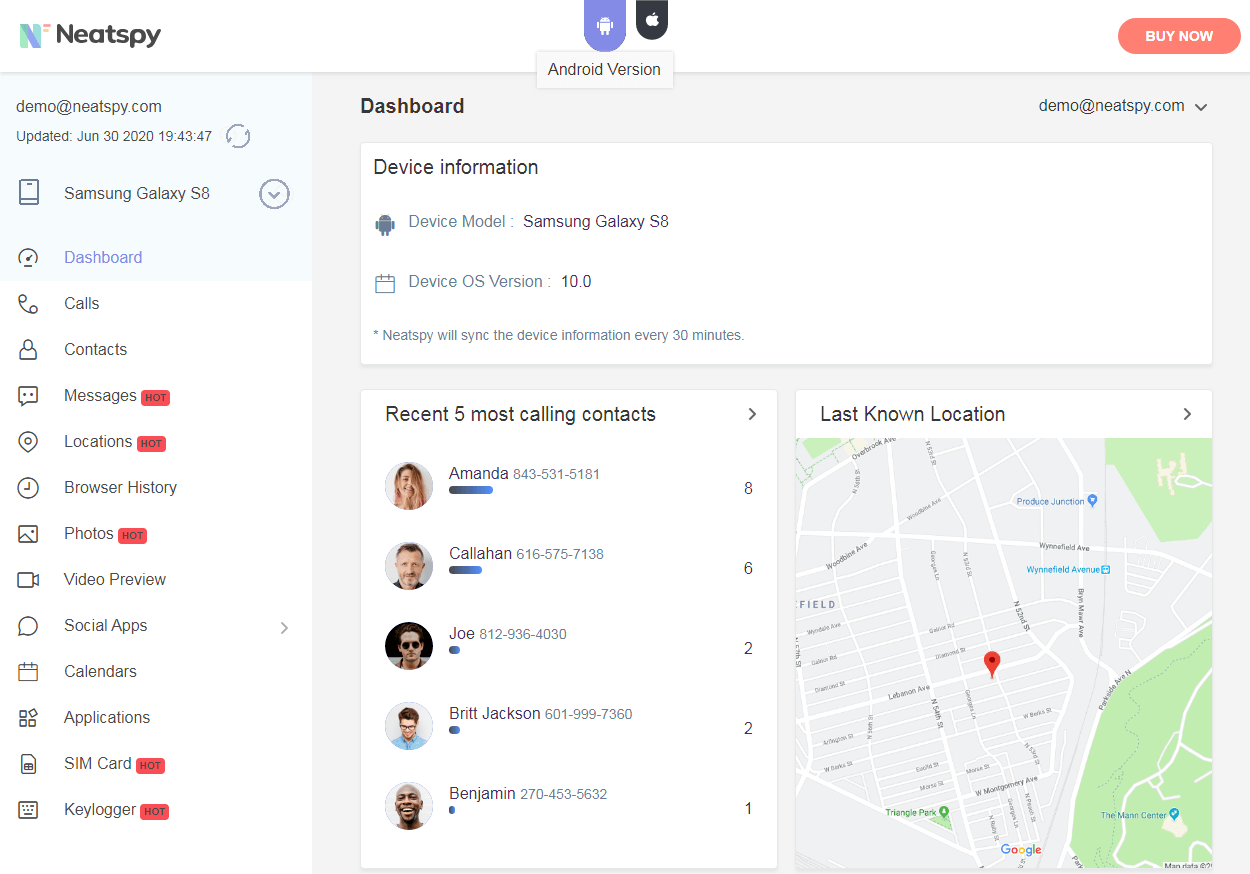 View the Neatspy Live Demo here.
Features Summary
Call and SMS and web history tracking
Monitor text messages, even it is deleted.
SIM and location tracking via GPS
Alerts on restrictions via Geofence
Social media spying on WhatsApp, Instagram, Snapchat, Viber and Facebook
Stealth mode operation
Installation
Installing Neatspy is easy. There are details that you need to go through depending on the platform you are using, but they can be narrowed down to the following:
Sign up for an account
Choose the operating system
Select your plan
Download the tracking app on the target phone (For iOS target device, you don't need to download app)
Wait for the data to synchronize once you get to the control panel
Start tracking the phone via the web portal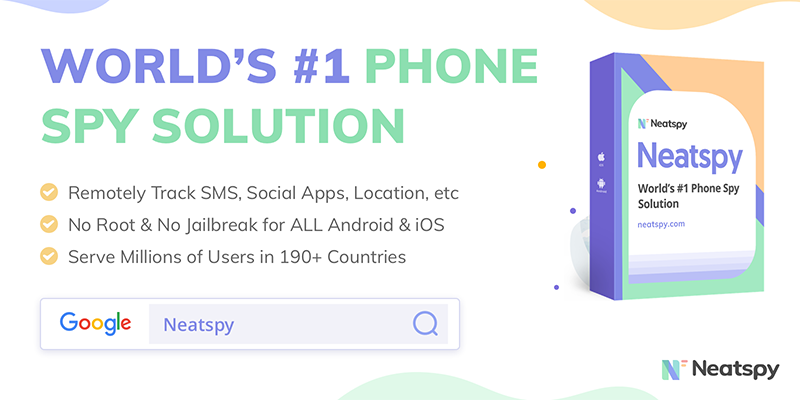 When installing on Android, you need to physically access the target phone and perform the settings as described in the installation page.
You, however, don't need to root the phone and you can also choose to hide the application at the end of the installation process.
When it's time to uninstall the app, you can do it remotely.
For the iOS case, you need the iCloud credentials of the target device. If you already know them, installation can be done remotely. You don't need to jailbreak anything here since Neatspy solution is built to synchronize with the target without compromising the phone.
Once installed, the iOS solution will get you all the text messages and iMessages. That includes even the deleted ones.
Check Neatspy iOS solution here >>
Pricing
It depends on the plan that suits you. In Android, a basic plan will cost you $39.99 per month, while premium goes for $9.99/month. A family plan needs $69.99 every month.
In iOS, the family plan goes for $99.99/month, the business option needs $399.99/month, and premium needs only $10.83/month.
For more information, the pricing page has other options to consider under each plan.
Compatibility
Neatspy is applicable in both Android and iPhone platforms. On Android, you need version 4.0 and above.
For iOS, it's compatible with version 7 and above. Since it has the standards functions needed to fetch messages, you don't need to root or jailbreak the monitored device.
Just the usual installation procedure and you are good to go.
Also Read: Enter Cell Number Read Texts Free Without Installing on Target Phone
Part 2. Spyier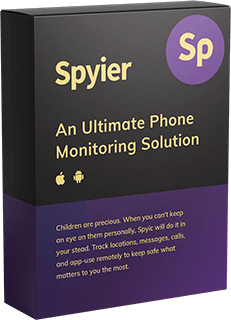 Spyier is a powerful text spy app with advanced features that you will not see in other monitoring applications. Apart from receiving SMS from the target device together with contact details, it also records the keystrokes and phone calls.
It will also allow you to analyze all incoming and outgoing emails, collect information from social media accounts and track the device remotely. It even allows you to record the conversations happening around the target device.
All you have to do is turn on the microphone, and the user will not know anything is recording. The best part about Spyier is that it is cross-platform.
Design
Whether you are tech savvy or not, a dashboard needs easy navigation. Spyier sorts this out by having the features on the left side while information is available in the bigger right window. You get to see the device information and the Spyier version you are using.
The only thing you have to bear with is that it feels old. Once you see the modern designs on portals like in Neatspy, the next thing you will wish for is a panel update. They have not worked on it for quite a long time.
Under the data drop-down menu, you'll find all the things you would like to know more about your target. The portal continually updates so you don't have any delays or bug fixing problems as you spy.
Features summary
Monitor texts messages, chat applications and emails
GPS track location
Online activity analysis
Monitor phone calls (Includes listening to live phone calls)
Media files access
Remote camera capture
Visible or hidden mode operation
Custom alerts creation and notifications
Keylogger
Installation
You need to visit Spyier site for you to download it. The installation procedure is easy to follow through. Once installed, it operates silently in the target phone as you collect the messages, phone calls, location and other pieces of information.
Before you install, here is what you need to know:
You need to access the target phone physically. If it has a passcode, make sure you know it.
Installing it will require to jailbreak/root the device if you want to access more features. That is one of the major differences between Spyier and Neatspy. In the latter, you don't need rooting/jailbreaking.
It is essential that you create a backup for the phone first before jailbreaking/rooting
As you install, make sure you are near your computer so that you can log in to your account before you begin the installation process.
Pricing
Well, being a powerful app means that it does not come cheap. What you need to know is that there are no hidden fees after installation and it is well worth what you spend on it.
In Android and iPhone devices, the premium plan needs $68/month while the extreme version comes with a $199/month price tag. The iPad and computer options require $68/month only.
The price is another issue that will make you opt for the Neatspy solution if $68 is too much to spend on an app for one month. Why? You can spend as low as $10 per month on Neatspy solution to get the Premium version.
Compatibility
If you want to use it, make sure that your Android version is between 4.0.3 and 8.1.
For iPhones, you can use it on version 9.1 and below. In later versions, Spyier operates in tethered mode. That means you have to reconfigure the device when it powers offs either from the user's intention or battery run out.
Spyier also supports Windows and Mac OS if you want to install it on a computer. Other supported phone operating systems include Blackberry and Symbian in Nokia.
Also Read: How to See Who Your Boyfriend is Texting
Part 3. Spyic
We have already heard parents swearing by Spyic. It is a reliable parental control app used to track text messages sent via iOS and Android platforms. Once you join, anything you need from the support team is available 24/7. That is something all users can appreciate.
In messages, you can see the details of those who sent and received and the associated time stamps.
Apart from phone messages, it also tracks chats on WhatsApp, Snapchat, Facebook, Tinder and whatever else these kids are using these days. Just like other monitoring apps, it also comes loaded with features that help you ensure your child's safety.
When looking at Spyic and Neatspy, they both have one thing in common: More users worldwide hence the positive reputation.
Design
The dashboard is well organized, but there is a feeling from users that the menu on the left is longer than usual. Despite having a comprehensive features list, the panel reveals the device information, Spyic version, and the current target location.
Having a detailed menu also means that there are more things to check. Since the clickable names are self-explanatory, you don't have to look for any hidden features.
Features summary
Monitor all messages including deleted ones
GPS tracking
Apps and programs control (includes keylogger)
Browser history analysis
Phone calls/Call log monitoring
Media files analysis
Installation
The Android and iOS installation procedures are different. On the other hand, all you have to do is visit their website, view the demo first if you are not sure. After you see how it operates, you can go back to the home page and click the 'BUY NOW' button.
In the iOS solution, you can choose to install without jailbreaking if you don't want any compromises. However, for you to access more information and features use, a jailbreaking is necessary.
The process takes about 30 minutes. If you don't know how to do it and there's no one to help, Spyic can do it for you at an extra cost.
For Android, you have to access the device physically. In the control panel, choose the Android tab then follow the installation steps. For basic functionality, rooting is not required. On the other hand, just like iOS, checking on Viber and WhatsApp messages among other apps need rooting.
Pricing
With Spyic, you can go for the basic or premium plan. The basic has regular features such as tracking, SMS reporting, access to call log and internet history.
If you want more features, the premium option has more to offer.
The basic plan requires $29.99/month, while Premium and no jailbreak options go for $69.99/month. If you need to monitor more than one device, there is a family package that goes for $359.97 for six months or $479.97 for the whole year.
Despite being one of the affordable solutions, still, it's more than what you spend on Neatspy since their premium plan needs $10 only per month.
Testing may prompt you to take the one month plan but going for extended packages will save you some cash.
Compatibility
It's compatible with all Android versions above 4.0. You don't need to root the target device, but if you want to monitor instant messengers, you'll be forced to root it.
In iOS, you also don't need jailbreaking since it's compatible with all versions. It's also in iOS that you can install the app remotely if you have the iCloud credentials. Otherwise, physical access is a must. If you need a jailbreak, Spyic is compatible with iOS 7 to 8.4, 9.0 and 9.1 versions.
Don't Miss: Does Spy Texts Really Work? And How Does Spy App Work on Cell Phones
Part 4. Minspy
Minspy is another text message spy for iPhone and Android versions that remotely shows you what is happening on your target phone. For the texts, you view all the necessary records.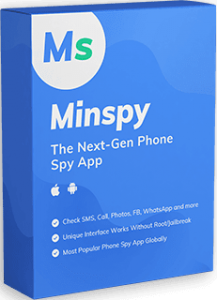 That means seeing the messages, senders and receivers information, and the number of messages in each chat. While some devices need rooting/jailbreaking for Minspy to work, there are detailed instructions on how to install without altering the phone.
The good thing about it is that it hides when you are monitoring so that the whole spying process becomes a secret.
Features summary
Track all messages from messaging apps
GPS location tracking
Call and call log analysis
Browser history
Control on installed apps
Media files access
Read notes and reminders
Compatibility
Once you follow the installation procedure as described, you will have no problem with the device, whether iPhone and Android. For Android, the supported versions are between 4.0 and 8.0. The iPhone versions that will not need jailbreaking include from 6.0 to 11.0.
Part 5. Spyine
On to the next one is Spyine which also allows you to spy on text messages remotely on the installed phone. What makes us select it as one of the best spy apps is that it makes the monitoring task easier.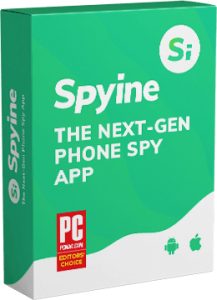 If you don't want to check every string of information that gets to the target, you can check on the specific ones. How? It allows you to check on particular contacts and words that matter more.
You just have to update the phrases or contacts on the watchlist alerts. Whenever those words are used during communication, Spyine sends an email to you immediately. Sorting is also quick where one click gives you a list or conversational view depending on what suits you better.
Features summary
Monitor all calls and messages
Messenger and social media tracking
GPS track location
Email and online activity analysis
Remote control on the target device
Access to media files
Compatibility
You don't need rooting to install, but some iOS versions may require jailbreaking. It supports both Android and iOS platforms. For Android, it works on all versions between 4.x and 9.x. In the iPhone world, if you don't jailbreak the target phone, it works on all versions between 6.x and 12.2. Once jailbroken, Spyine is compatible with versions between 6.x and 9.0.2.
Part 6. Auto Forward Spy
Auto Forward Spy is easy to install and use not forgetting that it is another cross-platform application, working on Android and iOS. When it comes to text messages, it will get you all the SMSs from the target phone including the deleted ones.
More to that includes getting the details of those participating in the chats. The control panel makes it easy to monitor the messages even if you are not conversant with software products.
Features summary
Monitor all texts messages
Record calls
Social media tracking
Email records analysis
GPS location tracking
Monitor all calls on the call log and contacts access
Remote photo taking
Browser history
Free upgrades
Compatibility
It works on both iOS and Android platforms. There is no limitation to versions here, and you don't need to root or jailbreak the target phone.
Part 7. MobiStealth
MobiStealth is a cross-platform monitoring application that not only works on Android and iOS but also on computers. That means you can use it to spy on almost every other device in your household.
Do you want to spy on the text messages? This app allows you to see all outgoing and incoming messages together with the contact details of those involved. The senders and recipients phone numbers are matched with the contacts save in the target phone.
The installation procedure is easy, and you don't need to compromise the device for it to work.
Features summary
Monitor all text messages and calls (includes recording live calls)
GPS location tracking
Social media monitoring
Browsing history analysis
Access to media files
Emails analysis
Keylogger
Compatibility
MobiStealth works on all Android and iOS versions, and there is no rooting/jailbreaking needed. It also works on Windows and Mac computers. Once installed, the user does not know if it's there.
For iOS, you only need the iCloud information while in Android, you can choose to hide it during the installation process.
Part 8. Spyera
Spyera an award-winning monitoring app that allows you to spy on almost every other device that you need to be aware of. You will know when the target is in danger or doing the contrary remotely after installing.
On the control panel, you get real-time analysis of the incoming and outgoing text messages and more. That includes even the deleted messages. You also get an option to specify specific keywords or numbers that you want to verify further. Whenever they are used, you get an instant notification.
If the data collected is too much, just search for the reports you need and download them at will.
Features summary
Texts and calls monitoring
Media files access
Social media spying
Emails spying analysis
GPS tracking
Remote camera for the captures
Compatibility
Spyera is compatible with Android, iOS, Windows and Mac OS.
It works on all Android devices (smartphones and tablets) up to version 8.1. You may need to root the device if you want more monitoring features.
In iOS, you can install it on all iPhones and iPads with OS version up to 11.4.1, and you require jailbreak here for proper operation.
In computers, it's compatible with Windows (from XP to 10) and Mac OSX versions.
Part 9. Teensafe
Teensafe will also allow you to monitor Androids and iOS devices remotely after installation. It will show all the text conversations together with the contact details of receivers and senders. That also includes the deleted ones and their timestamps too.
It also allows you to monitor more devices when such a need arises. Users who have it appreciate the way it addresses the monitoring aspects into teen, employee, and family.
Features summary
Monitor calls and text messages

GPS tracking

Social media monitoring

Contact information access

Access to browser history and media files

Remote camera

Emails monitoring and analysis
Compatibility
It works on both Android and iOS. In Apple, it supports iPhone versions 4, 4s, 5, 5c, 5s, 6, 6S, 6 Plus, and all iPad versions. That includes iOS version 9.1.
For Android, it works on all versions from 2.3 upwards.
Part 10. GuestSpy
The last one on our list is GuestSpy, but it's not the least. After installing it on the targeted device, it allows you to read all the messages involved (including data from messaging apps).
Now, apart from getting all the message details, you can use it to send commands to the target phone via SMS. It also permits you to lock the remote SIM and get its information.
If you don't want to see some of the things you are monitoring, GuestSpy gives you an option to delete them.
Features summary
SMS and calls tracking (includes phone call recording)
SMS commands
Social media monitoring
Ambient listening (You can listen to what is happening around the target phone)
Calls management
GPS location tracking
Check on internet use
Multimedia files access
Remote control
Compatibility
You can use on both Android and iOS. In Android, it supports versions between 5.x and 6.x.
In iPhone, it supports the following versions: 5C, 5S, 5, 4S, 4, 3GS, 3G, 2G. Depending on the version you are using, jailbreak may be required.
Conclusion
After going through our review of the best apps to monitor text messages, you may be wondering which one to pick. Our advice to you is that you should not rush on anything. Evaluate what you need, your financial capability and how reliable your chosen app is to your monitoring task.
Most monitoring applications operate in stealth mode so that the targeted user does not know there is spying going on. It's a good idea to always check on the features and installation procedure. If a monitoring app requires you to root/jailbreak, then it may not be one of the best solutions.
Rooting, however, may be necessary when you need to access or view more features.