"Have you misplaced your Android cell phone?" "Are you looking for your lost phone?" "Are you trying to locate your stolen Android phone?" "Do you want to lock your Android device remotely before you get it back?" "Don't you want to delete data from a lost or stolen device?"
Whether you're finding your own device or your friend's device, you're at the right place.
In this post, we will discuss different ways to locate a lost Android phone. Any application cannot identify the location of a switched off phone on the map, but we can always get to the vicinity where the device can be present.
We will also discuss a few tips to save you from any such worry in the future. Finally, we will understand how Neatspy Phone Tracker can be helpful in such incidents.
Part 1: How to Find your Lost Android without App
Method # 1: Track your lost and turned off Android Without App using Google Location History
If you've enabled location services on your Android device, even if it's turned off, we have a chance to track your lost phone. Google maintains the device's location history.
The location history of this device can be viewed through the 'Timeline'. It includes exact details of the phone's date, time and location.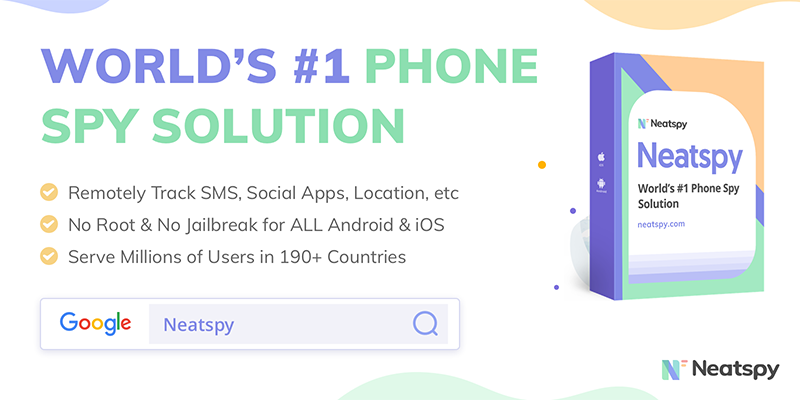 A turned off device can not communicate with the network so that at the moment you would not be able to detect the precise location of the device. However, you will be able to see the latest location when the device was last connected to the internet before it was turned off.
How to Find Location of a Turned OFF Android?
The 'Timeline' shows the complete history of the location of your device.
Follow the steps below to see your device's timeline:
Open Google Maps in the browser.
Log in to the Google Account which is configured on the lost device.
Expand the Menu on the left side.
Go to 'Your Timeline'.
Filter by 'Today' to narrow down the travel route.
The latest entry will provide you with an indication of the current location of your phone.
You may like: How to Track a Cell Phone Location Without Installing Software
Method # 2: Track a lost Android Phone using Google's Find my Device
The second option to track a lost Android phone is 'Find My Device' from Google. It comes pre-installed as part of Google Play Security on Android devices.
Your Android device is linked with the configured Gmail Account. You can have more than one device associated with your Gmail account. 'Find My Device' uses a Gmail account to connect to your lost phone via GPS.
This option can be used if your device meets the following criteria
It is turned on.
It is connected to the internet.
It has the 'Location' enabled.
It is signed in to the Google Account.
It is visible in the Google Play.
It has the 'Find My Device' enabled.
How to Find Lost Android with Find My Device?
 Finding your lost Android phone with Google's Find My Device is quite easy.
Just go to the Find My Device
Select the lost device from the list of available devices.
The location of the lost device is pinpointed on Map.
What can I do about a Lost or Stolen phone?
You can take any of the following actions about your missing phone:
Method # 3: Track a lost Android Phone using Samsung's Find My Mobile
Another way to locate your Android Samsung phone is by using 'Find My Mobile'.
You can use this option if you had set up the Samsung Account on your lost device. The device should also be connected to the Internet, and location services should be enabled.
If you have 'Send Last Location' enabled on your device, the device automatically sends its location to the server when the battery goes down to a certain level.
How to Find Lost Samsung with Find My Mobile?
Following these steps, you can track the lost phone:
Go to Find My Mobile in a browser.
Sign in to the Samsung account.
See left sidebar.
Select your lost Samsung device.
Click 'Locate my device'.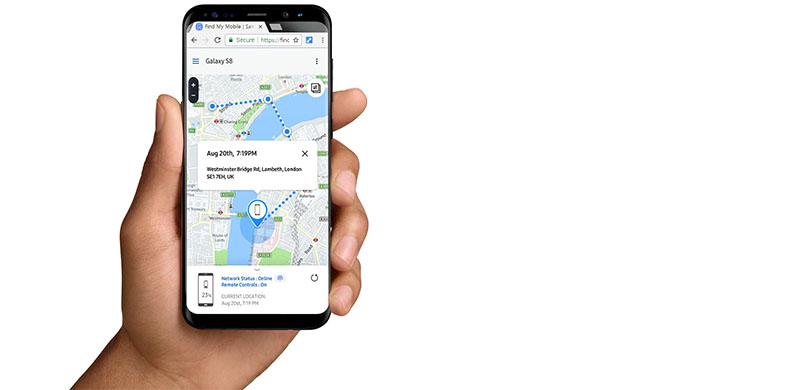 Find My Mobile, like its competitors, allows you to ring a sound on your phone, lock your phone, and erase data. You can also create ' Backup ' of your phone data before you wipe it off.
Part 2: Prepare for the Future – Protect your Cell Phone Today
If you landed here because you're trying to find your friend's lost phone, it's time to learn some lessons. Save yourself by taking some precautionary steps today from any such worries in the future.
Step 1: Take General Measures
The following few tips can really help you find a lost phone:
Keep the device's location on.
Keep your phone's battery charged.
Keep your device connected to internet.
Set the device visibility to 'On' in the Google Play services.
Enable 'Find My Device' for Google account.
Setup 'Find My Mobile' if you have a Samsung phone.
Get a phone tracker app.
Step 2: Get Neatspy Phone Tracker Today
With a customer satisfaction rate of 96%, Neatspy is the best mobile phone monitoring software in the market.
Neatspy keeps track of the location of your phone based on GPS data. This works with accurate satellites to analyze where the phone is going.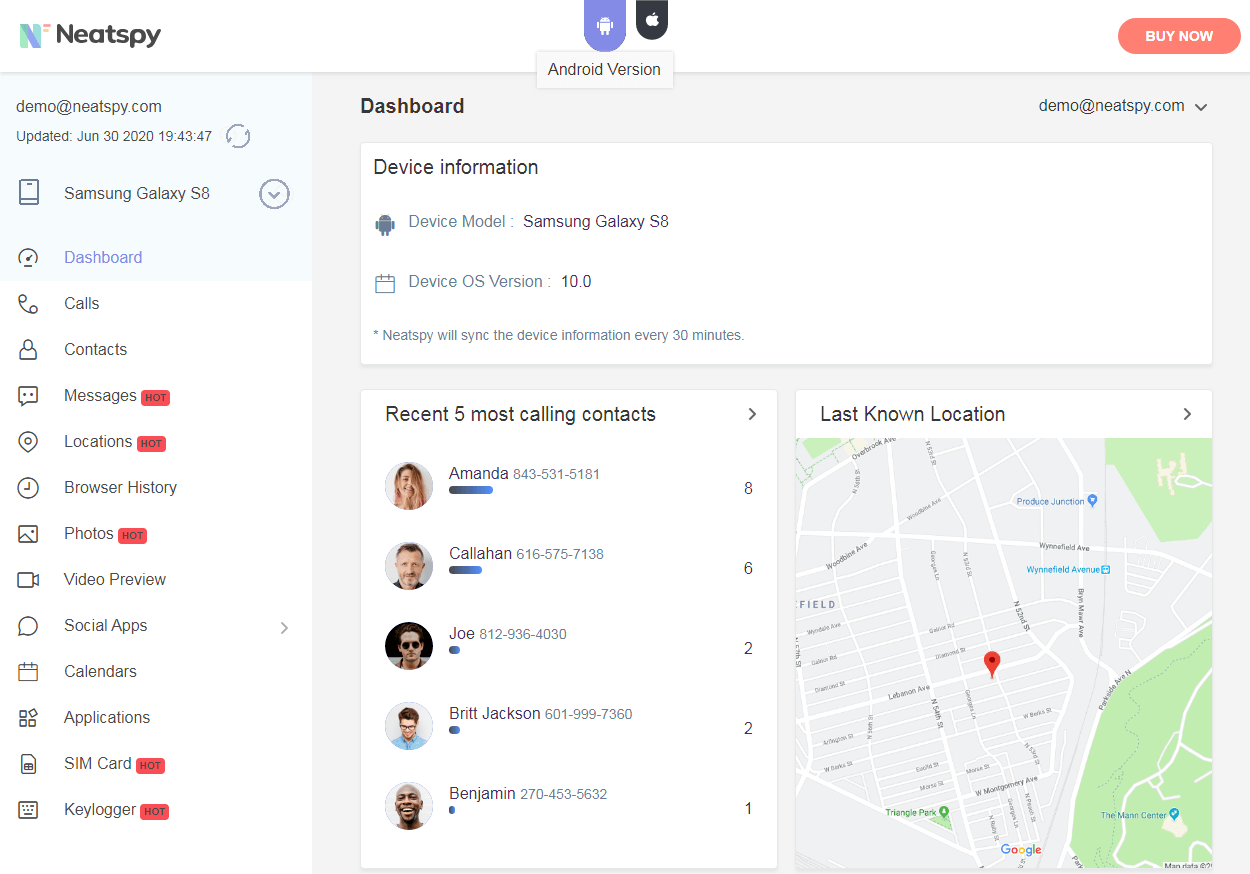 You can also choose to monitor the phone's Wi-Fi connection. This gives you a good idea of the location of the device.
You can tell the exact address of the phone at a point in time by looking at the location history.
Why use Neatspy to monitor my phone?
We read your mind! We know you're thinking about why you need to spend a few bucks monitoring my phone when I can use Google services to do it for free.
Well, consider the situation: 'What if the device is stolen and the user removes the Google accounts?' 'What if the location services are turned off?'
You need something more powerful to protect your device from potential thefts and misuses. You need Neatspy phone monitoring app.
Why should I choose Neatspy?
Let's look at some of the reasons for choosing Neatspy to monitor your phone.
It lets you set geofence alerts for your device.
Track a log of every activity on your phone.
It can give a clue about the unauthorized use by logging calls, messages, social media apps, and other email accounts.
Reliable and legitimate.
User-friendly interface.
It can be set up within 5 minutes.
No need to root.
Consume minimal battery.
Occupies lesser memory space – less than 2 MB.
I am excited! How can I get Neatspy?
You can get Neatspy in 3 simple steps.
Step 1: Sign up to Neatspy
Sign up to Neatspy by entering your credentials below.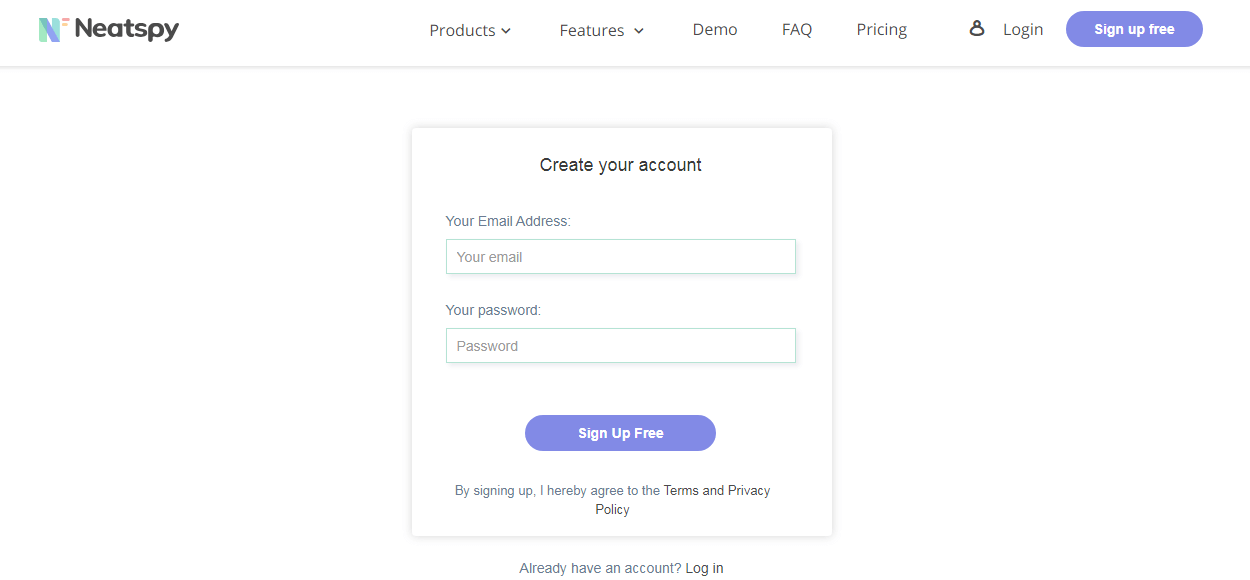 Step 2: Configure your Android Phone
It takes only a few minutes to configure your Android phone as per instructions in the welcome email.
Step 3: Happy Tracking your Android Phone
Open your Neatspy's Control Panel and happily track your Android phone.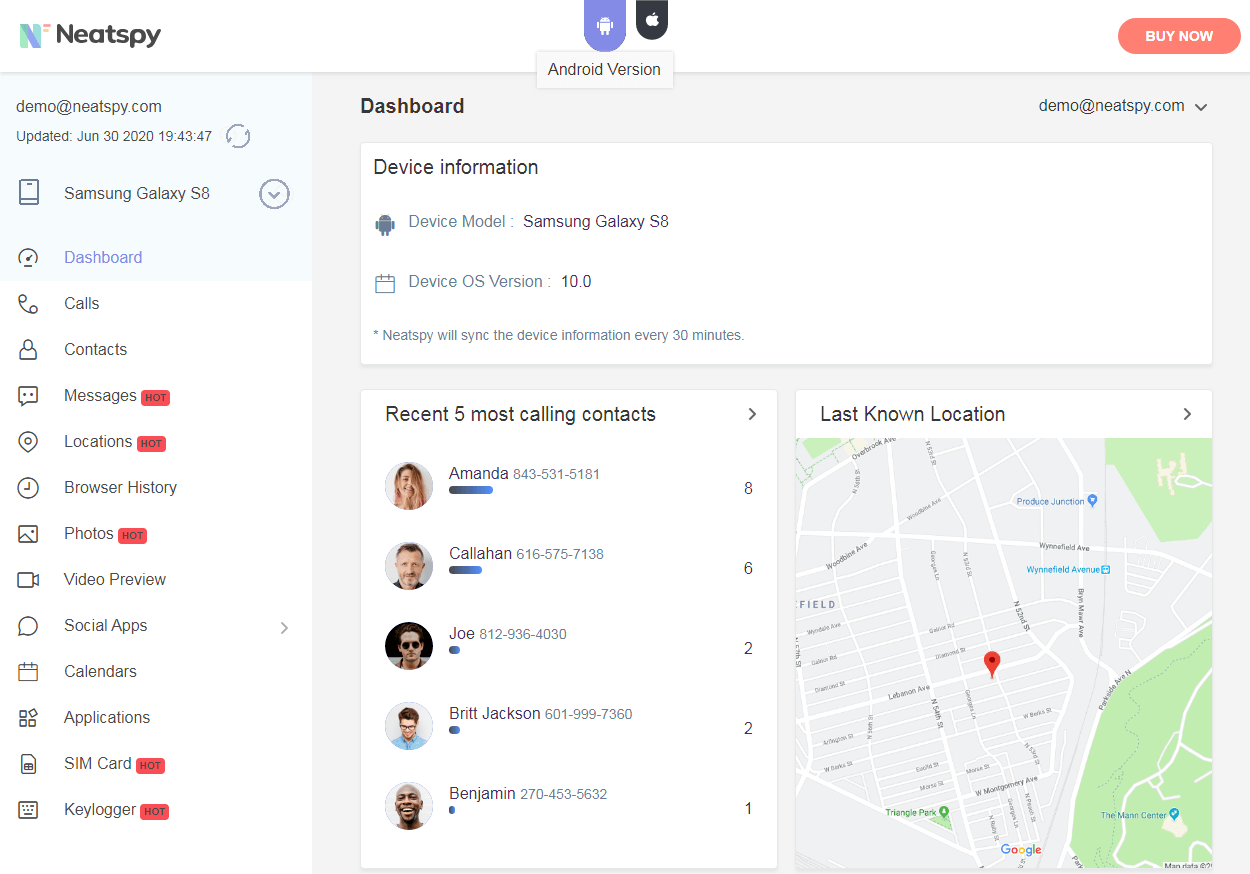 Play the live demo around and experience yourself with Neatspy Phone Tracker.