Phone Location Tracker
Learn their accurate location from any phone, tablet, or computer.
Find out their entire location history with Neatspy:
Learn their GPS location and exact coordinates.

Find out the addresses and neighborhoods they have visited.

View location in detailed 3D street view.
Track a Phone Location in 3 Easy Steps

Sign Up Free
Create a Neatspy account with your email address.

Configure Neatspy
To track an iPhone, verify its iCloud. To track an Android phone, download Neatspy app on it.

Track cell phone location
Get Wi-Fi or GPS data in real time off of a device.
Create an account for free
By signing up, I hereby agree to the Privacy Policy
Check Live Demo Here >>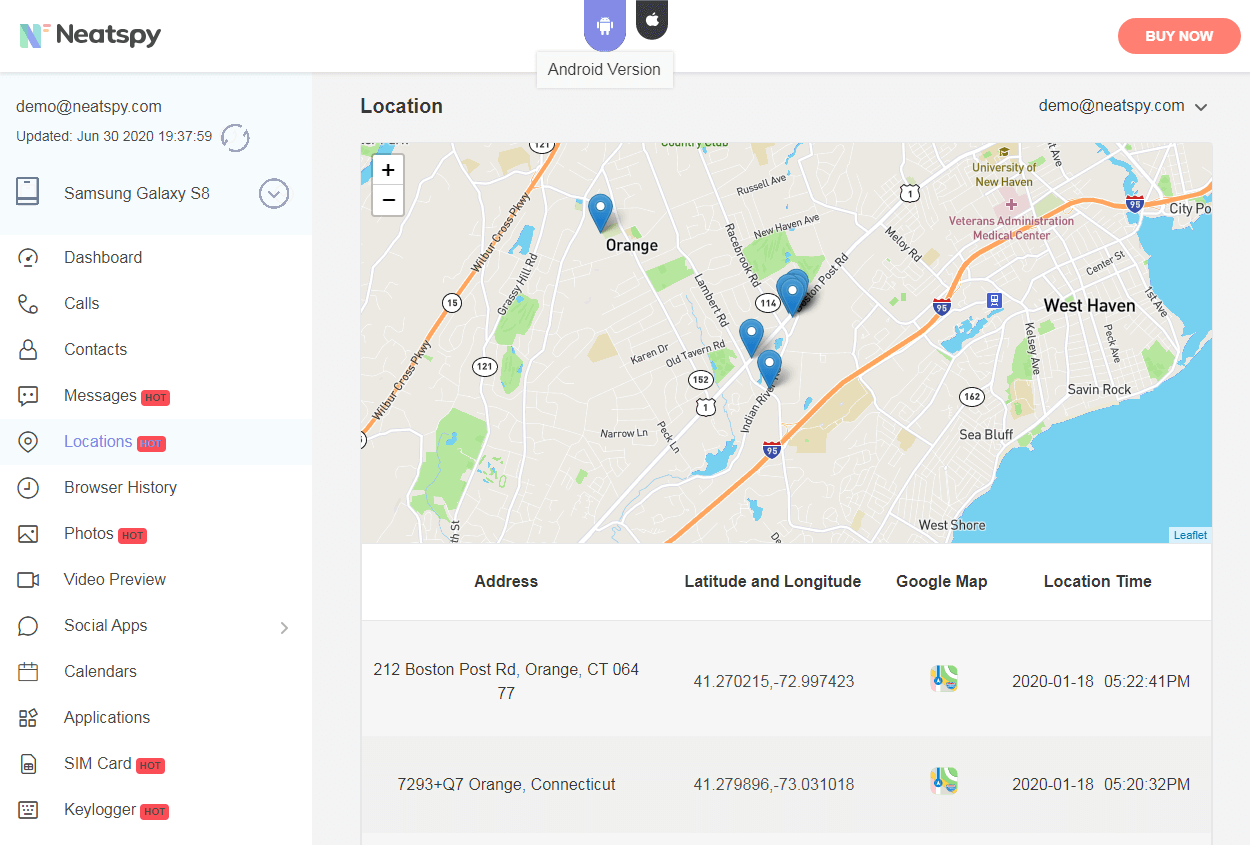 The Best Way to Track a Phone Location
With Neatspy, tracking a phone location is just a minute away. You can know about anyone's whereabouts without the phone user ever finding out that you are tracking them. This premium stealth phone tracking is not something you find in any other phone tracker.
To find the location of a device, you can simply hover to the Location tab on the left hand side of the dashboard. It will show you their recent locations along with the timestamps for each location. Location tracker is accompanied by the Geo-fence feature.
Neatspy's location tracker is integrated with Google Maps. Therefore, you get pretty accurate location information of the person on the Google Map. You can know where they are exactly this instant, or where they were a year ago.
The Location history can be checked through the location log at the bottom of the Map. It shows you location coordinates of a person, along with the timestamp of when they were present at that location.
Find Out the Places They Visit
If your child is spending long periods of time away from you, Neatspy can let you know where exactly they go to. You can know if they are at school during school hours. Children are vulnerable and get acquainted with bad elements due to peer pressure. Neatspy lets you protect them and keep them safe.
If you feel that your kid lied to you about their whereabouts the last night or a week before, you can start using Neatspy now and find out about their entire location history. Learn about where they were at any given instant.
Countless employers are regular users of Neatspy for keeping a tab on their employees. This is especially true for people working in field jobs. Neatspy lets you find out if your employee is actually on the work assigned to them.
You can even track your lost phone using Neatspy. This is an added benefit of getting a Neatspy subscription. It is like having your own private detective on a retainer, without all those extravagant costs involved.
Neatspy is a perfect no-root no-jailbreak phone location tracker. Create a Neatspy account today and see it for yourself!!
Secret Tracking Without Root or Jailbreak
Most location trackers ask you to root or jailbreak the target device in order to track its location secretly. This can be a deal breaking factor. This is why Neatspy can track any cell phone location without needing to root or jailbreak.
Check Their Movements on Map
Neatspy lets you keep a tab on the target user's location movements in real time. All this comes without any chance of getting caught tracking their location. Neatspy accomplishes this by tracking an iPhone without touching it and customizing Android tracking app to be 100% hidden.