WhatsApp Spy
Read all their sent and received WhatsApp messages.
Find out what they chat and who they chat with, all with Neatspy:
Neatspy lets you read their private and group messages.

View all the multimedia that they send or receive on WhatsApp.

View details about the people they chat with, along with display picture.

Spy on WhatsApp without rooting or jailbreaking the phone.
3 Simple Steps for WhatsApp Spying

Sign Up Free
Use your existing email ID to sign up for a free account.

Configure Neatspy
Follow the on-screen guide to set up Neatspy based on the target phone- Android or iOS.

Read WhatsApp Chats
Access your Neatspy dashboard and view all their WhatsApp data.
Create an account for free
By signing up, I hereby agree to the Privacy Policy
Check Live Demo Here >>
WhatsApp Chats Show Surprising Secrets
It is obvious that your kids do not share everything with you. However, they might be sharing everything on their WhatApp chats. You can monitor these chats to know what they are up to. If your child seems to be in harm's way, you can protect them before anything bad happens.
With your child's WhatsApp chats, you can know if they are being harassed by any cyber bullies. You can find out if they are dating someone, and learn if they are talking to a stranger that seems suspicious with red flags.
Employees are allowed by the law to track the cell phone of their employees. Therefore, you can keep a tab on your employees' WhatsApp messages to find out if there are any company secrets they are sharing with your competitors.
Neatspy lets you read someone's private WhatsApp messages without a hassle. No need to root and no need to jailbreak. Start using Neatspy right away!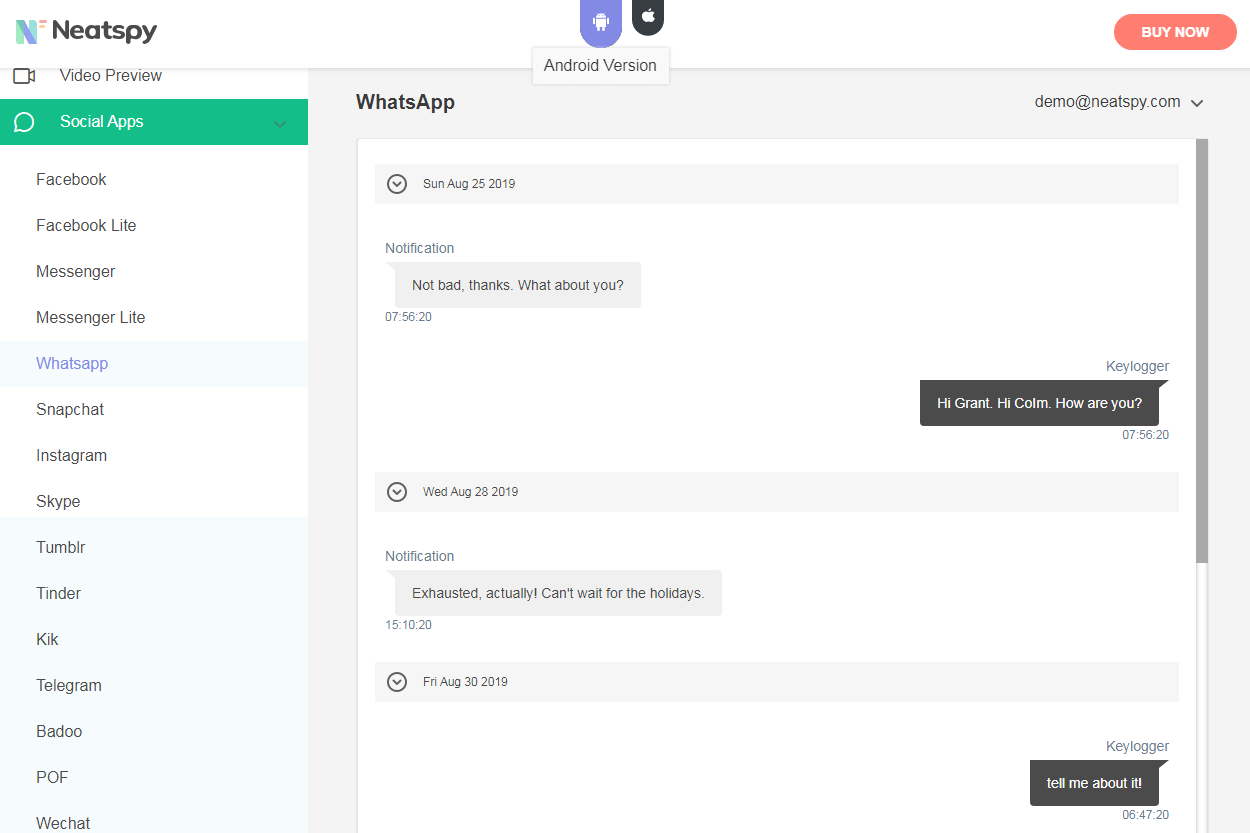 Easy and Secure WhatsApp Spying
Neatspy forwards you all their WhatsApp chats, without saving any on its servers. This means that only you can view this data and no one else can. Using Neatspy is easy and you do not have to be a tech pro in order to figure it out.
Once you are on the Neatspy dashboard, you can find the WhatsApp spy module under the 'Social Apps' tab, present on the left hand side of the dashboard.
Neatspy updates the WhatsApp conversations in real time. This means that you can view any WhatsApp message as soon as it is sent or received. You can view older messages with ease as well. Neatspy WhatsApp monitor makes everything happen!
Even if they deleted their WhatsApp conversations, they still cannot hide it from you. Neatspy shows you all their deleted and archived WhatsApp chats. Further, you even get to view any picture or video they shared in their conversations.
WhatsApp Spying Without Root or Jailbreak
Most WhatsApp spy apps ask you to root or jailbreak the target phone, along with countless other requirements. However, Neatspy makes no such demand. You can view their entire WhatsApp conversations without doing anything to their phone!
WhatsApp Spying in Secret
When you are using Neatspy, it is assured that you will never get caught reading their WhatsApp messages. This is because Neatspy is designed to be completely hidden, whether you are using it for Android phones or iPhones. Neatspy has dedicated stealth design for each of these architectures.
You may like: