Browser History Tracker
Monitor a Phone's or Tablet's Browser History.
Neatspy Shows Your Their Surfing Habits Remotely
Learn about their favorite website.

View a website's mini description.

Get additional details such as bookmarks, website visit frequency, etc.
Monitor Their Browser History in 3 Easy Steps

Create a Neatspy account
You can sign up for Neatspy using your current email address as username.

Configure Neatspy
Follow the instructions on the screen and configure Neatspy.

Monitor their Browser History
Access the Neatspy dashboard and use all its features.
Create an account for free
By signing up, I hereby agree to the Privacy Policy
Check Live Demo Here >>
Their Browser History is Just Two Minutes Away
Once you set up Neatspy, you can view someone's browser history in real time whenever you like. The setup process just takes a few minutes and no knowledge of any kind is needed. Therefore, with little to no effort, you can know all they do on the internet.
Once you have a Neatspy account all set up, you can view someone's browser history instantly. Just look for the "Browser History" tab in the Neatspy dashboard.
Neatspy's browser monitor comes with a range of added features. These include their bookmark information, the number of times that they have visited the website, and details of the website as well.
All their browser history is stored on your Neatspy dashboard. Therefore, even if they delete the browser history on their end, you will still be able to view it very easily. You can also choose to download the logs on your own system if you like.
Neatspy monitoring happens in real time. This means that if the target user is browsing the internet right now, you can use Neatspy to know which website they are viewing. You just need to refresh the Neatspy dashboard to accomplish this.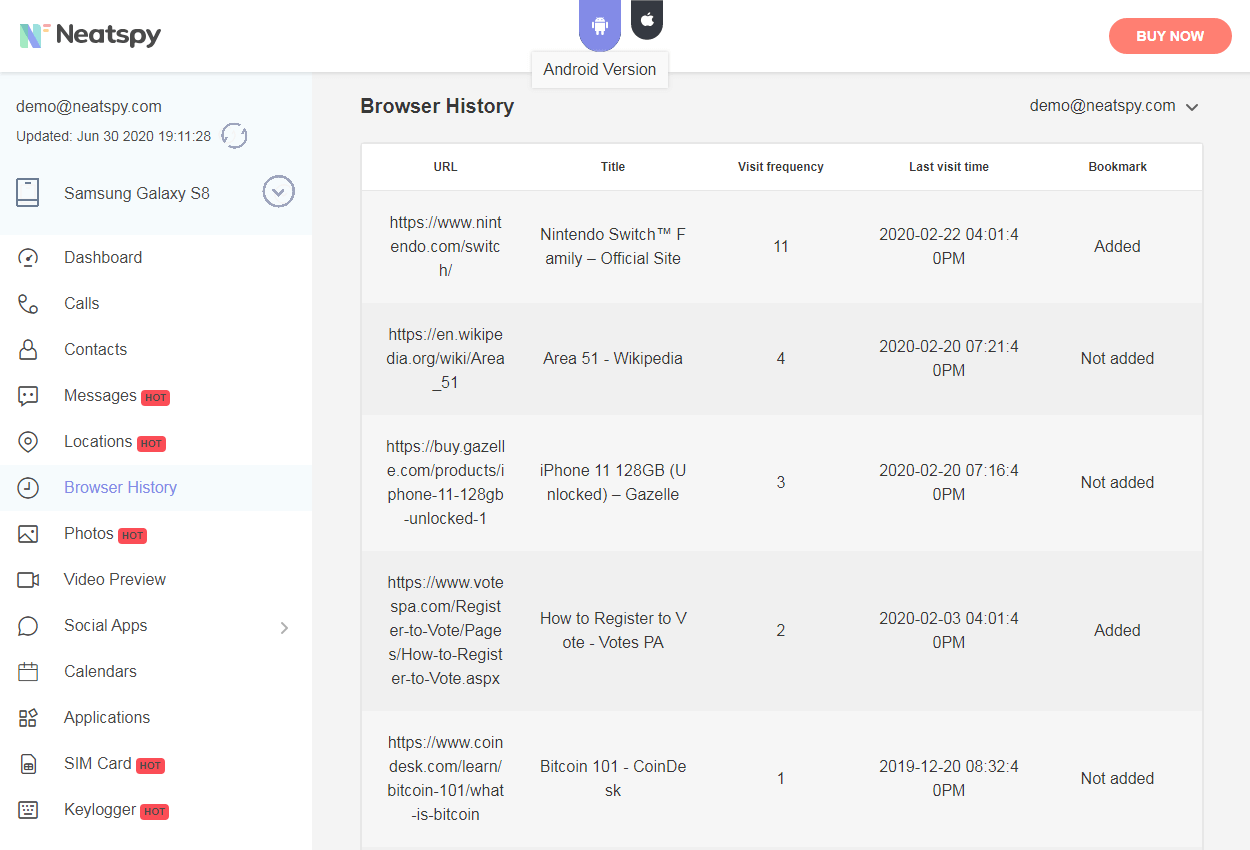 Find Surprising Information in Browser History Monitor
The web browser history of a person can tell you a lot about them, especially if they have been acting strange lately. The browser history monitor shows you the type of interests the person has nowadays, and what they are searching on the internet.
If you feel that your child has been behaving differently lately, their browser history can show you exactly why. You can know what they are doing on the internet for all those hours. This is very crucial for a parent who is worried about their children.
You see all this news about children taking part in life risking games on the internet or sharing their private info where they should not. Their browser history will tell you what you should be concerned about, and you can then fix the issue right at the root
Neatspy keeps a tab on the target user even when you are busy and do not have the time for it. Therefore, don't think twice, download it now!
No need to root or jailbreak to view browser history
Neatspy is better than any other phone monitoring app that you will find. Its web browser monitor does not require you to root or jailbreak the target phone to monitor the data. This is a big relief, as we all know how much damage can rooting/jailbreaking do.
Secret Browser History Tracking
The best thing about Neatspy is that it can monitor a phone without getting you caught in the act. This is true whether you want to view browser logs of Android phones or iPhones. Neatspy has differentiated its design for both these phones, suiting to the needs of a particular architecture.