Best Phone Recorder App to Record Calls and SMS
Neatspy is the best phone call recorder app that remotely records all the incoming and outgoing calls on the monitored device
Besides the possibility of tracking the text messages, Neatspy app tracks and records calls, WhatsApp, Facebook, Viber, SMS, web history and GPS location
Listen to any call made to or from the Target, live and as it happens.

Spy on phone calls as easy as sending a secret SMS, or flipping a switch in your online Dashboard.

Completely stealth, the Target phone will not know you are on the call and listening in..

Do all this and more without root or jailbreak.
3 Simple Steps to Track Phone Calls Online

Sign Up Free
Use your existing email ID to sign up for a free account.

Configure Neatspy
Download Neatspy onto a target Android device. For target iOS devices, enter the iCloud credentials.

Read WhatsApp Chats
Log in to your Neatspy account to start reading WhatsApp messages.
Create an account for free
By signing up, I hereby agree to the Privacy Policy
OR check live demo here >>
Tracking Phone Calls Has Never Been This Easy
With Neatspy, you can view someone's call logs with a single click on the Neatspy dashboard. The dashboard can be accessed through any web browser that you use. Therefore, there is nothing to worry about.
Neatspy even shows you the most called numbers from the target phone, along with the frequency of the calls. You just need to browser to the 'Calls' tab in the Neatspy dashboard.
Sort through Call Logs with Ease
You can sort through the call logs with ease, based on duration, frequency of calls, and any other parameter you wish. Even an overview of the call logs will tell you if there is a red flag that you need to worry about.
Why monitoring call logs is important? You might never know who your child is talking to. Perhaps they are talking on the phone with a stranger they met on social media. Or perhaps there is someone bothering your kid and they aren't sharing this with you. Call log monitor is going to tell you all about it, without any lies.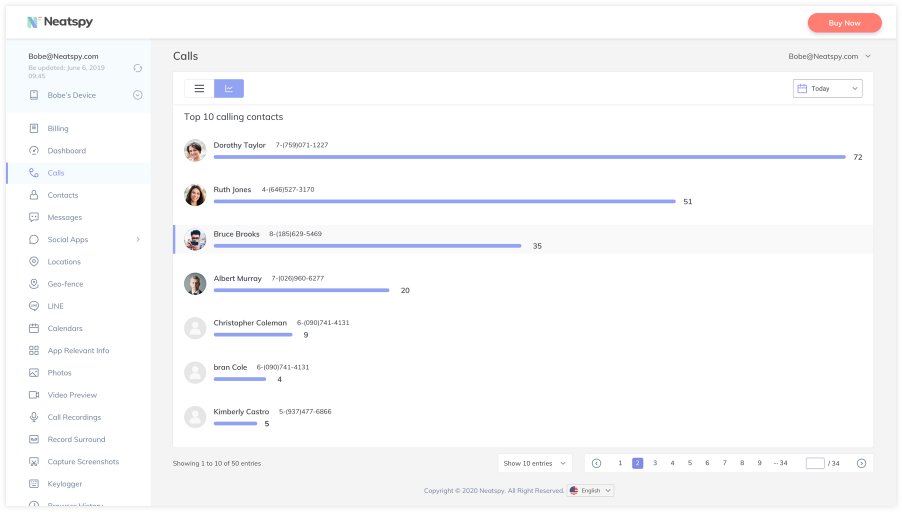 Employees slacking off or cheating a company is not really something uncommon. Neatspy lets you find out if your employees are talking to your competitors. You will even know if they are taking private calls during work hours or from work phone number.
Meatspy's call log monitor is a quick and easy way to view your child's or employee's call logs. It takes just a few minutes to set up and is completely discreet and quiet about it.
Neatspy works ten out of ten times, without getting caught even once. Therefore, you can use it without second thoughts about it.