Spy on Snapchat
View their Snapchat activity from your phone, tablet, or PC.
Do you want to know what they are up to? Find out with Neatspy:
View incoming and outgoing Snapchat chats.

View the chats that they deleted from their phone.

Learn about the people they talk to on Snapchat.

View the media files they share or receive on Snapchat.
3 Simple Steps for Snapchat Spying

Sign Up Free
Create a Neatspy account with your email address.

Configure Neatspy
Follow on-screen instructions to configure Neatspy based on target phone's OS.

Begin Snapchat Spying
Access your dashboard and find out all their private Snapchat data instantly.
Create an account for free
By signing up, I hereby agree to the Privacy Policy
Check Live Demo Here >>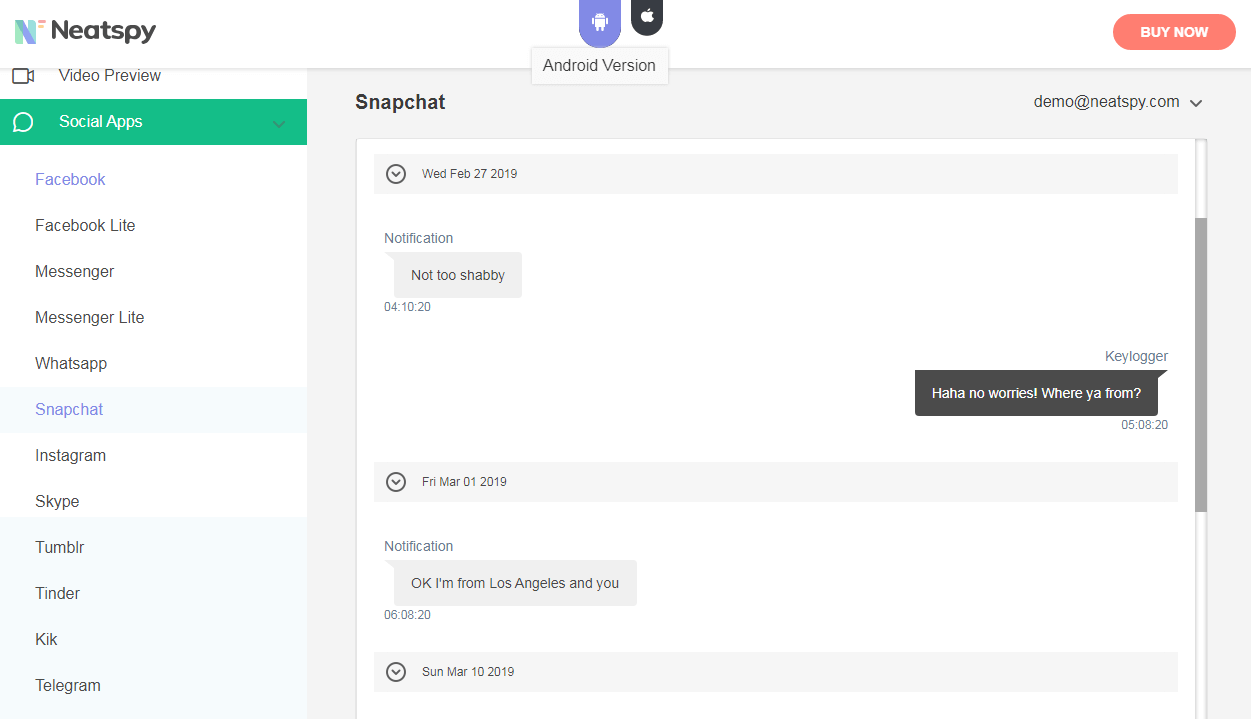 Monitor Snapchat Remotely
With Neatspy, you can view their private Snapchat chats from any corner of the world. You just need to setup Neatspy for the first time use. After that, reading their Snapchat chats can be done instantly, any time.
Once you have access to the Neatspy dashboard, you can find the Snapchat Monitor present under the Social Apps tab on the left. This module shows you all their private Snapchat chats, even the deleted and the hidden ones. Even view the pictures and videos they have exchanged on their Snapchat.
Not only you get to see the Snapchat messages that are sent and received, you can even view the deleted Snapchat messages and the messages that have vanished. This includes the pictures and videos with timer as well.
Snapchat Spy is an Indispensable Tool
If you are worried that your loved ones are spending too much time on Snapchat, Neatspy shows you exactly what they are doing. This tells you if there is something that you should be worried about or not.
Cyber bullying is common and it happens on Snapchat too. Further, Snapchat is full of online predators that might want to exploit your child's innocence. This is why you have to protect your child, for you are responsible for their safety. Neatspy helps you in ensuring that your kid is completely safe.
Neatspy's Snapchat monitor is as quiet as any Snapchat tracker can be. Use it to track their Snapchat activity and more. Get a Neatspy account today!
Snapchat Spying Without Root or Jailbreak
There is hardly any app that can offer you Snapchat spying without asking for rooting or jailbreaking the target device. However, Neatspy not only offers that, but in fact does it very well without asking for root or jailbreak.
Monitor Snapchat Without Them Knowing
When you are using Neatspy to track someone's Snapchat activity, they will never find out about it. This is because Neatspy's Snapchat spy is designed to work completely hidden, whether it is for tracking iPhone's Snapchat messages or that of an Android phone. Neatspy has created specialized structure for each platform.
You may like: