Did you misplace an iPhone? There's a good chance you could still track it down. That goes for both lost iPhones and stolen ones. But you need to act quickly. The longer you wait, the less likely it is you'll ever get it back.
You may need to track an iPhone for other reasons. You may want to know if a loved one has reached home safely, for example. Or maybe you're just wondering where your best friend is at the moment.
As you may be aware, Apple has built-in an anti-theft, anti-loss measure into its iPhones. It's called "Find My iPhone". This feature works great for remote tracking, even in cases when the iPhone hasn't been lost or stolen.
Find My iPhone is easy to access if you have another Apple device on hand. But sometimes all you have is an Android device. Which begets the question: I want to find my iPhone from an Android device. Is it possible?
Yes, it's possible. In fact, it's fairly easy! In this article, we give you four simple ways to track an iPhone with an Android device. The solutions range from the most convenient to the least.
Part 1: How to Track an iPhone With a Tracking App on Android
The simplest way to track an iPhone on Android is to use an app. There are several apps out there built expressly for this purpose. We recommend Neatspy. It's a phone monitoring app that's easy to use and works remotely.
1.1 The Neatspy solution
Neatspy is a phone monitoring utility. It's a respectable app, trusted and used by millions worldwide. It's also top-rated, with a customer satisfaction rate of 96%.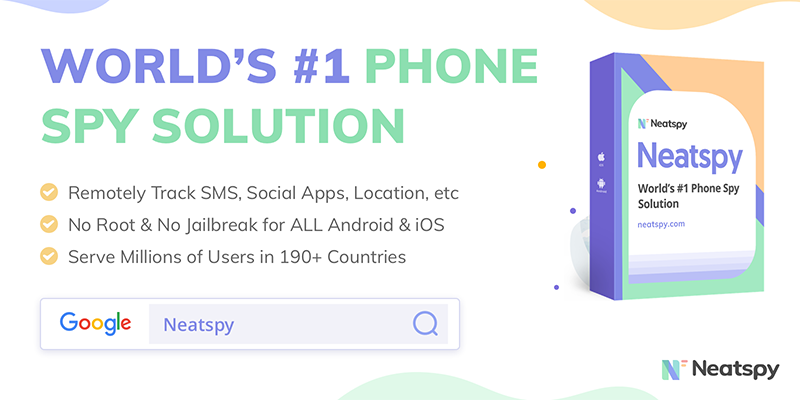 As we mentioned before, Neatspy works remotely. It's very easy to set up and use on any Android device. To get it to work, all you need are the iCloud credentials of the target iPhone.
The iOS version of Neatspy is web-based. You don't need to download anything.
1.2 How to track the iPhone from Android browser with Neatspy
To use Neatspy, open up the browser on your Android device. Then follow these simple steps to get Neatspy up and running:
Step 1: Sign up for a Neatspy account.
The process is quick and painless. Use your email address and think up a unique password.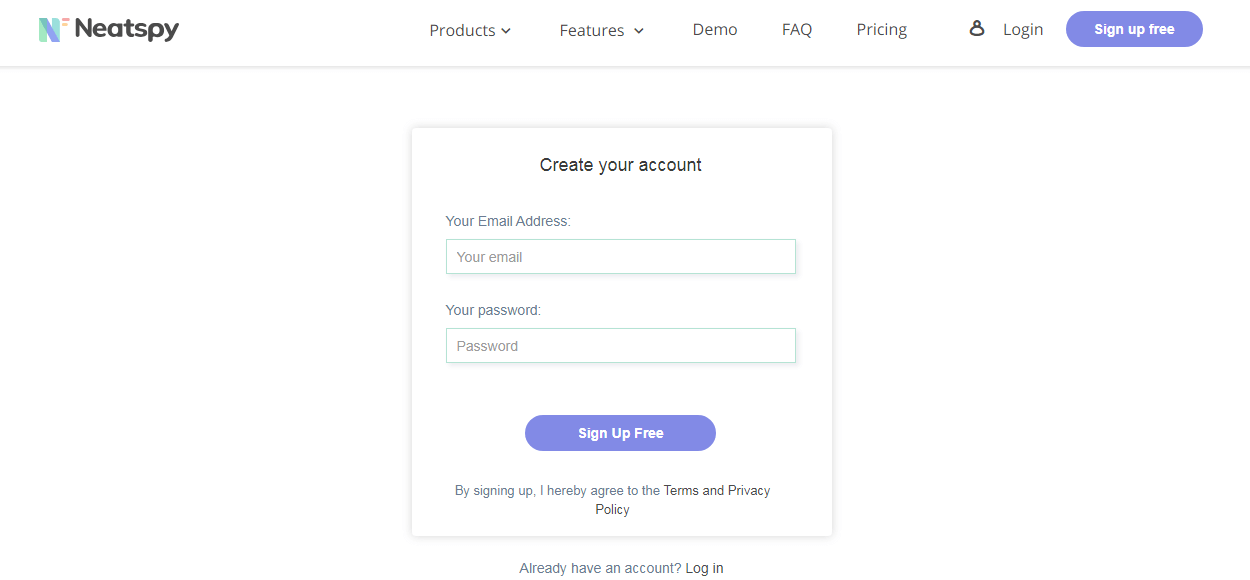 Step 2: Enter the target iPhone's iCloud details.

Step 3: You may have to wait for a few minutes while the server processes your requires. After that, the Neatspy dashboard will show up.

Click the "Locations" option on the left. A map will appear. Here, you can see the device's last-known location. The other details you can see are the device's address, the latitude and longitude coordinates, and the time/date.
You now know exactly where the iPhone is! If the device was stolen, we recommend you contact the authorities with this information. Trying to recover the device yourself may have legal repercussions.
1.3 Why should you use Neatspy?
You can probably tell Neatspy is super-easy to use and set up. The app is very trustworthy. And there are no software downloads required.
Here are some other reasons that make Neatspy the best iPhone tracking app:
It works without jailbreak.
You don't need to physically access the target device.
You can track more than the device's last known location. You can view the social media activity, iMessages, events, and more.
Interested in seeing Neatspy in action? Try out this live demo.
Also Read: 4 Simple Ways to Track Someone's iPhone Without Them knowing.
Part 2: How to Find My iPhone from Android with a Google Account
The target iPhone probably has Google apps or services. You may be able to use your Google Account to track it. You can only use this feature provided the following conditions are true:
The device is signed into a Google account
The Location History is turned on or Web & App Activity is enabled
Location Reporting is active
By default, these conditions should be true if the device has a popular Google service like Google maps.
How do you use the Google Account to track the iPhone from an Android device? Follow these simple steps:
Launch a browser on the Android device. Then sign into google.com.
Here, choose the Sign-in & Security On this screen, you should see a list of all the phones linked to the Google account.
Tap on the Find your phone Select the iPhone you wish to trace. You will have to input your Google password again.
A screen with your device's location history will show up. You can see the time when the iPhone last synced with Google's servers. You'll also see the log-in location in detail.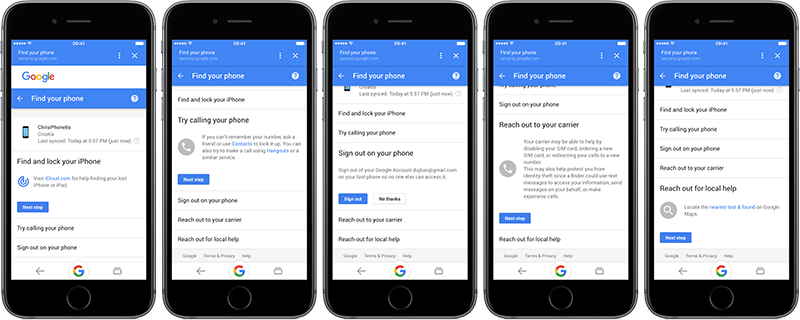 The other options include Something looks wrong, Find and lock your iPhone, Try calling your iPhone, Sign out of your iPhone, and Reach out to your carrier. Choose the option that best applies to your situation.
Here's a brief explanation of each option:
Try calling your iPhone: This option is helpful if your device is within hearing range and not set to silent mode. If it's not nearby, someone may still pick up your call and be willing to return the lost iPhone.
Something looks wrong: If someone has stolen your phone, this allows you to change your Google password.
Find and lock your iPhone: With this, you can remotely lock your phone. But you need iCloud login credentials to be able to access the iPhone remotely.
Sign out of your iPhone: This feature is probably not something you want to tap on if you're trying to track the iPhone.
Reach out to your carrier: This allows you to get in touch with your carrier. They may be able to assist you in locating the device if it's been lost.
Don't Miss: How to Track an iPhone by Phone Number
Part 3: How to Track an iPhone Using Android Browser
We talked about the "Find My iPhone" feature earlier. It can be accessed via a browser on your Android phone. Just head on over to www.icloud.com.
Note the site isn't mobile-friendly. You'll need to use the desktop version of the site. How do you do that? Open the browser menu (three dots on the top-right on Google Chrome) and turn on the Desktop site option.
Log in to the iCloud account linked to the target iPhone device. Once you're in, select the Find My iPhone app. A map of the device will show up with the device's last-know location. If it has a green dot, it's a real-time location.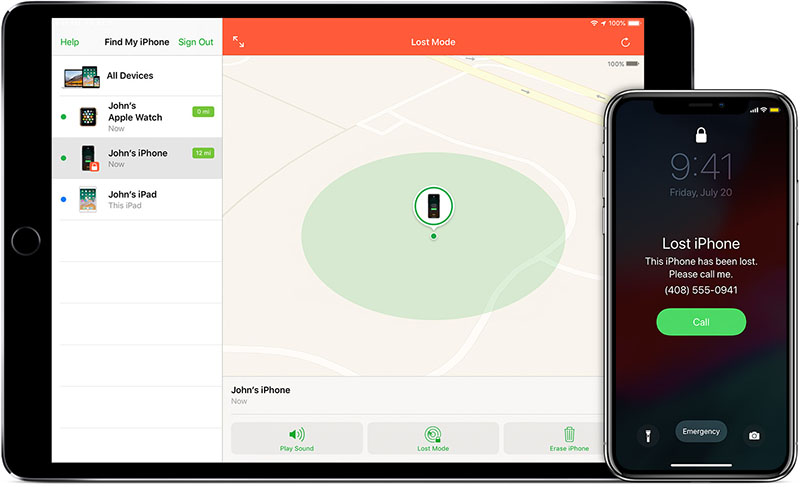 If the device is offline, you can choose the "Notify me when found" option. Apple will send you an email when the device goes online next.
The Find My iPhone app gives you three options. We'll list all three, with a brief explanation for each:
Play sound: This option makes your iPhone play a loud sound for a few minutes. If the phone is in your house or if it fell out of your pocket somewhere nearby, you should be able to hear it.
Lost mode: If your phone has been lost, this option will allow you to display a device lost message on the lost phone. You can also display your contact information here.
Erase: You can use this option if your phone is stolen and you won't get it back. It will delete all your personal data on the device. And your device will be locked, inaccessible without your credentials.
Part 4: How to Find My iPhone on Android with Google Maps
Does the iPhone you want to track have Google Maps installed? If it does, you can use the app to trace the iPhone. Note that the Google location history feature in Google Maps needs to be enabled for the method to work.
How can you use Google Maps to find the iPhone on an Android device?
Launch the browser on your Android device. Then head over to https://www.google.com/maps/timeline.
Sign in to the Google account linked to the iPhone you're trying to trace.
Google maps will show all the locations your phone was at recently.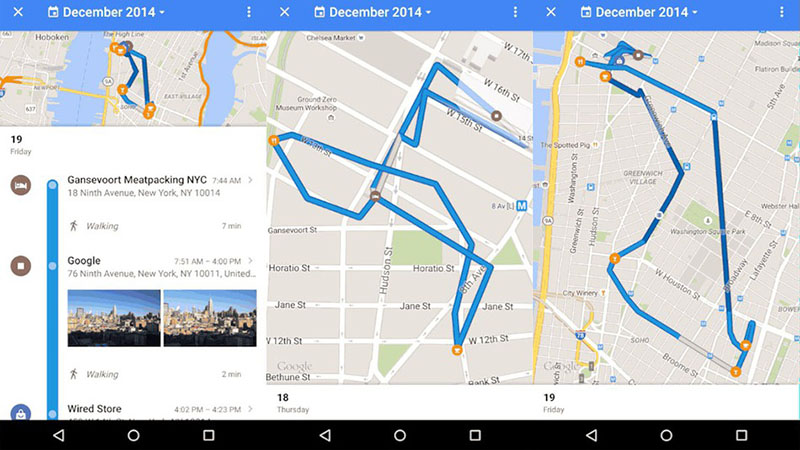 Google maps will show the target iPhone's location only if it connects to the internet and auto-sync is enabled. If you have Google Photos installed on the phone, you can also see the photos last taken on the device.
Part 5: Other Methods to Track an iPhone from an Android device
 Do none of the methods listed above work for you? There are some other things you could still do.
Call the phone intermittently: This is the most obvious method to find the lost iPhone. Just keep trying to call it. If you're lucky, someone will respond and be willing to return the phone.
Use social media: Social media may help you to trace your lost phone. Send out a plea on Facebook, Twitter, or Instagram. Include as many details as possible, including where you lost it and the IMEI number.
Check out a missing phone's directory: There are internet directories which can trace your phone by its IMEI number. You may have to pay for this service, and it's not usually very effective.
Neatspy remains the most convenient way to track an iPhone from an Android device. The other options are using the Find My iPhone feature and Google's services. We hope one of the methods work for you.
Think your phone is gone for good? Contact your carrier immediately. Ask them to block the service to your lost device. That way, you won't incur any surprise service charges at the end of the month.
References: