Do you want to know how to hack Yahoo email? There are a number of reasons why you might like to accomplish a Yahoo password hack. In this article, we will show you three of the simplest ways in which you can hack someone's Yahoo email account.
What's more, the process is not technically involved and you do not need to learn any coding skills. You can use our Yahoo password cracker techniques in a few minutes, so read on!
How to hack Yahoo email and why?
It's not unusual for someone to wonder how to hack Yahoo email. Parents, for instance, might like to monitor the emails of their kids to keep them safe online and to ensure that they do not fall prey to cyber bullies.
However, Yahoo is not just used for personal emails but for business accounts too. Employers might want to keep a tab on official Yahoo email accounts of their employees to ensure all is well.
Whatever be the case, it's easy enough to dig into a Yahoo mail account in a matter of minutes if you use the right solutions and apps. Although there are several ways to do this, some apps can help you get started quickly and with ease. Let us see what these apps are.
Part 1: Hack Yahoo Email Password Free No Download
Neatspy is a powerful spy solution and it is indeed a great option for those looking out for how to hack into Yahoo email without password.
1.1 Neatspy Features
Password cracker: Neatspy has the password cracker feature which allows users to get hold of the target's Yahoo, Gmail, and other passwords easily. If you're wondering how it works, it achieves the Yahoo password hack by capturing all passwords in a log for all email services. The password cracker is just one of the ways to monitor the target's Yahoo account.
Email Spy app: Neatspy also has a dedicated Email Spy app which is designed to capture all emails that are sent and received on the target device. After capturing all emails, it will upload them to a secure portal for you to monitor all activities. This is another great way to hack a Yahoo mail account.
Save emails: The email spy app also allows you to download the emails for you to access them later on your computer. This is a powerful way to save important emails to reference them later.
Track contacts: You can also track the contact details of the senders and the recipients. This can be useful in identifying individuals, tracking who your kids are interacting with, and stopping bullies and abusers before they cause harm. Employers can track who their employees are sending confidential data to.
1.2 Download size
The Neatspy Android app is about 3.2 MB in size. Once you install the app and begin using it, the storage size can increase up to 70 MB. This is one of the highest storage spaces compared to the other phone monitoring apps.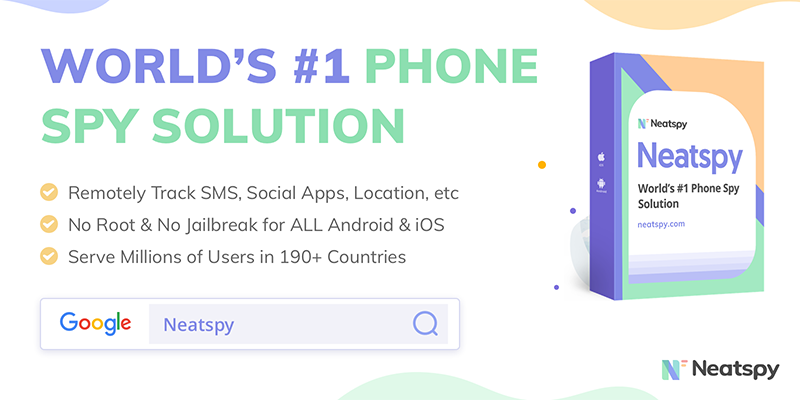 1.3 Cost
The Neatspy Premium plan has three different packages to choose from based on the subscription duration:
1 month: $68
3 months: $99
12 months: $149
1.4 Compatibility
Neatspy can be installed on a number of different platforms and operating systems:
Android: 4.0.3 – 8.1 supported. You might need to root your device for some additional features.
iOS: All versions up to 9.1 supported, you'll need to use tethered more on iOS 9.2 – 11.4.1. You will need to jailbreak the iPhone.
Computer (Microsoft Windows 7, 8, 8.1, 10)
1.5 Other apps
Neatspy also works for the below mentioned apps:
Phone call interception: Neatspy allows you to listen to incoming and outgoing calls live in real time remotely.
Spycall: With this feature, you can listen to the surroundings of the target device to know what your child or employee is doing.
Facebook Messenger: You can read all received and sent Facebook Messenger messages using Neatspy.
WhatsApp messages: It is easy to read all incoming and outgoing messages in WhatsApp with the use of Neatspy.
Skype: Neatspy also allows you to intercept Skype messages and you can read all conversations as they happen.
Telegram: You can track Telegram messages using Neatspy easily.
Instagram: Read all Instagram Direct messages using Neatspy's Instagram intercept feature.
Wechat: Read all incoming and outgoing Wechat messages using Neatspy.
QQ: See all messages and multimedia shared on the popular messaging app QQ.
Kik: Even though the Kik app targets anonymity, you can use Neatspy to track all activity on Kik.
Also Read: How to Hack a Gmail Account and Password
Part 2: How to Hack into Yahoo Email Without Password
Spyier is another popular email hacking tool that can help you monitor the email addresses of your kid or employee easily and is quite user-friendly to use.
2.1 Spyier Features
Keylogger: Spyier features a very powerful keylogger for iPhone and Android. You can simply install the app and turn the keylogger feature on. It will now begin capturing all data and will keep detailed logs of all keyboard taps. You can get to know the Yahoo account password and username using the keylogger and use these to log in to the account in an instant.
Using Browser Passwords: There's another powerful way to recover the Yahoo account password. Most people use Chrome and Firefox browsers to store their passwords. You can use Spyier to log the Gmail password of the browser and use it to decrypt the password stored in the browser. This is another Yahoo password hack.
Email Tracking: Spyier also features a dedicated email tracking tool using which you can monitor all incoming and outgoing emails on the target device. It is simple to use and allows you to see the contact information of senders and recipients along with multimedia shared in the emails if any.
2.2 Download size
The Spyier app occupies about 2.7 MB of space when installed on an Android device. It occupies smaller space compared to most other apps that can monitor a phone.
2.3 Cost
You can purchase Spyier and choose one of the three plans that the company offers:
1 month: $39.99
3 months: $49.99
1 Year: $99.99
2.4 Compatibility
Spyier is compatible with the following platforms and device types:
Android: 4.0 and later versions are supported. No rooting is necessary to use Spyier.
iOS: All iOS versions from 8 to 12 are supported. You do not need to jailbreak your device to run the Spyier app.
2.5 Other apps
You can use Spyier to intercept and monitor activities on the following apps:
WhatsApp: See all WhatsApp messages and chats using Spyier WhatsApp monitoring solution.
Phone spy: You can intercept and monitor all calls on the device using the monitor phone calls feature.
Facebook: See and track all Facebook messages using the Spyier Facebook tracking feature.
Skype: Check out all Skype conversations on the target device using the Spyier app.
Snapchat: You can track Snapchat media and messages using Spyier easily.
Instagram: You will be able to read all Instagram Direct messages using Spyier's Instagram intercept feature.
Wechat: See all the Wechat incoming and outgoing messages using the Spyier app.
QQ: Spyier also allows you to read all messages as well as multimedia on the popular Chinese messaging app QQ.
Kik: Spyier allows you to see all Kik messages as well.
Part 3: How to Hack Yahoo Mail Password Without Software
mSpy is one of the most popular phone monitoring apps and it will enable those who are looking out for a Yahoo password app to further their objectives. Let us see the features of this powerful app in greater detail.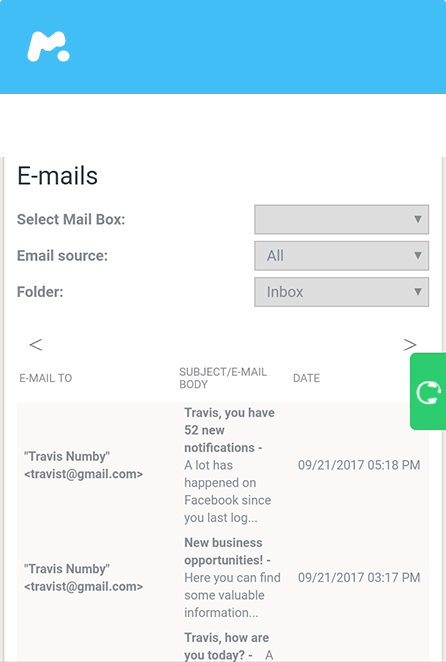 3.1 mSpy Features
Dedicated email capture: mSpy is one of those phone monitoring apps which will allow you to see the entire mailbox on the target device. This will include all sent as well as received emails.
Timestamp logging: mSpy also allows you to see the timestamps associated with the email messages. This means you can easily track the date and time at which the email was sent or received.
Track contacts: It is possible to obtain information about the sender or recipient of the email using the mSpy app. This is a great way to identify dangerous third-parties or individuals who could potentially cause damage.
Cross-platform support: mSpy can be installed on both iOS and Android devices. However, if you are installing it on an Android device, you'll need to root it first to be able to track the emails. Similarly, iOS users will need to jailbreak their devices before using the app.
3.2 Download size
The mSpy app will occupy around 6MB of space on your phone. When you start using this app, the size will gradually increase up to about 23 MB. As you can see, mSpy occupies a much smaller size compared to the other spy apps.
3.3 Cost
Like the other phone monitoring apps, mSpy also offers three different pricing plans to choose from in its premium plan:
1 month: $69.99
3 months: $119.99
12 months: $199.99
3.4 Compatibility
mSpy can be installed easily on the following operating systems:
iOS: mSpy is compatible with all iOS versions from 7 to 8.4 and 9.0-9.1 after jailbreaking. If you do not wish to jailbreak your device, you can still use mSpy but the features are then limited.
Android: Works on versions 4.0 and later. You can use the device without rooting but certain features such as monitoring instant messages will not work.
3.5 Other apps
Along with hacking email, mSpy can be used to hack into and view activities on other apps:
Snapchat: Read all Snapchat photos and videos even after they are automatically deleted using mSpy.
WhatsApp: The WhatsApp tracking feature of mSpy allows you to see all incoming and outgoing messages.
Instagram: You will be able to see all Instagram activity using the mSpy direct messages tracking features.
Facebook Messenger: See all sent and received messages on Facebook Messenger using mSpy Facebook monitoring.
Skype: It is easy to check out Skype conversations using mSpy.
Hangouts: See all Hangouts chats with the use of mSpy Hangouts tracking feature.
Telegram: See all incoming and outgoing messages on Telegram app using mSpy.
Conclusion
If you are looking out for a Yahoo password hack, consider using one of the three apps we have listed in this article. They are easy to use and will allow you to track all email conversations. Most of these apps have a keylogger that can capture the account password.
Furthermore, they also have dedicated email monitoring apps that will capture all incoming and outgoing emails.