"The thought 'Is she cheating on me?' haunts me and makes me sleepless at nights." "What are the signs to tell if my girlfriend is cheating?" "I want to brush away the suspicions by knowing the truth." "I want proof of her disloyalty before I ask her."
If this anxious person is you, we have got you covered!
Sit back and take a deep breath! Continue reading and pacify your anxiety.
Let's discuss a few ways to tell if your girlfriend is cheating on you. If the signs match, we'll look at the cell phone spy solutions available to monitor your girlfriend's cell phone activities. Upon doing so, you will be able to confirm or dismiss the suspicion and regain your mental peace.
Part 1: 3 Ways to Tell If Your Girlfriend is Cheating on You
A secret love affair is enticing and thrilling in the beginning. It becomes evident from a person's behavior that something interesting and exciting is happening. Here are three tell-tale signs to know if your girlfriend is cheating on you.
She starts behaving differently
A cheating girlfriend's first and foremost sign is changed behavior. External influence is the reason for this changed behavior.
You'll see a change in her attitude to things. She will develop new interests and hobbies. She'll become more aware of her appearance. For her wardrobe, she might start buying new items.
Look for her changed body language. She might become less physical with you. She will avoid the casual hugs and cuddles that had previously been her routine. She's going to stop taking interest in your looks.
She's got secrets now
Your girl is now having some secrets. Suddenly, she needs personal space in relationships. She spends time alone and urges you to spend time with other people.
She started talking to somebody frequently, but when you ask about that person, she quickly skips the topic. She doesn't share everything with you and upon asking she replies that she forgot to tell you.
She might start protecting her phone. She's putting the phone upside down, ignoring some SMS and phone calls in your presence, calling back the number as you leave immediately.
 You feel she's far away
You feel she is far away and unapproachable to you. Your instincts are not wrong. As your girlfriend begins to develop feelings for the other person, she will emotionally detach herself from you.
Now she's going to have less time for you. She will stop doing special things for you. For hours she may even become unavailable to you as she is busy elsewhere. You will feel an emotional distance between the two of you, when she may be physically present with you.
Part 2: How to Tell If Your Girlfriend is Cheating?
Yes, we know the awful and disturbing feeling of being cheated. You don't deserve to be cheated. At the same time, your girlfriend does not deserve to be doubted when she is faithful.
You may end up losing her trust in an attempt to track the truth. If you try to read her messages, check her call logs, listen to her calls secretly, or question her friends, this can happen.
In this situation, the appropriate course of action is to use reliable monitoring software for cell phones.
Let's look at the options available to know whether she cheats on you.
Option # 1: How to Catch a Cheating Girlfriend with Neatspy?
Neatspy is a reliable cell phone monitoring software with over 30+ features to help you catch your cheating girlfriend. It is a spy application that can retrieve and track all activities that occur on your girlfriend's phone. You can see the complete log of activities in your web-based Neatspy Control Panel.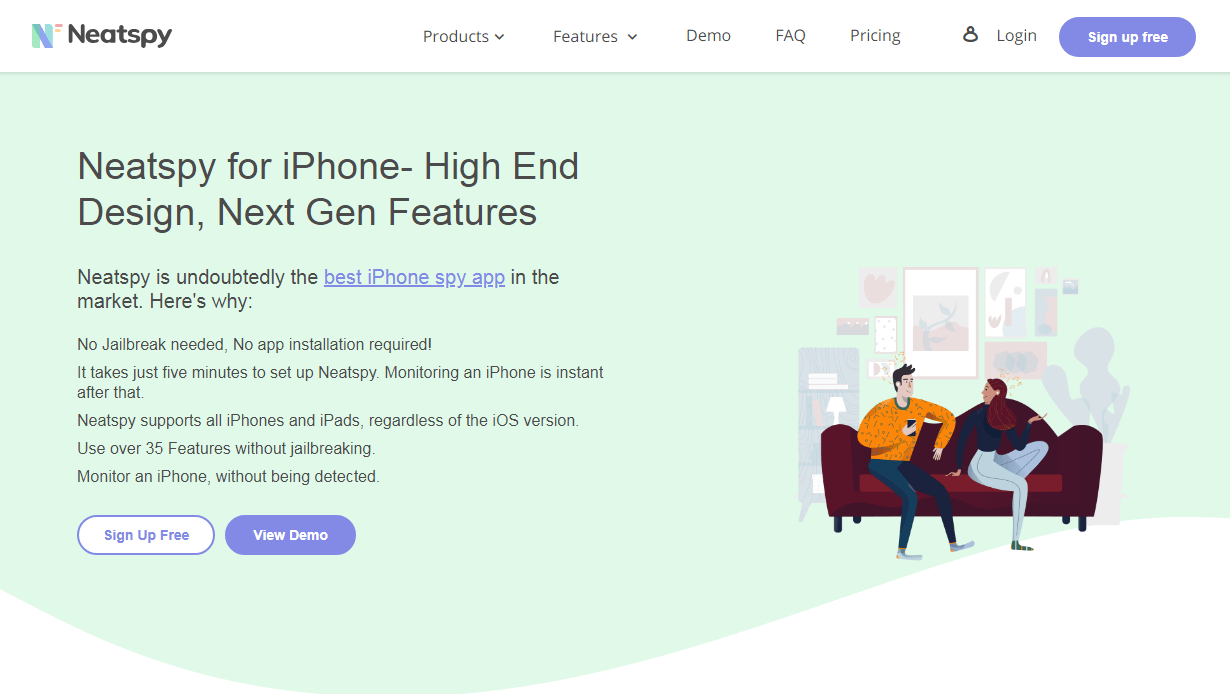 The SMS spy feature lets you read all text conversations. You can also see the complete contact details of the sender or receiver, along with the timestamp. Moreover, you can access the call log of your girlfriend. See who called her and who she is calling to and how frequent the calls are.
Neatspy gets you to access her conversations on major social networking accounts including Facebook, WhatsApp, LINE, Snapchat, and Instagram accounts.
Sneaking inside your cheating girlfriend's conversation is not enough. You need to know about her whereabouts. If she is lying to you about where she is, she is probably cheating.
The Neatspy location tracker displays her location to you in real-time. You can also set a geofence alert and get a notification when your girlfriend enters or exits a particular neighborhood.
Check out our live demo to see the features yourself.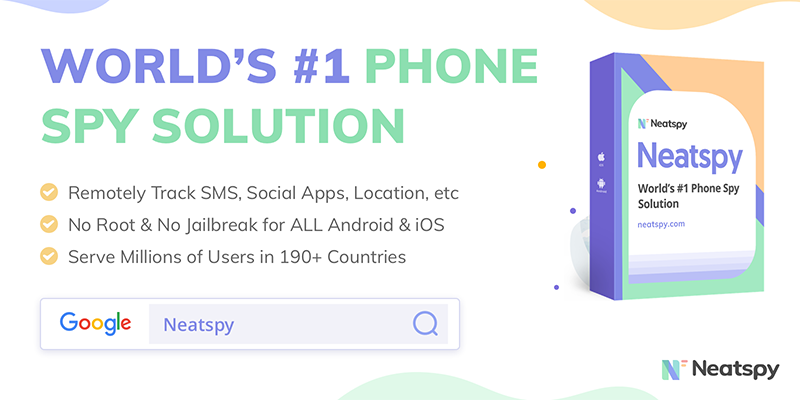 Why should I trust Neatspy?
Neatspy is a professional and leading phone monitoring software that is trusted by millions of people across the globe in more than 190 countries. It is supported by well-known media outlets like Forbes, PC World, CNET, etc.
Neatspy cares about your device's security. For the use of Neatspy, no root or jailbreak is required. The warranty, therefore, remains intact and the device remains protected from malicious acts.
It is an app that is 100% legitimate. There is no virus or malware in it to steal your information.
While spying on your cheating girlfriend's phone, Neatspy would not affect the performance of the target phone.
Above all, you should trust Neatspy because your girlfriend wouldn't know you're spying on her.
Android Phone
The app runs in complete stealth mode.
It occupies a memory space of 2MB only.
The consumption of the battery is minimal.
After installation, the icon hides automatically.
iPhone
The iPhone solution uses iCloud services to spy on iPhone, so the iPhone simply doesn't have any Neatspy trace.
Web-based solution, no need to install any apps.
How can I get Neatspy?
You can get Neatspy in 3 easy setups.
Step 1: Sign up to Neatspy
Register with Neatspy now and get a free account.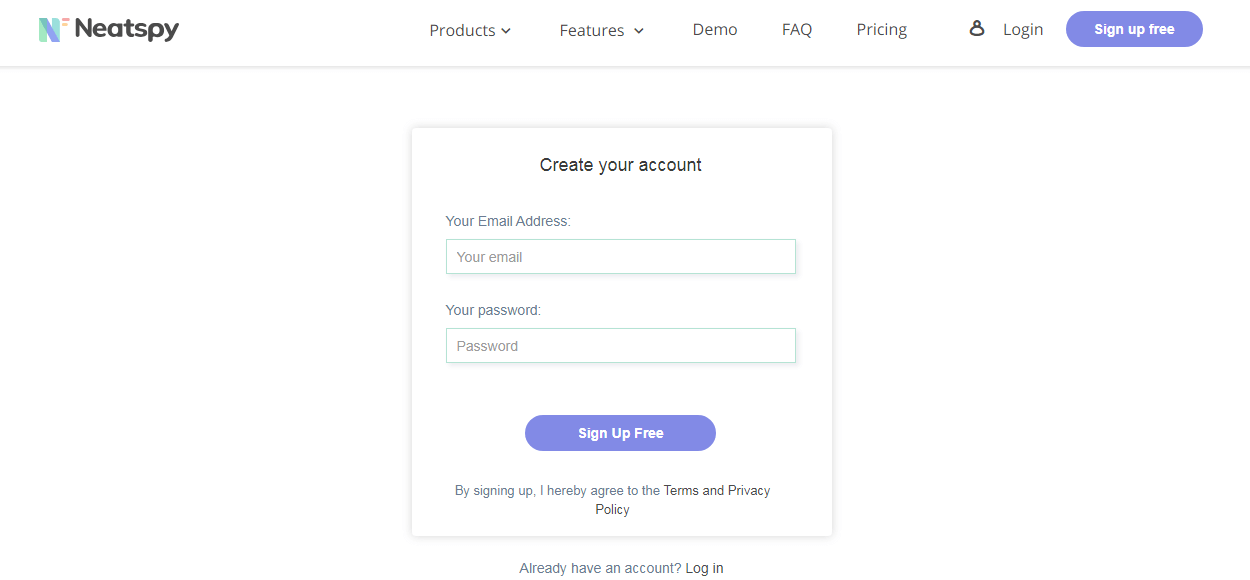 Step 2: Setup your Girl's Phone
Set up your girlfriend's phone by following the instructions in the welcome email.
Neatspy setup wizard will help you set up the device in a matter of minutes.
Step 3: Catch your Cheating Girlfriend
Go to the web browser.
Open your Neatspy Control Panel.
Start monitoring her activities.
Gather evidence against your cheating girlfriend!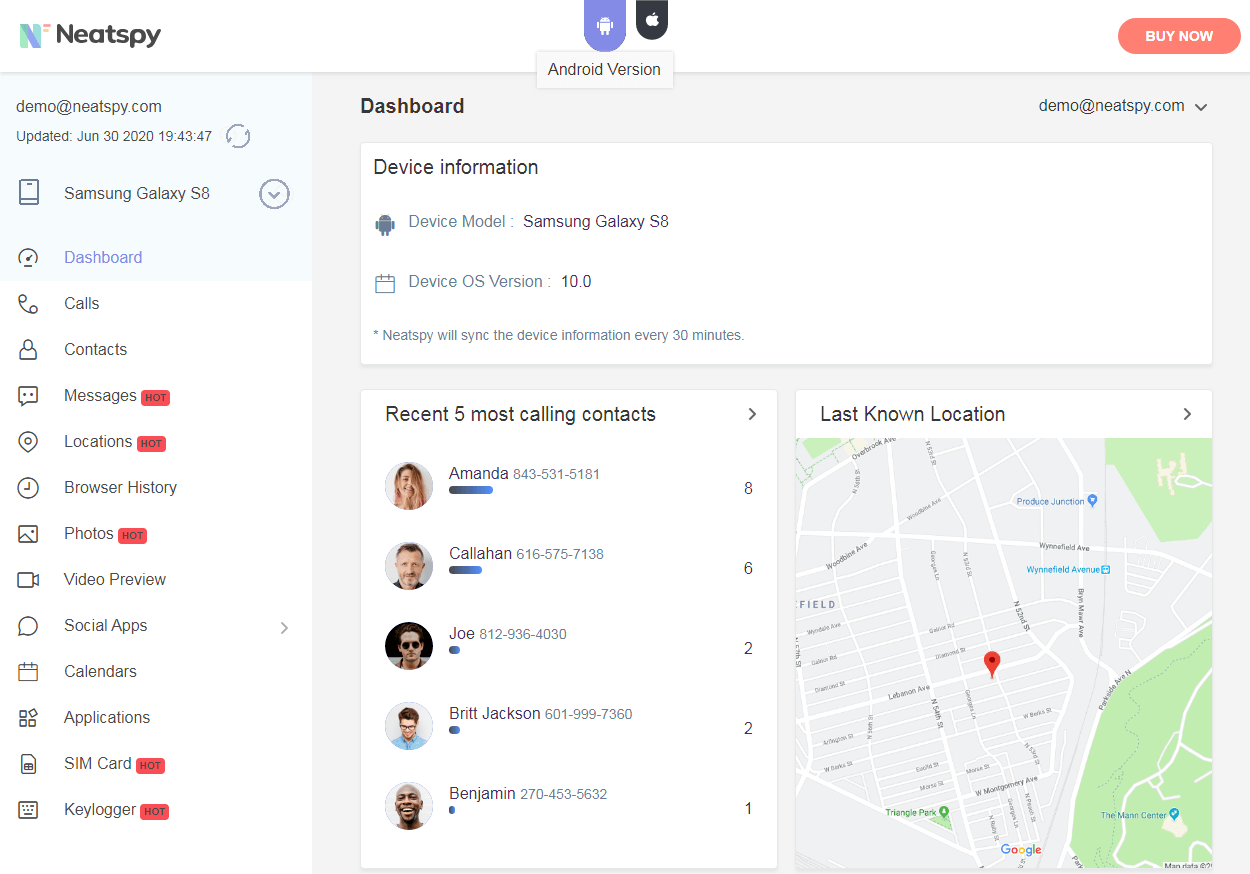 Don't Miss: Is My Wife Cheating? 20+ Signs of A Cheating Wife
Option # 2: How to use iKeyMonitor and tell if your girlfriend is cheating on you for sure?
iKeyMonitor is another popular spy software that allows you to monitor almost every activity on your girlfriend's device. iKeyMonitor can be used to track activities on iPhones and Android phones.
Read her conversations on the SMS and social messenger apps including WhatsApp, WeChat, Facebook Messenger, Tinder, QQ, Viber, LINE, IMO, and other programs.
Track down her calls history and see the details of culprit contact. Check out her calendar and notes for any planned meet-ups with the other person.
The GPS Location feature keeps you updated about your girlfriend's whereabouts. If you find her at an unfamiliar place, you can turn on the 'Phone Recordings'. By doing so, you can hear what your girlfriend is doing there and what's going on in the surroundings.
If you realize she is cheating on you with someone else, turn on the front or rear camera remotely and take photos. You can view these photos on your iKeyMonitor Control Panel.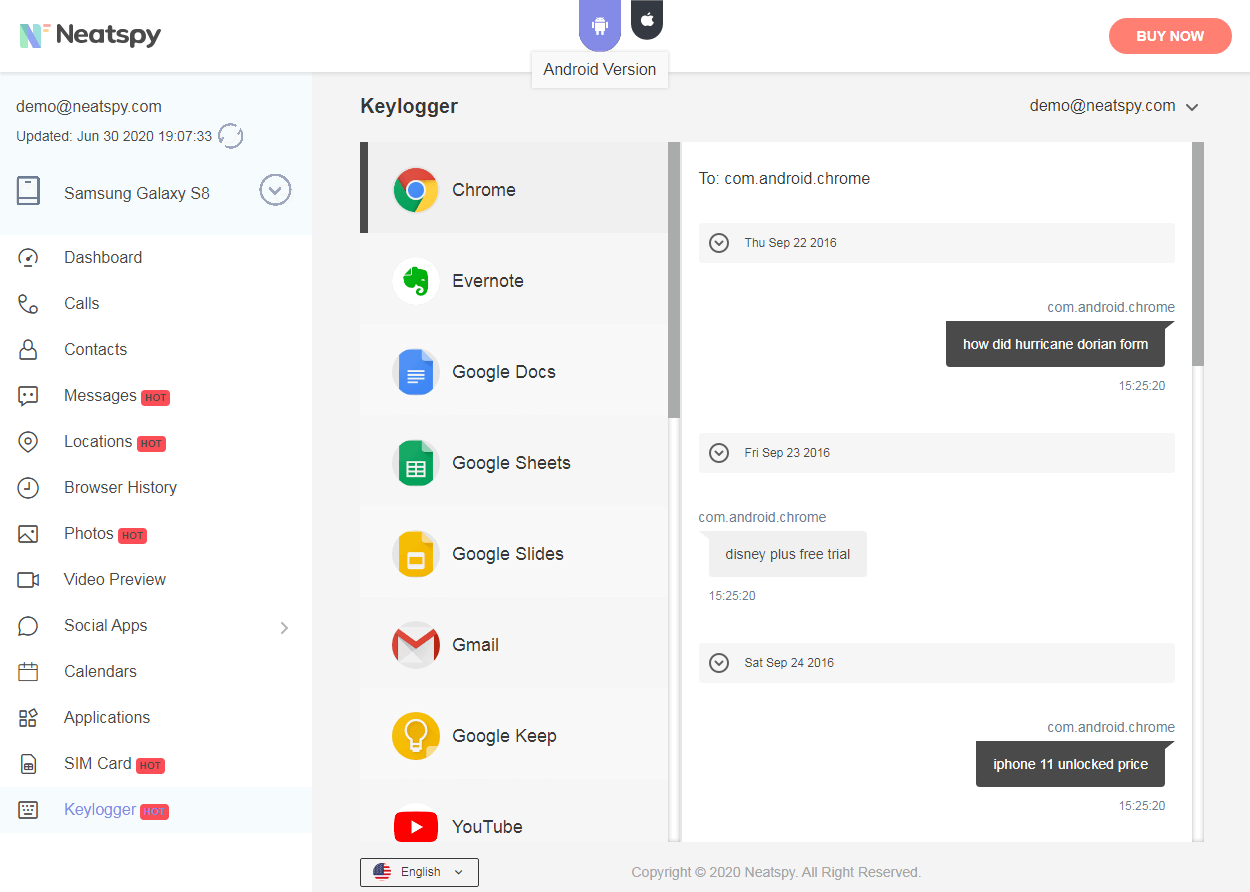 Option # 3: How to use XNSPY to tell if she has cheated?
XNSPY is advanced spy software for Android and iOS devices. XNSPY equips you with all standard features to track activities on the target cell phone.
XNSPY lets you monitor incoming and outgoing calls, telephone contacts, text messages sent and received, and read social networking app conversations.
When she is in a relationship with you, why would she need Tinder anymore? Track her activities on Tinder using XNSPY. Track her location, listen to her surroundings and capture photos when needed.
If she is addicted to smartphone and uses it 24/7, it can be a troublesome task to monitor all her stuff. Let XNSPY bear the burden and prepare Actuarial Reports. You may be interested in 'Top 5 Callers', 'Top 5 Call Durations' and 'Call Time Activity Punch Card' reports to know the new favorites of your girl.
Also Read: How to Catch A Cheating Wife
Option # 4: How to use Spyzie and know if she is cheating on you?
Spyzie is a relatively simple phone monitoring tool solution for Android and iPhone.
It has an intuitive and colorful user interface. Spyzie allows you to monitor call logs, text messages, emails, instant messaging conversations, and social media applications. It retrieves calendar records, notes, contacts, media files, and browser history.
Spyzie has 'Ultimate' and 'Premium' subscription plans. Ultimate edition comes with a $ 39.99 one-month subscription. This plan supports the spy solution with full functionality. The subscriber can purchase a three-month subscription or purchase a one-year plan.
The premium solution for a 1-month subscription plan is priced at $ 29.99. This has limited features. You can also choose to purchase or extend a 3-month subscription for one year.
Option # 5: How does FlexiSPY help you tell if your girlfriend is cheating?
Without a doubt, FlexiSPY is a powerful spy app. It is an advanced monitoring app with a number of efficient features.
In addition to all standard monitoring features, FlexiSPY offer unique call interception, call recording and password cracker features.
Sometimes, knowing the contact name and call duration details are not enough. If you are interested in knowing what your girlfriend is talking about with her friend, use the 'Call Interception' feature.
Yes, you will not be available every time to listen to her ongoing calls. Simply listen to the call recordings later on, as you get time.
If you need more proof, sneak inside into her accounts using her credentials. FlexiSPY 'Password Cracker' will extract her usernames/email addresses and passwords for you.
We sincerely wish the doubt cost you money of spyware, but not the relationship.
Stay calm, stay blessed!